Next-Gen-HR – HR der nächsten Generation
Willkommen zur HR Analyst Practice der Fosway Group. Wir analysieren die Märkte für HCM, Recruiting und Talentmanagement bereits seit vielen Jahren. Der Mangel an Analysen und Informationen speziell für den europäischen Markt war bislang eine erhebliche Herausforderung für Unternehmen. Hier schaffen wir jetzt Abhilfe.
The 2020 Fosway 9-Grid™ for Cloud HR is now live all online and free to download. This year's research shows the far-reaching impact of the COVID-19 pandemic as HR remains in the eye of the storm, supporting people and organisations through the turmoil of the crisis. The 9-Grid™ is a unique five-dimensional market analysis model that helps European buyers demystify supplier decisions for next gen HR, Talent and Learning. Each 9-Grid™ shows the relative supplier market for European customers. Why start your procurement process from scratch when we already have the research and insight to help you make better supplier decisions much faster?
9-GRID™
Das 9-Grid™-Modell wird bereits seit 2008 entwickelt, um die Nachfrage nach Analysen und Erkenntnissen für in Europa ansässige Unternehmen zu erfüllen. Allzu oft mussten Organisationen sich in der Vergangenheit auf Analysen verlassen, die stark auf die Vereinigten Staaten fokussiert sind. Die Realität für Unternehmen in Europa ist eine völlig andere – hier sind unterschiedliche Sprachen, Währungen und Kulturen grundlegende Bestandteile der Unternehmens-DNA. Diese Realität untersuchen wir in unseren Analysen. Dabei stellen die 9-Grids™ selbst quasi nur die Spitze des Eisbergs dar. Wir bieten noch umfassendere Daten und Kenntnisse an, um Organisationen bei der Beurteilung und Auswahl aktueller HR-Lösungen zu helfen.
STUDIE ZU DEN REALITÄTEN IM HR
Fosway's ongoing HR Realities research is now in its eighth year and is open here for you to take part.
The results of the 2019-20 survey are still available to download alongside the full results of previous years, further extending our existing body of research and insight. With input from 200+ senior HR leaders, from predominantly enterprise organisations across Europe, the research highlights the changing face of HR today, and looks ahead to the landscape of tomorrow. It explores strategic HR challenges, future HR skills and investment, plus Artificial Intelligence (AI), analytics and the growing role of automation.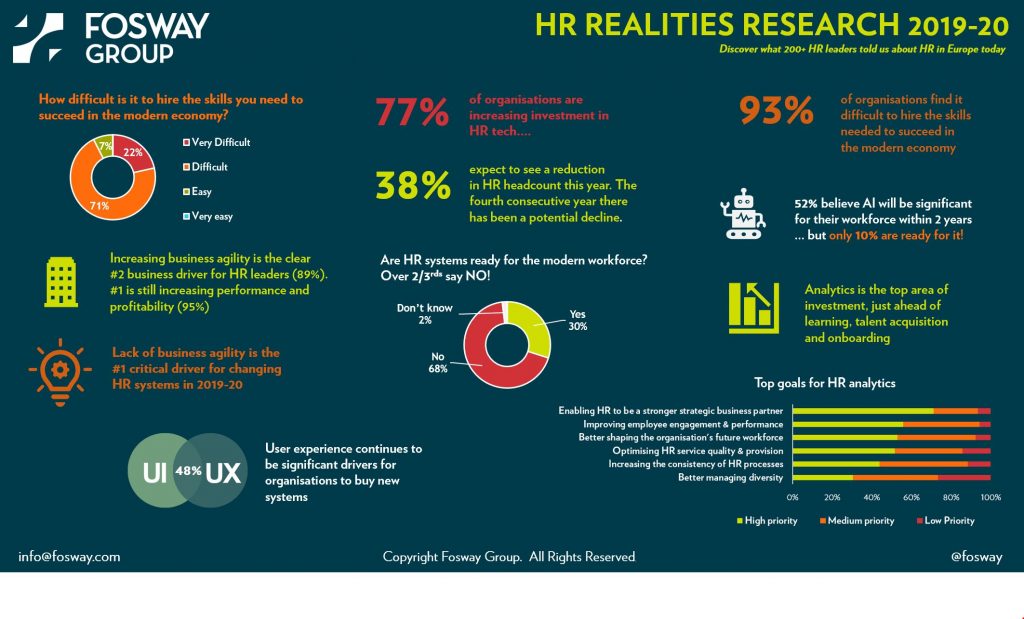 Latest research

Entdecken, lesen und laden Sie die Studien der Fosway Group herunter. Themenschwerpunkt ist Next-Gen-HR, einschließlich umfassender Berichte, Infografiken, Artikel und unsere Standpunkte zu aktuellen HR Themen. Wir hoffen, dass diese Content-Bibliothek Ihnen beim Nachdenken und bei den Entscheidungen über Next-Gen-HR-Strategien und -Technologien hilft, so dass sie Ihre Ziele im HR und in der Organisation am besten unterstützen.
AKTUELLE STUDIEN (in engl. Sprache):
How we can help you
The HR tech market continues to grow, with new vendors and products appearing every year. Companies merge and get acquired. Technology changes. And with an ever expanding choice of solutions available, your decisions on which solutions to buy and how to invest are becoming more exciting, but more risky than ever before. Whether you're just trying to keep up with the market, needing to validate your shortlisting or purchasing decisions or after a sounding board and evidence-based insight and advice, this is where we come in…

   LESEN SIE MEHR
BRAUCHEN SIE UNTERSTÜTZUNG BEI IHRER STRATEGIE UND SYSTEMAUSWAHL?