The Fosway 9-Grid™ report for Talent & People Success is a multi-dimensional model that can be used to understand the relative position of solutions and providers in the UK/European talent management systems market. It allows you to compare different solutions based on their Performance, Potential, Market Presence, Total Cost of Ownership and Future Trajectories across the market.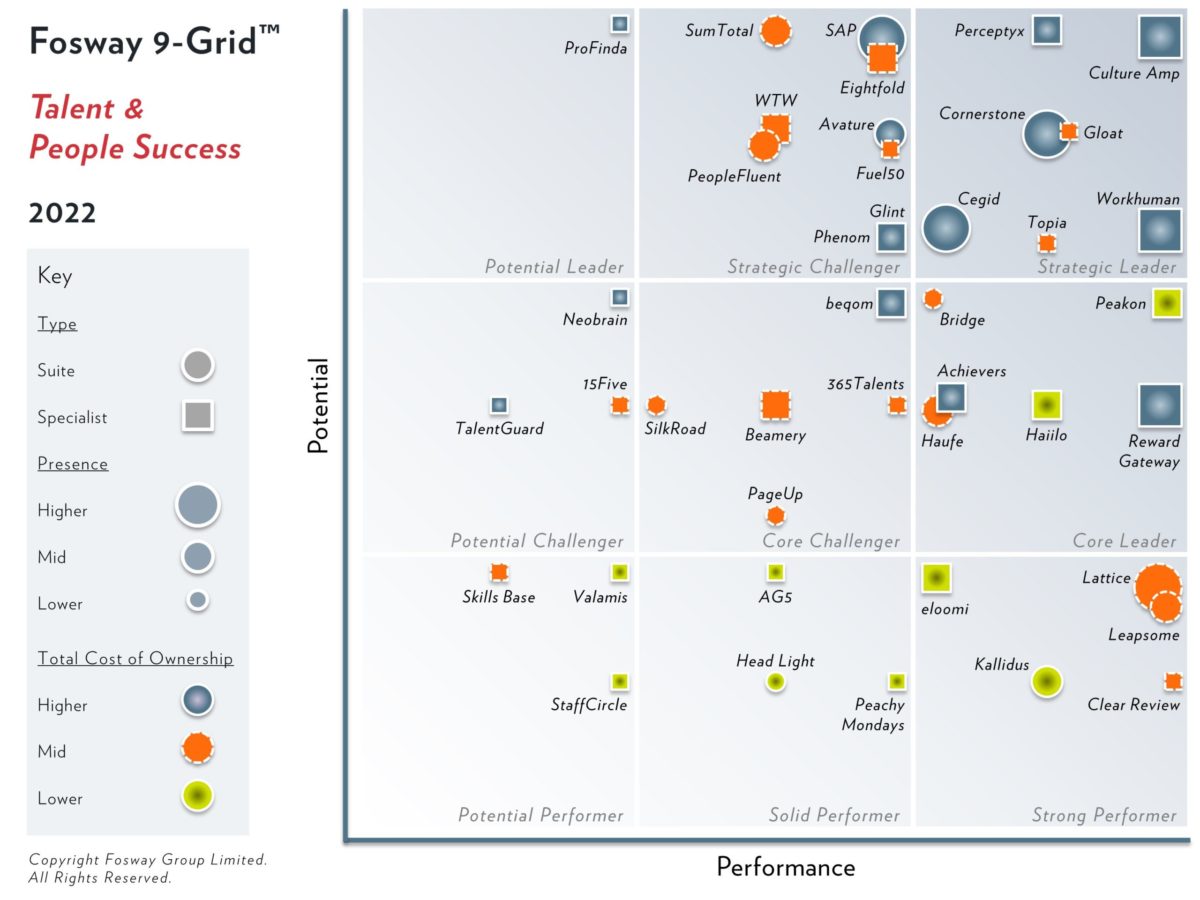 Laden Sie eine Kopie des vollständigen Berichts herunter, einschließlich einer Übersicht der aktuellsten Markt- und Lösungstrends im Bereich Talent & People Success. Um unser 9-Grid™-Modell richtig zu verstehen und zu deuten, empfehlen wir die Lektüre unsererEinführung in das Fosway 9-Grid™ (in englischer Sprache), die das Modell im Detail erläutert.
Ask the analyst: Live Q&A
Watch our founder and CEO, David Wilson, and director of research, David Perring as they unpack the 2022 9-Grid™ for Talent & People Success, a new category of solution heralded by Fosway analysts to power organisational performance in a post-pandemic world. HR teams are embracing new ways to energise and optimise workers in response to the seismic changes in working life that organisations and employees have experienced over the last two years. This unique session answers your burning questions around the 2022 research and the 9-Grid™ in general.
The trend for employers to replace legacy talent management processes with more agile and effective approaches continues at pace. There is a huge focus on skills and upskilling the workforce, improving employee experiences, and making the workforce more flexible to meet the future needs of the business. Macro-economic challenges will accelerate this further, accelerating innovation, as well as increasing the value of attracting and retaining the best talent.
Es gibt einen sehr wichtigen Unterschied zwischen einem 9-Grid™ und Modellen anderer Analysten. Im 9-Grid™ ist eine Platzierung in jeder der neun Zonen von Wert. Noch interessanter ist, dass jede Zone mit einer Reihe von Maßnahmen assoziiert ist, die Ihnen helfen können, den Wert der Beziehung mit verschiedenen dort positionierten Anbietern zu maximieren.
Das bedeutet, dass eine Positionierung oben rechts nicht das einzige relevante Auswahlkriterium für Unternehmen darstellt. Für einige Organisationen ist ein Anbieter rechts oben eventuell nicht einmal wünschenswert. Es gibt viele andere Zonen, die eine erfolgreiche Partnerschaft signalisieren können, besonders wenn man die Position im Hinblick auf die Gesamtbetriebskosten interpretiert.