Disruptive Insights: HR
The HR tech landscape is in a perpetual state of flux, and Fosway research shows that a new wave of disruptive ideas is feeding in to these constant changes; change making companies and HR leaders are zeroing in on a specific aspect of modern HR to redefine and accelerate its development as part of the new people experience.
As a part of our ongoing research, Fosway is exploring and defining what you need to know about selected Disruptive Specialisms, why they are important, what you need to know about them, and what you need to know about the associated vendor landscape.
Our latest research papers:
Rethinking HCM: The Cloud HR Ecosystem
Talent Mobility and the Talent Marketplace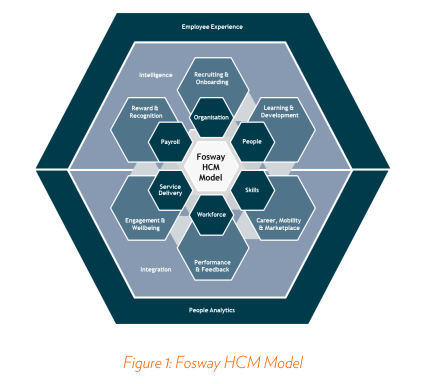 Rethinking HCM: The Cloud HR Ecosystem
Following extensive and ongoing research, Fosway has reclassified our analysis of the Cloud HR market into HCM Suites and Cloud HR Specialists. This reclassification describes the HR technology ecosystem – and vendors – that are driving the digital transformation of HR
Read the paper to find out about:
HCM suites converge at the core


A new view of HCM is emerging

The reality for European/international companies will always be more complex
AI in HR
This paper explores the disruption of AI technologies in the people industry. Why has AI really taken off in the last 12 months, and what difference is it making to workers, teams, business and society? Who's implementing AI in their work and more importantly who's doing it well, with a positive effect on the business bottom line? This paper will look at some of the strategic and practical uses of AI in the HR space.
Talent Mobility
This paper explores the move from talent management to talent enablement. Talent mobility, and the emergence of the talent marketplace, have become more data-led, people-first and agile – all changes which reflect a newly dynamic arena for talent and people success. Increased job satisfaction, a better employee experience and stronger retention are all observable outcomes from taking a marketplace approach to talent strategy.