Next Generation HR
Welcome to Fosway Group's HR analyst practice. We have been analysing the HCM and talent markets for a number of years now. The lack of European-focused analysis and insight has been a significant challenge for companies, and here, we address that.
Fosway Group's Next Generation HR analyst practice provides independent research and advice on key trends, underlying business drivers and outcomes. We take an integrated view of HR covering disciplines including talent management, succession planning, recruitment, performance, and compensation and benefits. We provide the insights you need to transform your HR strategies, processes and technologies.
NEW: The 2019 Fosway 9-Grids™ for Talent Acquisition, Cloud HCM and Talent Management are now available. The 9-Grid™ is a unique five-dimensional market analysis model that helps European buyers demystify supplier decisions for next gen HR, Talent and Learning. Each 9-Grid™ shows the relative supplier market for European customers. Why start your procurement process from scratch when we already have the research and insight to help you make better supplier decisions much faster?
9-GRID™
9-Grid™ has been in evolution since 2008 and is driven by demand for analysis and insight designed for European-based companies. Too often, organisations have had to rely on a US-centric view and the reality of business in Europe is completely different, where multiple languages, currencies and cultures are fundamental to organisations' DNA. Our analysis reflects this reality and the exciting part is that the 9-Grids™ themselves are only the tip of the iceberg in terms of the data and insight we provide to organisations evaluating or buying HR technology today.
HR REALITIES RESEARCH
Fosway's ongoing HR Realities research is now in its seventh year and the results of the 2019-20 survey were announced at UNLEASH World Conference in Paris. The headlines are now available to download alongside the full results of previous years, further extending our existing body of research and insight. With input from 200+ senior HR leaders, from predominantly enterprise organisations across Europe, the research highlights the changing face of HR today, and looks ahead to the landscape of tomorrow. It explores strategic HR challenges, future HR skills and investment, plus Artificial Intelligence (AI), analytics and the growing role of automation.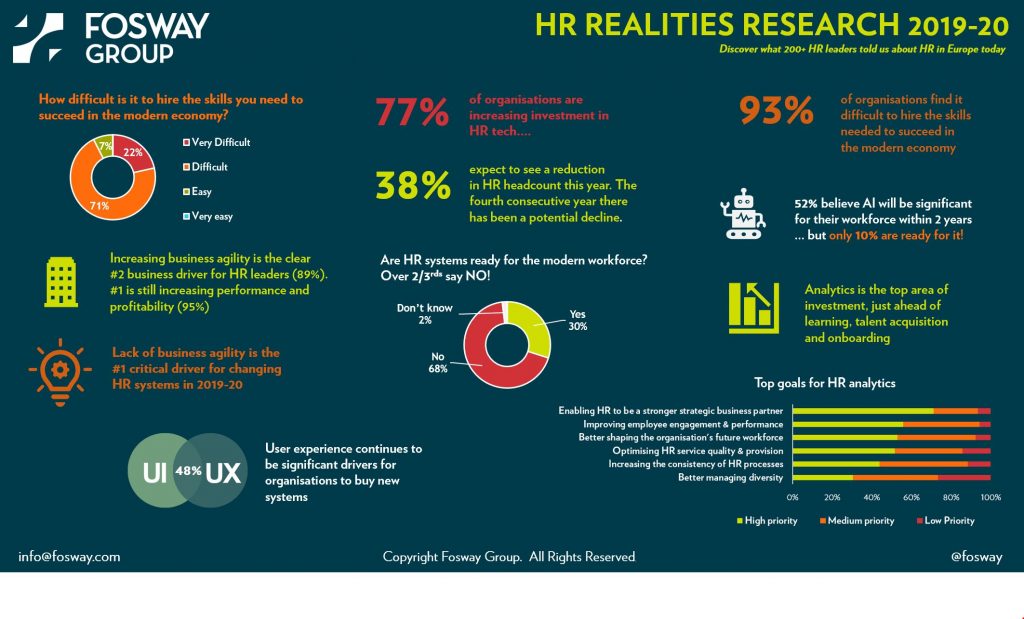 Research Reports

Discover, digest and download Fosway Group research into next generation HR, including full reports, infographics, articles and Viewpoints. We hope this library of content will help inform your thinking and key decision making around next generation HR strategies, and the technology to best support your HR and organisational goals.
Forward Research Agenda
Digital HR Transformation

Employee engagement

HR 2025: Is Your Organisation Fit For The Future?

Agile HR

HR Analytics

   READ MORE
NEED HELP WITH STRATEGY AND SYSTEM SELECTION?