Learning
Fosway's learning practice is a team of experts analysing and helping organisations understand the key trends, technologies and business drivers behind learning in 2020 and beyond.
At Fosway Group, we have 23+ years of unique insights into corporate learning technology and innovation. Our learning analyst practice continues to provide Europe's leading independent research and advice on key trends, underlying business drivers and outcomes from Next Generation Learning. Wherever you are in your journey with learning innovation, and whatever your roadmap and drivers for change are, our analysts can help.
The market for learning technology continues to boom. Investment is increasing and new products and vendors appear every year. And the landscape gets harder to track and trickier to navigate. With an ever expanding choice of options – from a new focus on analytics and AI, to creating digital learning ecosystems that work, to harnessing the power of video, mobile and microlearning – your decisions on what to buy are becoming more exciting – and more risky – than ever before.
9-Grid™
9-Grid™ is a five dimensional market analysis model that is used to understand the relative position of solutions and providers in markets which include the increasingly strategic talent systems market. 9-Grid™ has been in evolution since 2008 and is driven by demand for analysis and insight designed for European-based companies. Too often, organisations have had to rely on a US-centric view. Fosway creates 9-Grid™ models for the Learning Systems and Digital Learning markets.

   READ MORE
DON'T BELIEVE THE HYPE
Look around and you will be bombarded by messages from suppliers about their latest and greatest solutions. Some of these are gamechangers. Many serve the business as usual. Others might not be worth your time. So much depends on your unique context and goals that coupled with all the hype, it can be a challenge to figure out what you need and how to make digital learning platforms, content and resources work effectively together. Catch up with this invaluable session from David Wilson and David Perring at Learning Technologies 2020 to help you understand what you need to know now.
Digital Learning Realities Research

Where do you currently go to find that precious information that helps you decide which tools and solutions to implement? How do you get a handle on what's really happening in the market in terms of trends, growth, spend and customer success? Until now there has been no single place that provides a comprehensive assessment of the market. But the strategic research partnership between Fosway and Learning Technologies – and its supporting community, The Learning and Skills Group, is changing that.

READ MORE
LEARNING RESEARCH

We are always adding to our research library within our next generation learning practice. We share full reports, infographics, articles, Viewpoints and more. We hope this library of content will help inform your thinking and key decision making around next generation learning strategies, and the technology to best support your learning and organisational goals.
AGILE IN ACTION

Discover our latest Innovation Profile featuring Sky.
Sky is an organisation that has undergone significant transformation since its inception nearly 30 years ago to become Europe's leading entertainment and communication business. To keep up with the pace of change and the huge impact digital technology has on its people, Sky's approach to learning and development has undergone a transformation of its own. This Innovation Profile explores:
Digital transformation; drivers, dilemmas and opportunities
The shift to agile; how and why it has worked successfully
Partner selection and implementation
Impact and lessons learned
PLASMA LEARNING CYCLE

Microlearning, resources not courses, campaign learning, user generated content…these are all trends in learning at the moment, but how do you put all the pieces of next gen learning together to create coherent and engaging learning experiences? Fosway's PLASMA Learning Cycle shows you how.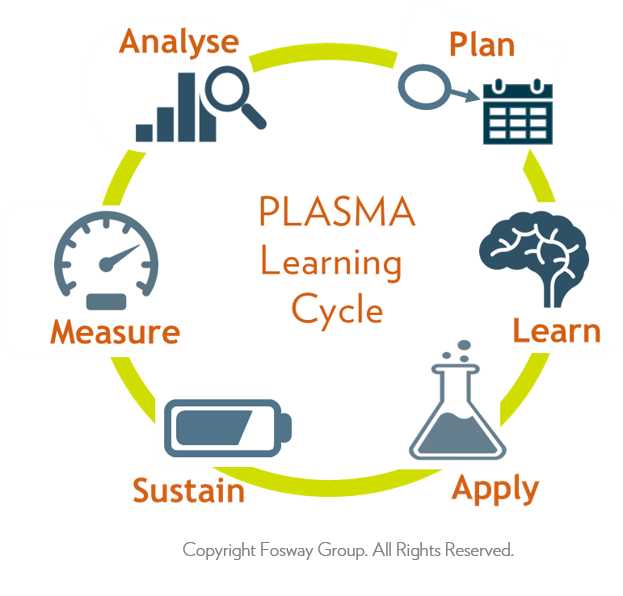 TAKE PART IN THE 2020 DIGITAL LEARNING REALITIES RESEARCH