COVID-19 Research:
Impact on HR
HR data is needed now more than ever to support business critical decisions around jobs and continuity planning. With organisations in turmoil as a result of the COVID-19 pandemic, we believe we can help HR with some rapid research aimed at providing practical insights at this difficult time. It reveals that every HR leader is being asked critical questions by their executives – but the challenge is, do they actually have the data and tools they need to answer them?
This research sheds light on how useful HR tech solutions are proving in reality; an important issue that has so far flown under the news radar relating to COVID-19 and its impact on business.
Some key headlines
Unsurprisingly, 100% of HR functions surveyed have seen COVID-19 impact their HR operations. But tracking this impact has been far from easy. Only 1 in 4 have found it easy to report on key statistics including how many people are self-isolating, working remotely or are hospitalised for example.
A little more than half (57%) are using their Core HR systems to help track this impact. 40% are still reliant on spreadsheets, with a huge emphasis on managers recording this data on behalf of their teams. 80% of organisations are relying on managers to do this manually versus only 23% supporting self-service forms online.
71% think the answers HR technology can provide as a result are severely limited.
Worryingly, only 30% of HR leaders believe their team has the skills to analyse and predict the impact of COVID-19 on their organisation, and only 13% have found it easy to do the analysis.
Organisations are also walking a tightrope between their ability to gather personal data with the need to protect people's privacy. In Europe, GDPR restricts the personal information organisations can hold about their people. But the nature of this pandemic means that the questions HR is being asked by the C-Suite increasingly reach into these areas.
"As the COVID-19 crisis has unfolded, the pressure on HR teams has intensified dramatically. Suddenly they have been asked for all sorts of answers and data to support strategic decisions, that for many organisations is frankly about keeping the lights on. What is not helping is that, for the majority, their HR systems are not actually designed to record or analyse the data necessary to provide business critical answers. There is enormous reliance on managers and spreadsheets to support new daily reporting, and only a minority have the tools to model the future impact of COVID-19 on their workforce and ongoing business operations."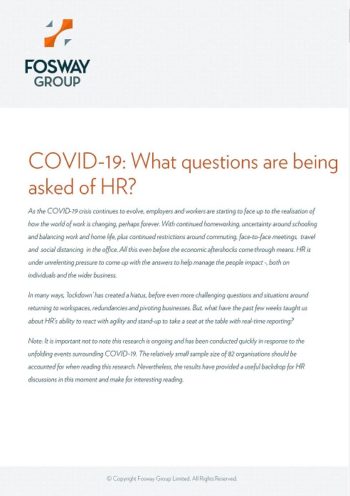 ABOUT THE RESEARCH
Fosway Group conducted a rapid research survey of its corporate research network during April 2020 focusing on HR Directors, HR managers and HR System professionals, drawn primarily from enterprise organisations in Europe.
These initial results are based on responses from 66 companies and reflect our desire for a rapid turnaround of the research. As such the inisghts should be seen as a catalyst for discussion and reflection as more than a definitive temperature check of the HR impact of COVID-19 to date.
The research remains open and we're keen to gather as much insight as possible to provide feedback and support to the HR community at this time. You can click here to take part now.