Talent Acquisition
The Fosway Group 9-Grid™ report for Talent Acquisition is a multi-dimensional model that can be used to understand the relative position of solutions and providers in the European talent acquisition systems market. It allows you to compare different solutions based on their Performance, Potential, Market Presence, Total Cost of Ownership and Future Trajectories across the market. Download the full report below.
Launching during the COVID-19 crisis when organisations are navigating furloughing and laying off staff, the research highlights two extremes within recruitment at present. Whilst the majority are facing a freeze in hiring, there are some facing unprecedented demand – and both camps require technology to support them during this tough time. Our analysis of the talent acquisition software market in EMEA, focuses on solutions being selected by enterprise-scale customers to support their recruitment processes.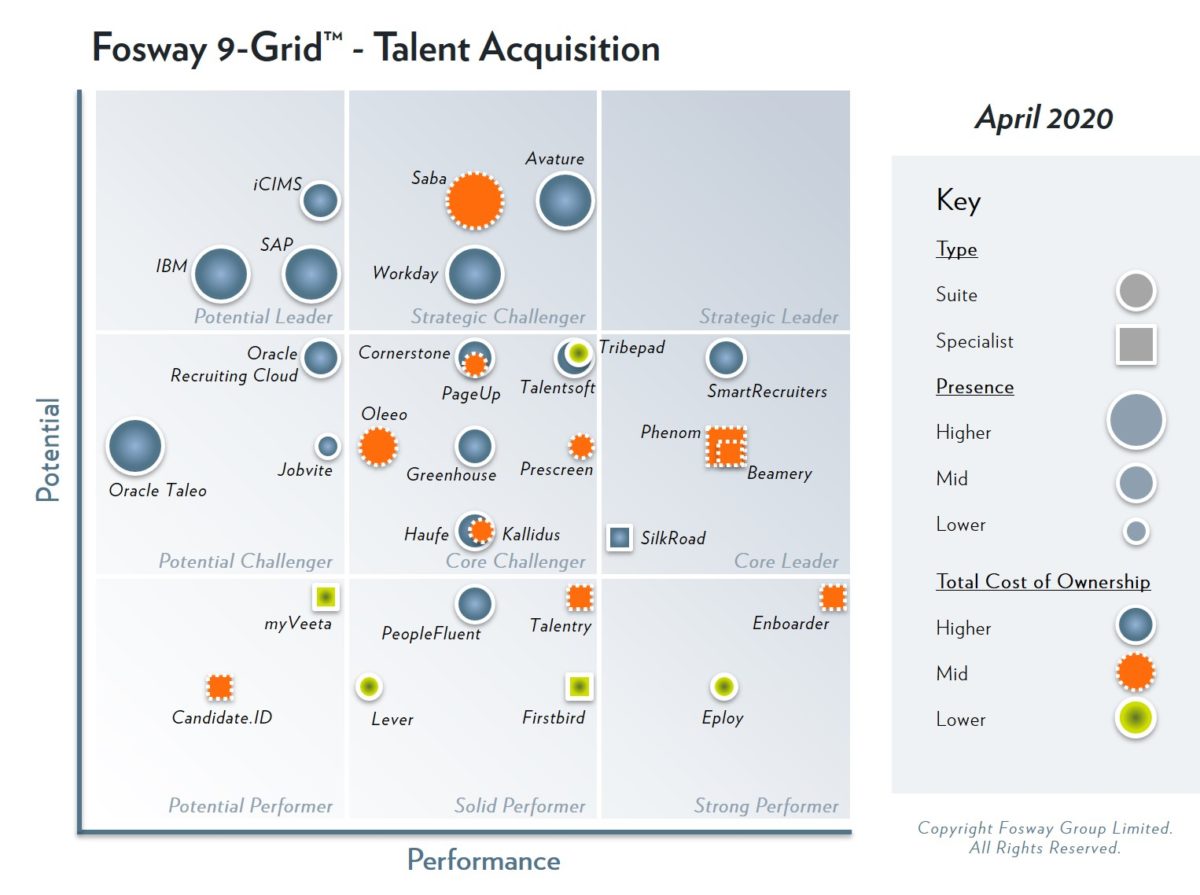 Download your copy of the full report which includes a summary of the latest market and solution trends in talent acquisition. In order to understand how to interpret our 9-Grid™ model properly, we strongly recommend that you read our background paper 'Introduction to the Fosway 9-Grid™' which explains the model in detail.
The first wave of the global COVID-19 crisis has effectively created two very different realities for recruiters. Where hiring is on hold, recruiters might feel their technology is not at the top of their list at present, but maintaining brand visibility and relationships with future candidates might arguably be more important now than ever. Whereas, those organisations facing a sharp spike in demand need technology to process and filter candidates at a scale that probably breaks their existing platforms and processes. It will be interesting to see which solutions emerge from this having truly delivered for their customers!
There is a very important difference between 9-Grid™ and other analyst models. In the 9-Grid™ all of the nine zones have value, and more interestingly, have an associated set of actions that can help you to maximise the value of the relationship with different vendors.
This means that being in the top right is not the only valid selection point. For some organisations, top right may not even be desirable. There are many other zones that offer success, especially when balanced against Total Cost of Ownership.
Need input into your strategy and system selection?