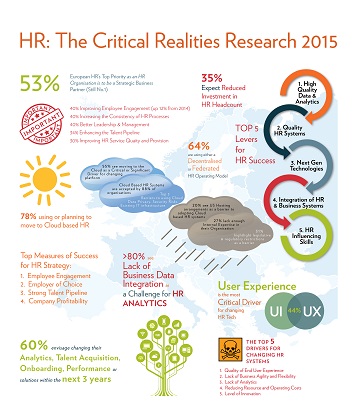 After the second year of the HRN and Fosway Group independent survey with over 400 responses, the realities of HR in Europe are becoming much clearer.
Whether it's the top levers for success, the top HR priorities, the drivers behind Cloud HR or changing HR systems – our data is telling some interesting stories. We've highlighted some of these in the headlines below and we've also captured a flavour of our findings in our infographic… which is ready for you to download now.
Importantly, over the coming weeks we will be releasing a series of short papers that dig deeper into the realities HR in Europe.
Until then, here is a taster of some of what European HR professionals have shared with us…

1. HR in Europe is fragmented:
64% are organised in a decentralised or federated HR Operating Model
Less than 25% have very standardised HR systems

2. Being a Strategic Business Partner is consistently HR's top priority:
53% have this as their highest priority.
3. Engagement, efficiency, leadership quality and the talent pipeline leads the HR measures of success:
The top measures of success are not board presence but Employee Engagement, Employer of Choice and having a Strong Talent pipeline
4. HR in the Cloud has mass momentum:
78% are using or planning to use Cloud based systems
5. High quality HR technology is seen as the key enabler of HR Success:
89% see Quality HR Data and Analytics as critical or very important
85% see Quality HR systems as critical or very important
73% see Next Gen technology as critical or very important

6. User experience is one of the MOST critical drivers behind HR Systems change
44% see this as a critical driver– the highest rating of any of the drivers behind changing systems

7. Analytics is the Top HR priority, but HR doesn't believe it has the analytics to succeed
Only 1% say HR Analytics is not a priority for them
76% see HR Analytics as a key enabler in them being a Strategic HR Business Partner
90% see a lack of skilled resources as a critical barrier to successfully progressing HR Analytics in their organisation
8. There is a potential tsunami of change in HR Systems over the next 3 years:
Nearly 60% – envisage changing their Analytics, Talent Acquisition, Onboarding, or Performance solutions within the next three years
50% envisage changing the Core HR over the next three years
As you can see there is so much we can talk about, even in this short post! And yes, we could have done a top 10 takeaways style piece for this blog, but this is just an amuse-bouche, as there is so much detail we want to include and we know you will definitely be hungry for more. So our upcoming series in collaboration with HRN will give you much more information on the research findings and what it means for you and your organisation. It will definitely be a series worth following.
As I mentioned, you can download the infographic now and sign up to the serialisation here.