Die Fosway Group, Europas führender HR-Branchenanalyst, hat das neue 2021er 9-Grid™ für Cloud HR veröffentlicht. Die Studie zeigt, wie wichtig die People Experience ist, wenn Unternehmen workforce-zentrierte Human Capital Management (HCM)-Strategien in den Vordergrund stellen, um den Unternehmenserfolg über die Corona-Pandemie hinaus zu steigern.
Letztes Jahr stand das 9-Grid™ für Cloud HR im Zeichen von Turbulenzen und Krisenmanagement. In diesem Jahr liegt der Schwerpunkt auf einer außergewöhnlicher People Experience, die durch ein Ökosystem von Cloud HCM-Suiten und Cloud HR-Spezialisten bereitgestellt werden. HR-Teams haben ihren Können unter Beweis gestellt und innovative Strategien entwickelt, um sich an schnell ändernde Geschäftsanforderungen anzupassen und einen Weg über die Pandemie hinaus zu finden. Infolgedessen konnten die Anbieter auch ihre Umsätze und ihren Kundenstamm in vielen Fällen um 25 % und mehr steigern.
Putting the human experience at the heart of the HCM strategy is driving new ways of working, from moving HR processes into the flow of work to rapid internal mobility, enabling the right people to work in the right areas of the business at the right time. The 9-Grid™ analysis shows that HR is focused on delivering change in a more human way – by listening to employees and engaging around wellbeing. Wrapping a people experience layer around HCM activities is helping HR leaders extend their impact by connecting HR to talent and learning.
Das 2021er Fosway 9-Grid™ für Cloud HR umfasst sowohl Cloud HCM-Suiten als auch Cloud HR Spezialisten. Die HCM-Suiten decken ein breites Spektrum an traditionellen und modernen Ansätzen für Personalarbeit, Talentprozesse und Mitarbeitererfahrung ab. Die Cloud-HR-Spezialisten fokussieren sich auf einen speziellen Funktionsbereich, der eine disruptive Agenda verfolgt und einen hohen Einfluss auf den Erfolg von Unternehmen ausüben kann. Sie haben ein zielgerichtetes Angebot und wollen den Markt in ihrem gewählten Bereich anführen.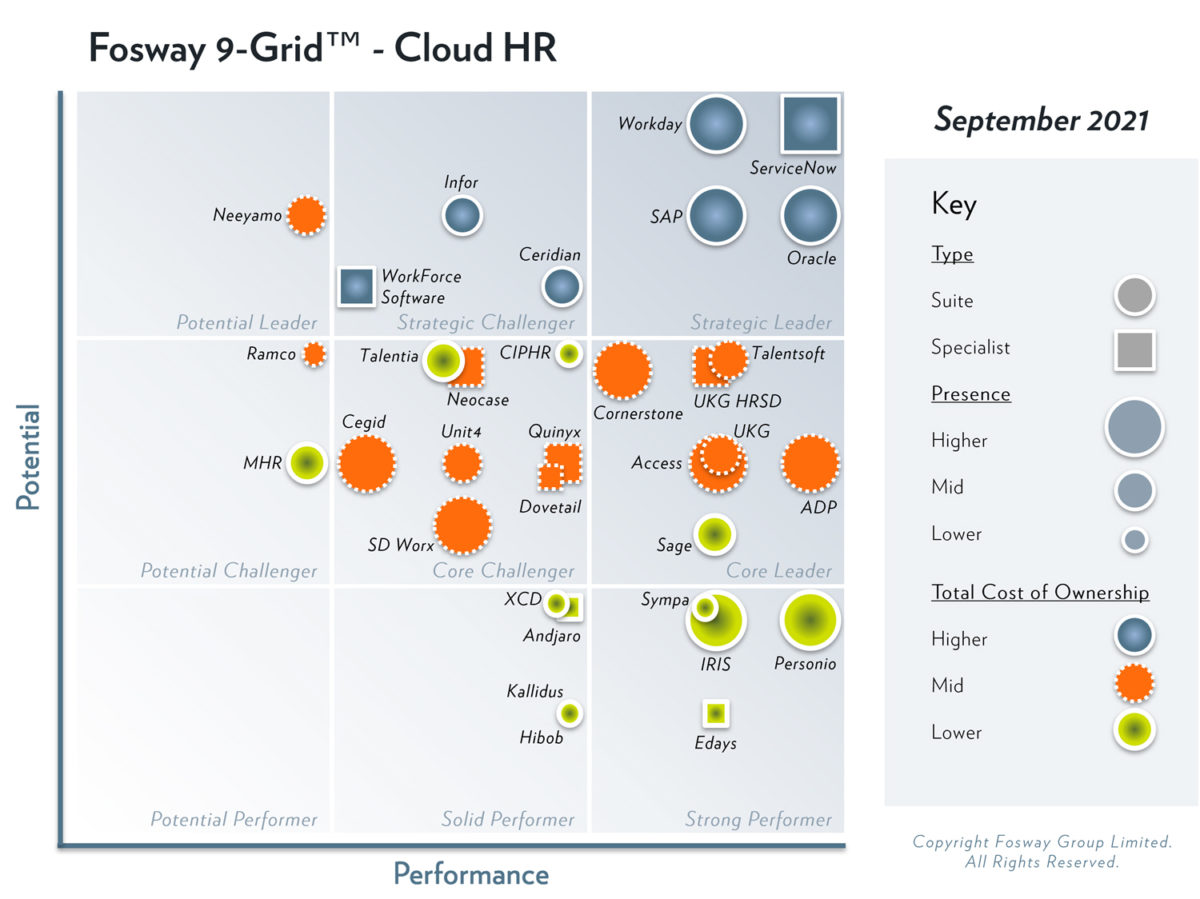 This year's analysis includes new players, challengers as well as innovation within the big HR tech incumbents. As always, the focus of the 9-Grid™ is weighted towards European and International buyers. With input from Fosway's Corporate Research Network of over 250 enterprise organisations, its aim is to demystify the supply options available to companies and help HR teams make better buying decisions when it comes to investing in technology solutions.
David Wilson, CEO of Fosway Group, said 'If last year's 9-Grid™ was a story of crisis management and digital acceleration, this year's is about evolution. HR has raised its game significantly and we see emerging HCM strategies that are more workforce and human centred. The focus now is on innovation and growth, but the context is challenging as organisations look to reskill and realign themselves to seize new opportunities in a post-pandemic world.'
He continues, 'Organisational innovation is being matched by innovation amongst technology vendors. Cloud HCM Suites are innovating their capability to support these shifts in HCM strategy, and combined with Cloud HR Specialists, deliver a higher quality people experience. As a result, the ecosystem gets stronger as well as more diverse. The priority is to create an HR ecosystem that aligns to the priorities of the organisation and that provides a seamless experience for all those who use it.'
Der vollständige Bericht kann jetzt online heruntergeladen werden.
Der CEO von Fosway, David Wilson, und, Sven Elbert, Senior Analyst HCM & Talent, werden am 19. Oktober 2020 in einem Live-"Ask-the-Analyst"-Webinar Ihre Fragen beantworten. Registrieren Sie sich noch heute online. Register for your free place online today.