When surrounded by the energetic and inspiring talk of disruption and innovation at day one of UNLEASH London 2018, it would be easy to get overwhelmed and wonder how on earth your organisation is ever going to keep up. Jonas Kjellberg, a co-founder of Skype and disruptor extraordinaire, kicked us off with brilliant insights, hard-won from his failures as well as his successes.
Kjellberg talked about the need to re-imagine our organizations. Yes, some of the well-worn cliches were trotted out about Airbnb re-imagining hotels or Uber re-imagining taxis, but this is a guy who helped revolutionise how we communicate. He used some other examples, such as how Zara doesn't see itself as a fashion retailer; it sees its business as a logistics operation — "first with the latest." But he stressed that innovation can't be achieved piecemeal, or by "three guys tapping away in your basement" while the rest of the organization carries on with business as usual. Innovation needs to become part of an organization's DNA.
That's easier said than done, right? In David Wilson's session in the analysts track, he shared five truths about digital HR transformation. Based on data from Fosway Group's joint research with UNLEASH, David talked about the realities of how HR is grappling with the changing world of work today.
Attending this event, you realise there is a very real gap between what gets discussed by speakers and the battles HR professionals are fighting back at their desks day to day. Obviously, I work for Fosway but I really believe it's important to understand this gulf between where organisations are now and where they're trying to get to in order to support the future of work.
Wilson's points, summarised in this slide from the presentation, are key to helping HR move forward.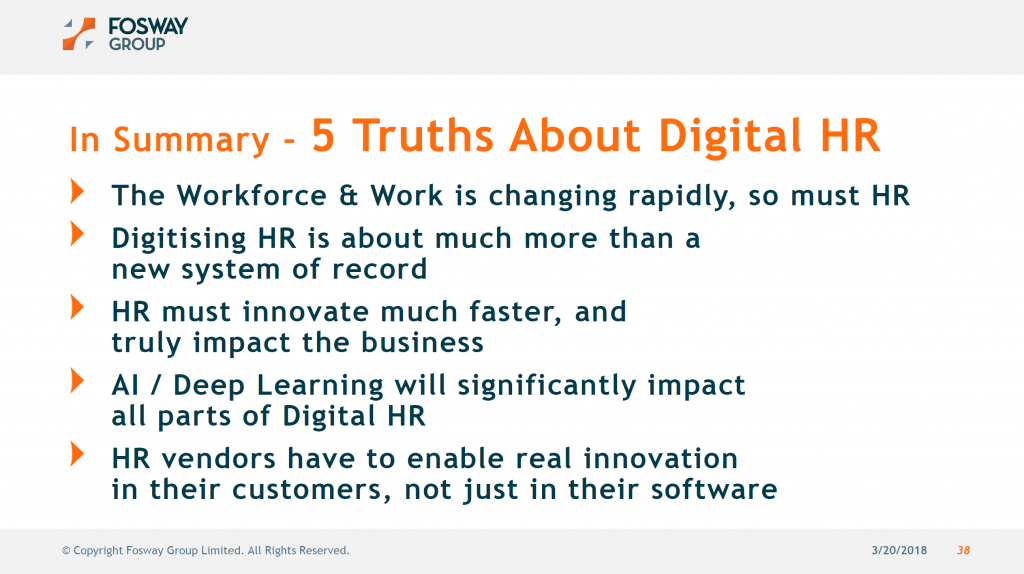 This isn't about innovating technology for its own sake, but looking critically at how it can truly enable better business delivery. So video-based virtual recruiting might be cool (38 percent of organisations are already using it), but will it help achieve your talent-acquisition goals? Chatbots (45 percent are looking to adopt these in the next year) and AI are very much "flavor of the month" (although only 12 percent are currently using AI), but how can they support your functional HR shared services? So in plain English, don't go buy shiny new things and call it innovating it if isn't going to add anything for your people and how they work (or how you work in HR).
Vendors also have an important role to play here. They are (or should be) in the innovation business. They have R&D teams developing their solutions all the time. But Wilson stressed that they should not just talk about their own innovation. They need to help corporates innovate too in order to be in a position to take advantage of what's available. And what's innovative in one context might be business as usual in another, or pie in the sky somewhere else! Driving transformation in large organisations is like trying to turn the QE2 — it's slower than most people would like. And vendors need to recognise that and support their clients in innovating within their context and constraints. When I tweeted this, a friend of mine who works for a large insurer tweeted back and said "This is so relevant for me right now. Don't show me shiny stuff, help me solve my problems!"
So if organisations can be honest with themselves about where they are now and where they want to be tomorrow (and potentially re-imagine what they do as Kjellberg said in the keynote), and vendors can support them with solutions that tackle genuine business issues and innovate at a realistic pace, maybe we can close that gap after all.
The full slides from David Wilson's presentation can be downloaded here.