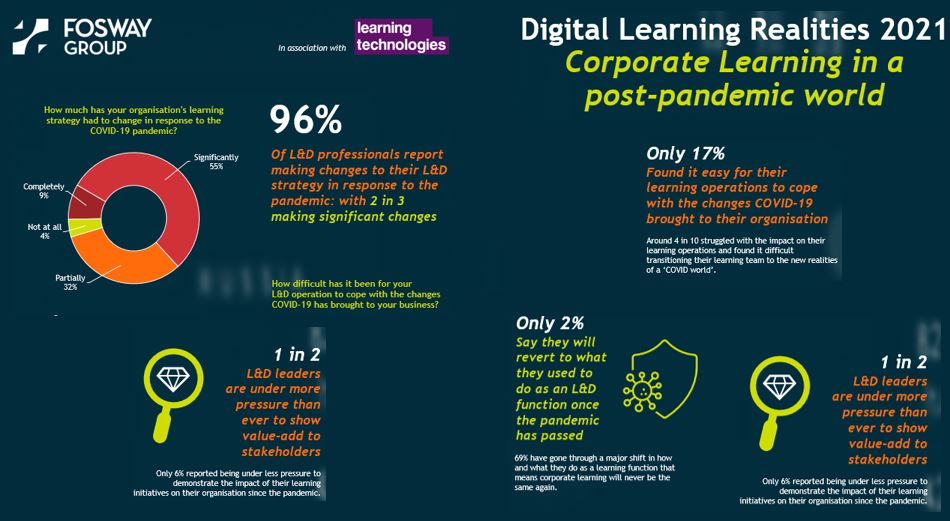 Fosway's fortlaufende Studie "Digital Learning Realities", die nun schon im sechsten Jahr stattfindet, untersucht die Landschaft des digitalen Lernens. Die diesjährige Studie, die in Zusammenarbeit mit der Learning Technologies Conference durchgeführt wurde, befasst sich mit dem Lernen in Unternehmen in einer post-pandemischen Welt.
Zwischen Januar und Oktober 2021 wurden mehr als 500 Learning-Experten aus Unternehmen in ganz Europa befragt. Die Studie gibt Auskunft darüber, wie sich das Lernen verändert, während die Unternehmen die COVID-19-Pandemie hinter sich lassen. Die Studie zeigt:
Die Auswirkungen der Pandemie auf Weiterbildungsstrategien
Die Wirksamkeit von Lerntechnologien
Die Innovation, die das digitale Lernen vorantreibt
Skills als strategische Triebkraft des Lernens
Over the last two years, our research has tracked the impact of the pandemic on learning and in particular the accelerated use of digital learning technologies. This year's data shows just how much learning has changed, and continues to change, with skills rapidly becoming a huge driver of both the learning and corporate agenda.
The data shows that learning strategies have changed significantly in the last 18 months and that for most organisations corporate learning will never be the same again. Most learning professionals believe that enhancing the digital learning experience is critical for the future success of their team. But this will be a huge challenge as less than 50% say they have a platform fit for the modern workforce.