Digital Learning
The Fosway Group 9-Grid™ report for digital learning is a multi-dimensional model that can be used to understand the relative position of solutions and providers, predominantly within the UK and European market. It allows you to compare different solutions based on their Performance, Potential, Market Presence, Total Cost of Ownership and Future Trajectories across the market.
The 9-Grid™ for Digital Learning focuses on solutions that provide content and resources and therefore provides a different lens on the learning technology market than the 9-Grid™ for Learning Systems, which concentrates on the platforms that power the content.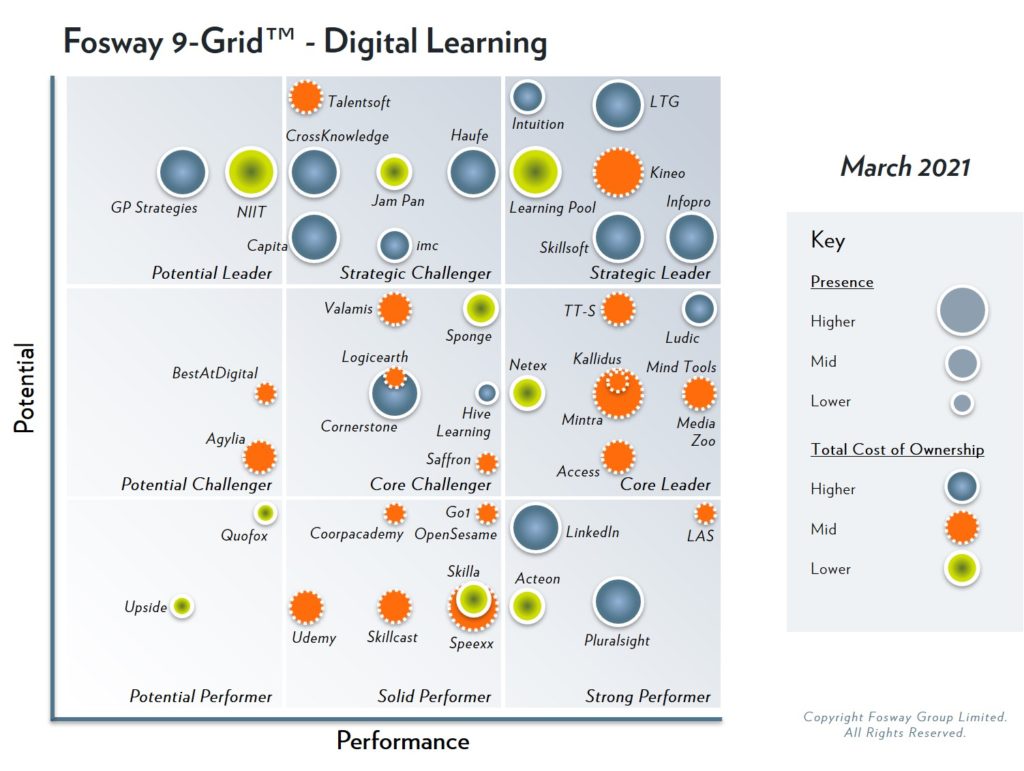 Ask The Analyst
Our analysts are hosting a live online session answering your questions about the new 9-Grid™ on Monday March 22nd. Join Fosway's founder and CEO, David Wilson, and our Director of Research, David Perring as they unpack this year's research. This unique session answers your burning questions around the 2021 research and the 9-Grid™ in general.
Download your free copy of the report below which includes a full summary of the latest market and solution trends in digital learning. In order to understand how to interpret our 9-Grid™ model properly, we strongly recommend that you read our background paper 'Introduction to the Fosway 9-Grid™' which explains the model in detail.
Digital learning has provided many organisations with a life raft since the onset of the COVID-19 crisis. But as digital learning fatigue has grown significantly during the pandemic, the quality of our learning experiences matters more than ever before. We need to find a more 'human-kind' approach. Which is potentially one of the biggest challenges for learning teams and providers for 2021 and beyond.
There is a very important difference between 9-Grid™ and other analyst models. In the 9-Grid™ all of the nine zones have value, and more interestingly, have an associated set of actions that can help you to maximise the value of the relationship with different vendors. This means that being in the top right is not the only valid selection point. For some organisations, top right may not even be desirable. There are many other zones that offer success, especially when balanced against Total Cost of Ownership.
Digital Learning Realities Research
It's an understatement to say that things have changed rapidly during 2020 and L&D is now more than ever at the forefront of supporting extraordinary changes to how we all work and learn.
Fosway Group and Learning Technologies are aiming to get under the skin of your priorities and the new demands being placed on L&D by organisations, stakeholders and learners. And we will be looking to share priority access to the results with respondents as we enter the Spring.
The survey should take around 20 minutes to complete. Please note that all responses are treated in the strictest confidence and no views or information will be directly attributed to a person or company in any of the published results. You can view our Privacy Policy here.
Why start your procurement process from scratch when Fosway already has the research and insight to help you make better supplier decisions much faster?