Discover the 2020 Fosway 9-Grids™ for Learning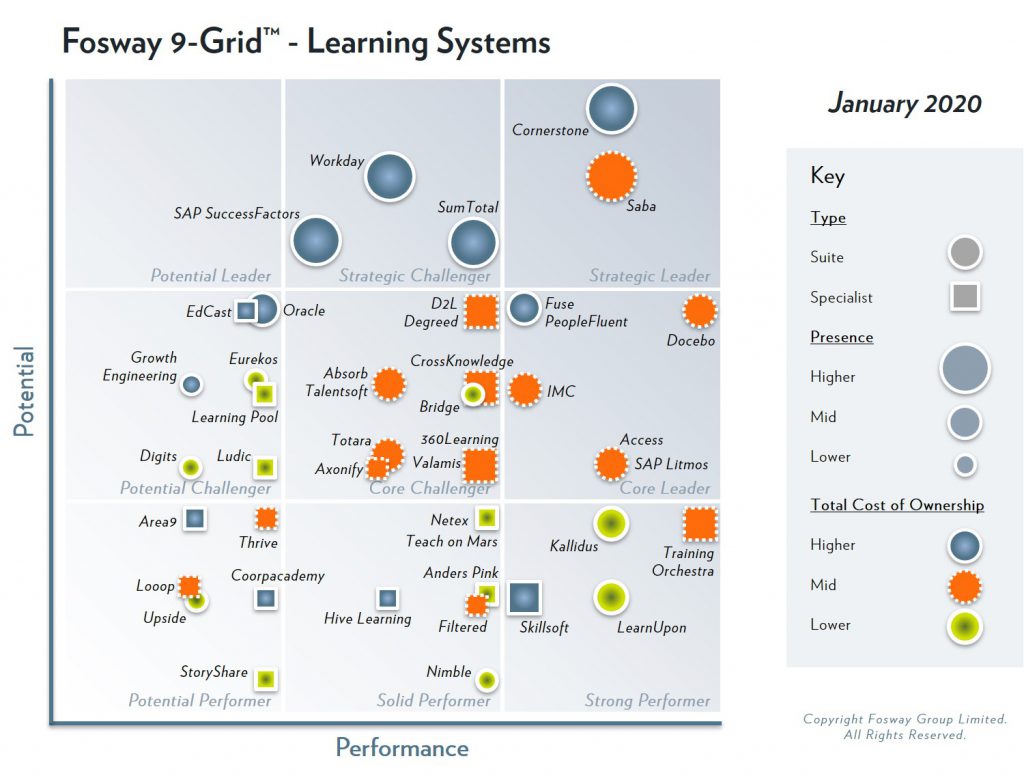 The LMS, NGLE and LXP are dead! In a move that recognises the ongoing evolution in learning systems in 2020 and beyond, we are redefining the market in a bid to help organisations better understand what they are buying. This reclassification of learning platforms on the brand new 2020 9-Grid™ for Learning Systems waves farewell to the LMS and NGLE classification and rebases its analysis on whether a solution is a Suite or a Specialist.
The digital learning market continues to boom. Investment is increasing and new products and vendors appear every year. The landscape gets harder to track and trickier to navigate. From analytics and AI, to creating digital learning ecosystems, to video, mobile and microlearning – your decisions on what to buy are becoming more exciting – and more risky – than ever before. And that's where the 2020 Fosway 9-Grid™ for Digital Learning comes in.
WHAT'S NEW?

In 2017, Fosway led the market by classifying Learning Systems as either LMS (Learning Management System) or NGLE (Next Gen Learning Environment), preferring not to formally use the LXP (Learning Experience Platform) term as despite emerging hype, as we believed it was not a meaningful buying category.
Three years on and the noise level has grown, but clarity hasn't. There has been an explosion in vendors using the NGLE/LXP labels to appeal to modern buyers scarred by bad historic LMS experiences. What they are is a mix of disruptive ideas and new ways of delivering learning. What they are not is a single buying category, so the moment to re-classify has come. As of 2020, Fosway is changing our classification for the 9-Grid™ for Learning Systems to segment into Suites and Specialists.
USEFUL LINKS

The Fosway 9-Grid™ is the only European-focused market analysis model aimed at helping buyers understand the relative market positions of solutions and providers. The important point to remember is that there is value in all of its zones. Below are some useful links to find out more about the individual 9-Grids™, our broader learning research and how we use this data and insight to work with corporate organisations to help understand the market and ultimately, make better buying decisions.
WHAT ARE SUITES?

Suites are platforms supporting and integrating a broad range of traditional and next gen learning approaches. They aim to cover all the main bases – traditional learning management, heightened learner experience, old and new learning channels. They are the evolution of LMSs that have added next gen and learner experience capabilities, but also the evolution of the NGLEs/LXPs that have back-filled learning management capability to become a 'one stop shop' for managing modern learning.
WHAT ARE SPECIALISTS?

Specialists are the opposite. They unashamedly focus on one area of capability with a disruptive high impact agenda. Whether that is being the best at mobile learning, doing AI-managed adaptive delivery, or building integrated learner experiences from multiple sources, specialists have a focused proposition and want to lead the market in their chosen focus area. Specialists will rarely be the only Learning System in an organisation. They cannot cover all the areas of learning that a company needs to manage or support. Instead their goal is to disrupt the Suites and to deliver heightened impact in a specific area of modern learning.
'It's been clear to us for some time that we needed to offer buyers greater clarity around learning systems. Our goal is to help buyers cut through some of the market hype and figure out what is a real priority for them, what is missing from their learning ecosystem, and which suppliers might be best placed to help them.'