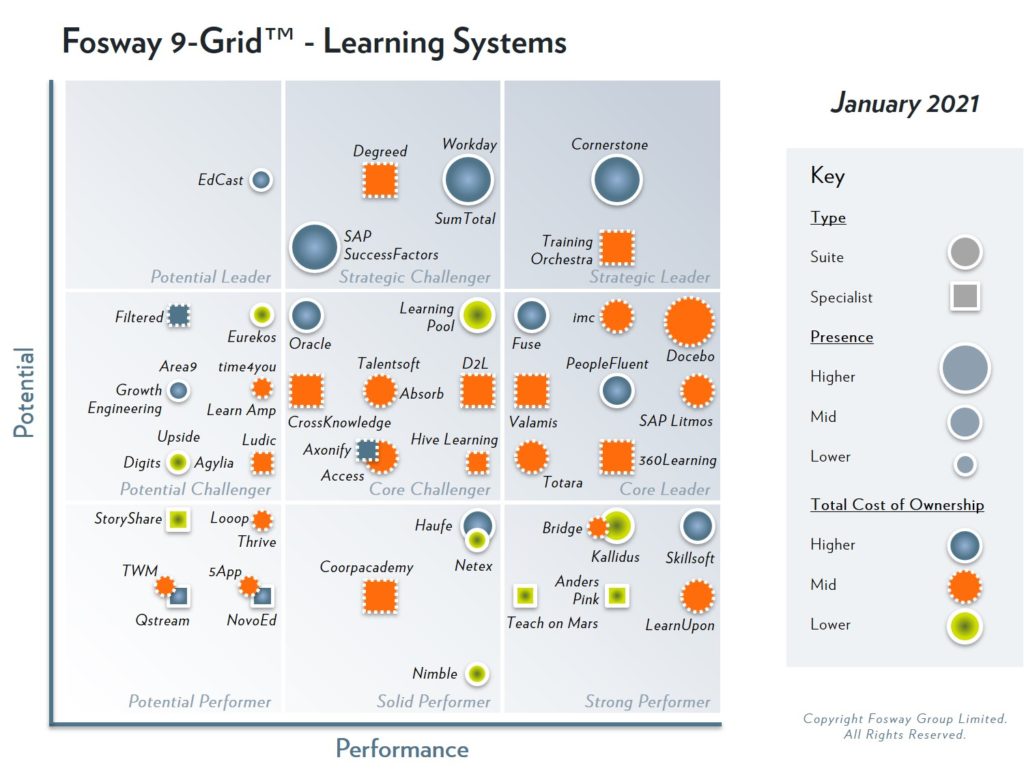 RETHINKING LEARNING SYSTEMS:
THE RISE OF SUITES AND SPECIALISTS
Following extensive ongoing research, Fosway changed the classification used in the 9-Grid™️ for Learning Systeme. As more new suppliers disrupted this market, traditional terms such as LMS, NGLE and LXP either didn't define the types of solutions or help tell them apart. So, we reclassified them into Learning System Suites and Specialists and have since dived into researching the disruptive specialisms in one of the biggest projects we have ever done.
The first introductory paper is now available and sets the scene for a series of Fosway Insights papers looking at each of the main specialism areas – as well as a new learning ecosystem model to bring it all back together.
"There has been an explosion in vendors using the new labels to appeal to modern buyers scarred by bad LMS experiences. These platforms are a mix of disruptive (and often new) ideas and ways of delivering learning – mobile, social, video, adaptive, micro, curated – the list continues to grow. But whatever they are, they do not form a single buying category. We needed a better language to describe them, and a better model to analyse their impact and difference."
LEARNING SPECIALISMS RESEARCH
We are producing a series of new Fosway Insights papers under the label of 'Disruptive Learning' and associated with each of the primary specialism areas that were explored in the research. To be specific, there will be an Insights paper on each of the following Specialisms:
SPRECHEN SIE NOCH HEUTE MIT UNS
We are still getting questions every day about LXPs and LMSs and which learning systems organisations should be investing in. The trouble is, these are the wrong questions! But the good news is, our analysts are here to help. If you're still confused on this topic or would like real time advice on your learning systems choices, or are keen to share any recent experiences, talk to us today.
Over 25 years we have published hundreds of reports, sharing our research, data and insights. Here is a selected list of other key research which you might find interesting.