Bespoke Learning Solutions
The Fosway Group 9-Grid™ report for bespoke learning solutions is a multi-dimensional model that can be used to understand the relative position of solutions and providers in the UK/European market. It allows you to compare different solutions based on their Performance, Potential, Market Presence, Total Cost of Ownership and Future Trajectories across the market. For 2016, this 9-Grid™ has been recalibrated to reflect that many vendors have strengthened their portfolios, moving away from pure-play e-learning to a wide range of solutions, platforms and services. Now the model has shifted to include more than just bespoke content creation.
Across Europe, the market continues to be fragmented. Country-specific vendors rarely sell outside of their core region. Very few vendors operate on a truly pan-EMEA or global basis. Parochial buying behaviour seems to be the biggest hurdle to international growth. The UK bespoke learning market meanwhile, continues to be a buoyant and growing market with many new entrants (including those with an overt media bent), as well as the traditional smaller artisan e-learning developers.
Download your free copy of the report below which includes a full summary of the latest market and solution trends in Bespoke Learning Solutions. In order to understand how to interpret our 9-Grid™ model properly, we strongly recommend that you read our background paper 'Introduction to the Fosway 9-Grid™' which explains the model in detail.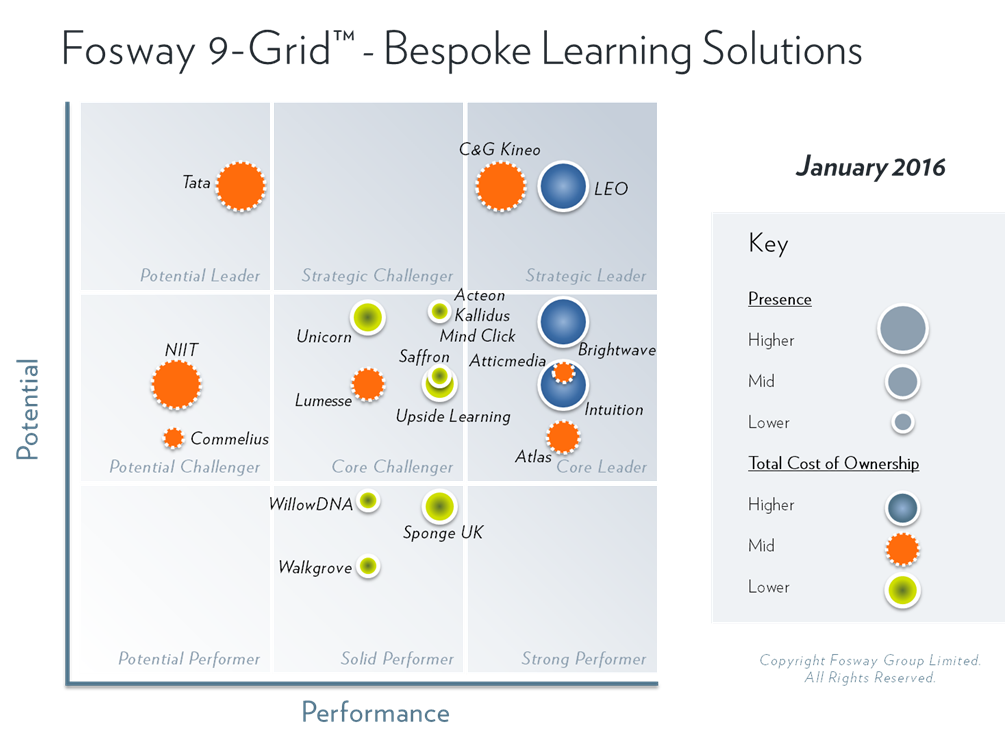 Go to the next level of your supplier research with our Vendor Reports