For Learning Leaders
Fosway hilft Unternehmen dabei, schneller bessere Kaufentscheidungen in den Bereichen HR, Talent Management und Learning zu treffen
Wir sind einzigartig positioniert, um Sie zu unterstützen
Fosway ist Europas führender Analyst für Personalmanagement mit mehr als 25 Jahren Erfahrung bei Analyse und Beratung der führenden Unternehmen Europas zu Next-Gen HR, Talent-Management und Learning
Wir sind Analysten, keine Beratung; was uns auszeichnet, sind unsere tiefgreifenden Studien, unabhängigen Analysen und die neuesten Daten und Entscheidungshilfen, die Sie in die Lage versetzen, schneller bessere Entscheidungen zu treffen. Niemand sonst in Europa hat einen besseren Einblick in die Einkaufstrends von Unternehmen oder in die Fähigkeiten und Leistungen von Anbietern.
Ganz gleich, ob Sie einfach nur ein Sounding Board, einen spezifischen Experteninput oder Hilfe bei der Validierung Ihrer Anforderungen und Anbieteroptionen benötigen, Fosway ist einzigartig positioniert, um Sie dabei zu unterstützen Ihre Kaufentscheidungen in den Bereichen HR, Talent Management, Recruiting und Learning zu beschleunigen und deren Risiko zu reduzieren. Find the best answers for your organisation using the best market insight and tools for learning decisions in Europe.
Wen wir unterstützen
Die Fosway Group arbeitet mit Europas führenden Unternehmen aus allen Branchen zusammen.
Einige unserer Unternehmenskunden sind:
Alstom, Aviva, Boots, BP, BT, Centrica, Deutsche Bank, Faurecia, HSBC, International SOS, Lloyds Banking Group, Novartis, PwC, Royal Bank of Scotland, Sanofi, Shell, Swiss Re, Telefonica, Thomson Reuters, Toyota Europe, Vodafone und viele mehr.
Unsere Analysten arbeiten partnerschaftlich mit unseren Kunden zusammen, um sicherzustellen, dass wir Ihnen die Erkenntnisse liefern, die Ihr Unternehmen benötigt, um Ergebnisse zu erzielen und Risiken zu reduzieren.
We also work with Recruiting und HR leaders. Click to find out more.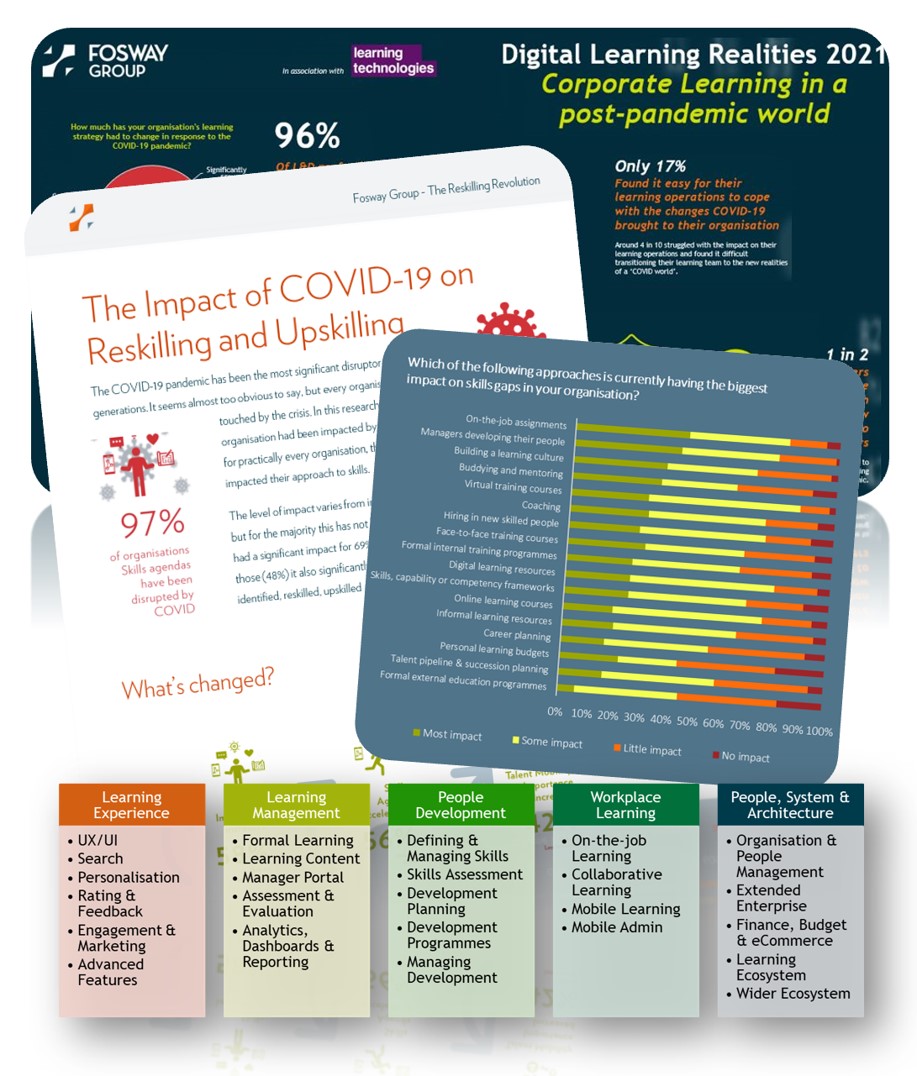 Tiefe Einblicke: einzigartige Studien unter Beteiligung von Europas führenden Unternehmen, um zu verstehen, was funktioniert und wie ihre Erfahrungen mit Lieferanten wirklich sind.

Independent thinking: objective thinking based on real research and independent analysis to help you understand the best options for your organisation, and how they fit together to maximise your value and success.

Accelerated decision making: unique vendor research and decision tools to accelerate your decisions: why start your market evaluation from scratch when you can use our existing research, tools and insights to get a head start?

Validation: independent critical input to challenge and validate your requirements, your solution options and the best vendor shortlist to meet your needs.

Evaluation and selection: choose the best partner for you using our analysts as an expert friend to help you de-risk vendor input and your selection process.
Beschleunigen Sie Ihre Suche nach einer geeigneten Lösung

Der Zugriff auf die Daten und Erkenntnisse, die Sie benötigen, um die Auswahl und Anschaffung einer Lösung zu beschleunigen, könnte nicht einfacher sein.
Our Fosway 9-Grids™ for learning and the data behind them are the only market assessment tools for European buyers. Whether you are validating your requirements, or determining the best vendor shortlist, we have the data and tools you need to get you to the answers faster and effectively. That's what Fosway does.
Transforming learning and changing systems impacts your entire workforce. Now more than ever, these decisions need to be made quickly and to show a positive impact early. Fosway's Analyst team relieves the pressure by leveraging the latest research and decision tools, backed up by thousands of data points and conversations that go behind every 9-Grid™.
Beschleunigen Sie Ihre Suche, verringern Sie das Risiko bei der Auswahl und treffen Sie schneller bessere Entscheidungen.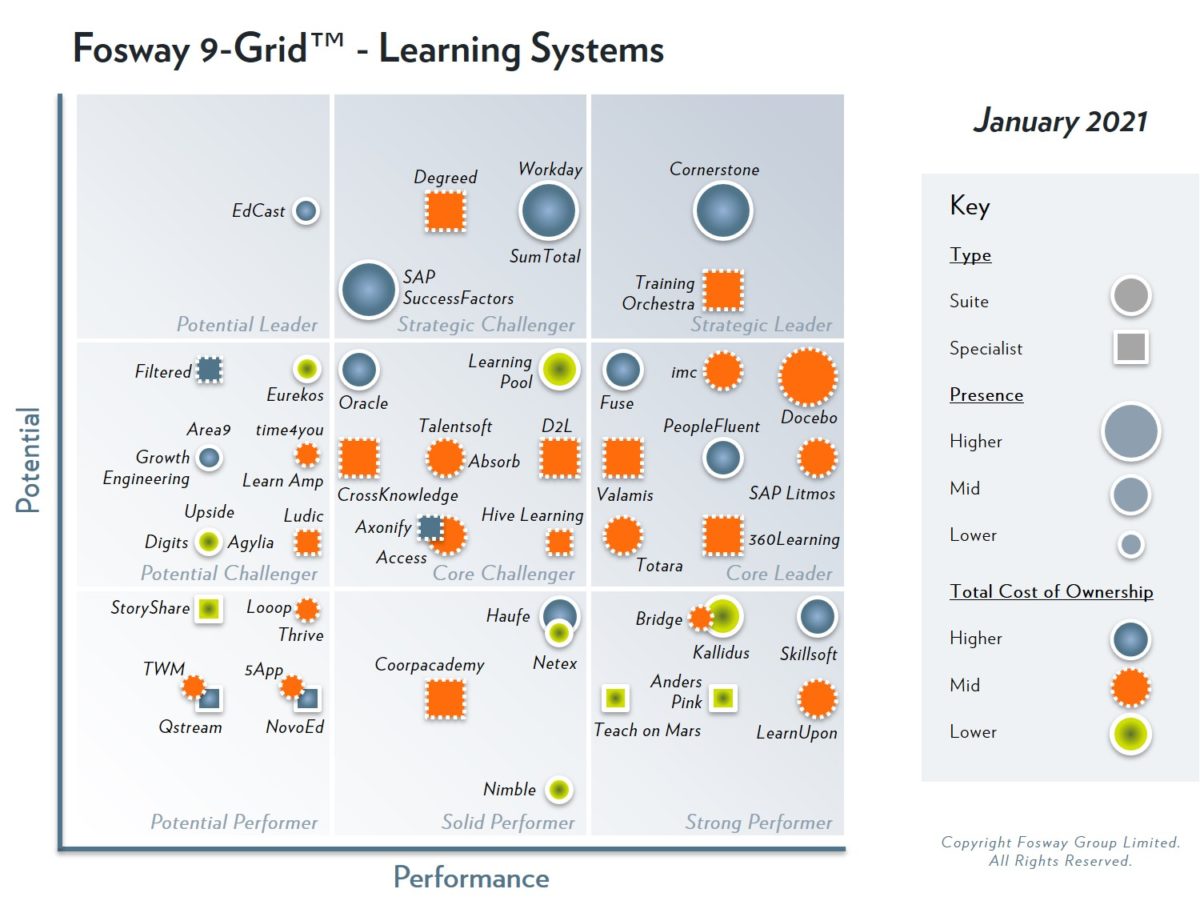 Validieren Sie Ihre Optionen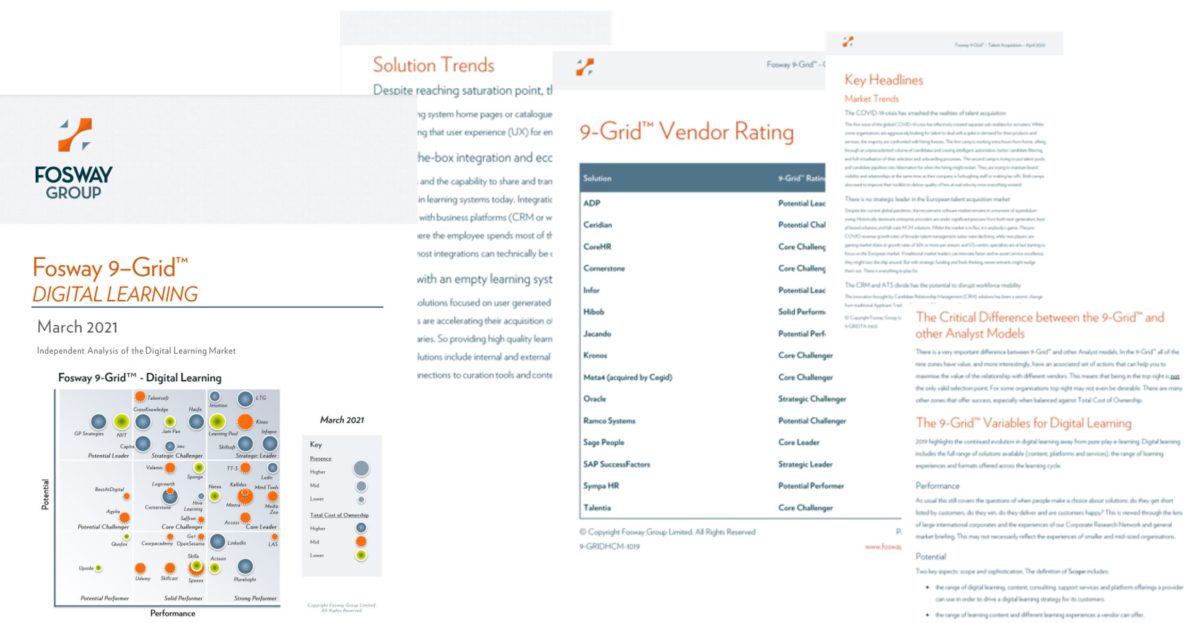 Our corporate engagement model is designed to help companies rapidly validate their learning strategy and solution options, as well as the vendors that best meet their needs.
Whether you need input to your learning strategy, a critique of your business case, or validation of your requirements and vendor options, Fosway is uniquely able to help you. As the leading European HR Analyst, we have the data and insight to provide answers quickly. And unlike consulting firms and vendors, we don't have a vested interest in what you choose – just that you make the best choice!
Wir arbeiten mit unseren Kunden zusammen, um Red Flags zu erkennen. Wir stellen sicher, dass die Anbieter, die in die engere Wahl gezogenen Lösungen auch wirklich starke Kandidaten sind und deren Lösungen auch wirklich in Frage kommen. Durch Online-Sitzungen, unabhängige Anbieterbewertungen, funktionale Anforderungen und Inputs von wichtigen Stakeholdern validieren wir, was wirklich benötigt wird, damit unsere Kunden mit möglichst geringem Risiko vorankommen können.
Greifen Sie direkt auf Analysten zurück

Eine unserer Hauptaufgaben als Analysten ist es, dem Markt einen "Spiegel vorzuhalten" und ihn so zu zeigen, wie er wirklich ist. Wir arbeiten auch mit HR-Teams in Unternehmen zusammen, um dasselbe zu tun. Wir liefern ihnen auf Abruf Experteninput, Einblicke und Ratschläge, die ihnen dabei helfen, ihre Strategie zu hinterfragen und ihre Pläne anzupassen und umzusetzen.
Unternehmenskunden erhalten nicht nur Zugang zu Fosways Studien und Know-how, sondern haben auch einen Relationship Manager, an den sie sich wenden können, wenn sie zusätzliche Details oder unabhängigen Input benötigen.
Aus der Arbeitsweise unserer Unternehmenskunden wissen wir, dass es eine große Hilfe ist, mit unseren Analysten auf Abruf zu sprechen und bei Bedarf wertvolle Hinweise zu erhalten, wie und wann man sie braucht - besonders in Zeiten großer Veränderungen.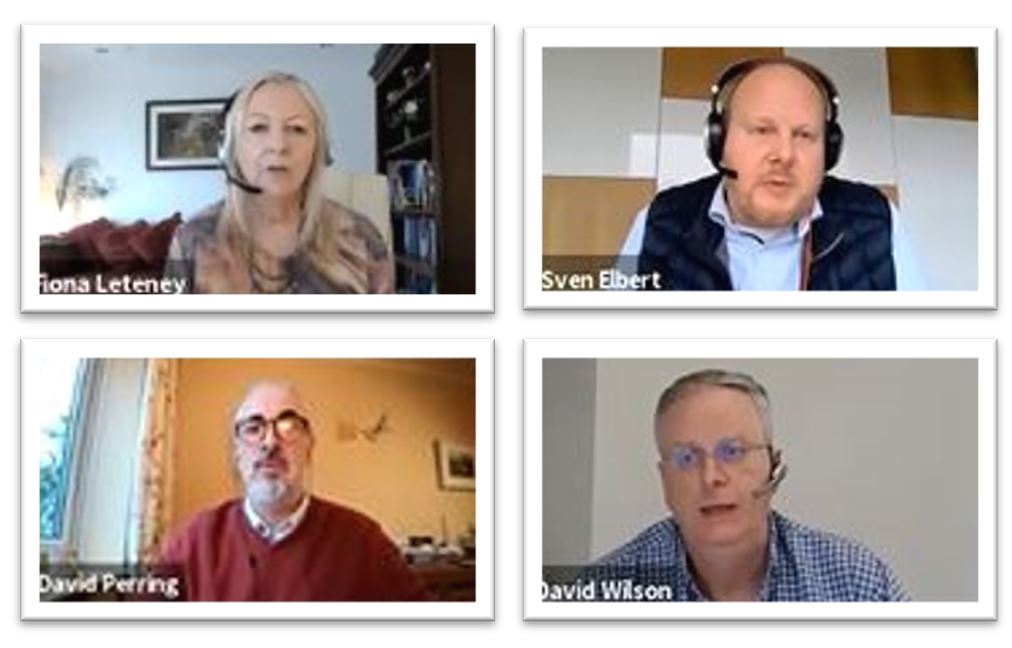 Sprechen Sie uns noch heute an