The Fosway 9-Grid™ report for Learning Systems is a multi-dimensional model that can be used to understand the relative position of solutions and providers, predominantly within the UK and European market. It allows you to compare different solutions based on their Performance, Potential, Market Presence, Total Cost of Ownership and Future Trajectories across the market.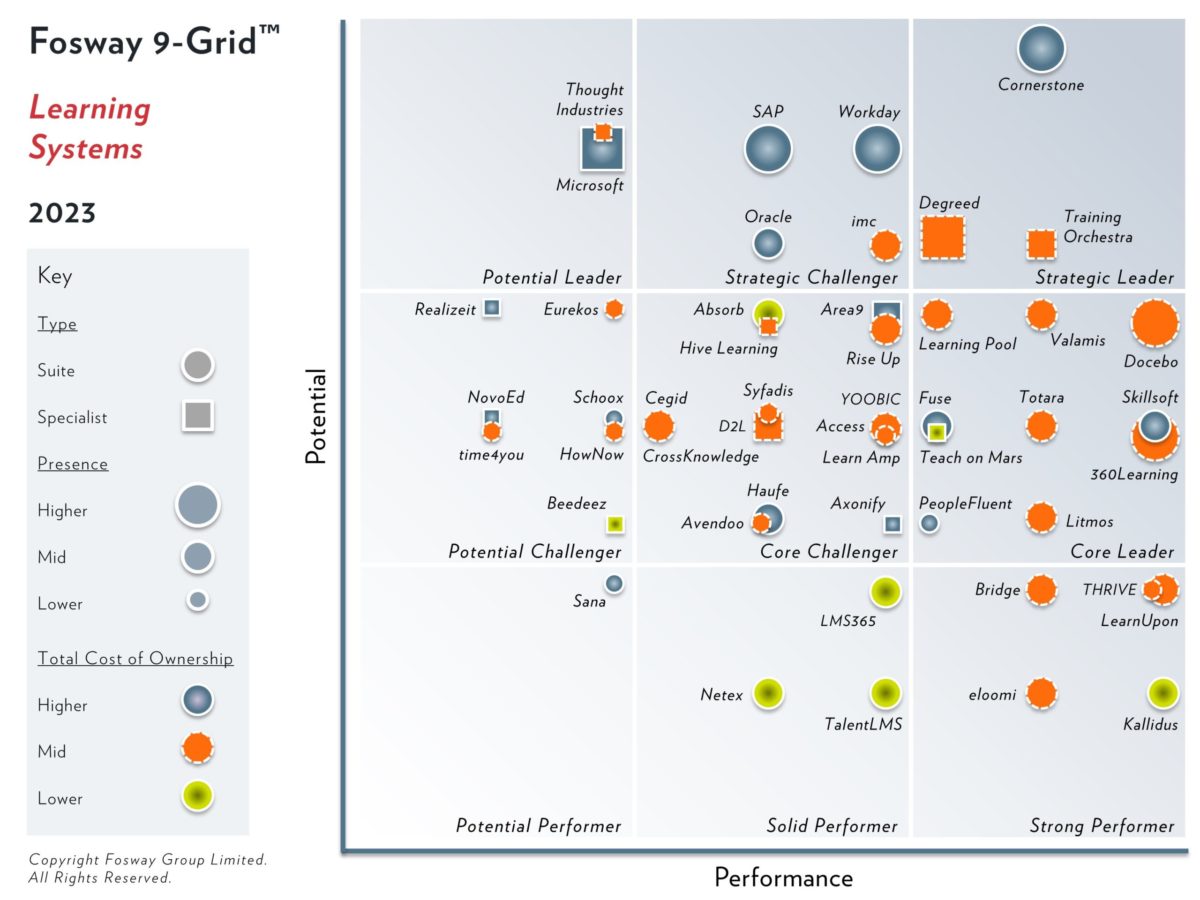 Download your free copy of the report below which includes a full summary of the latest market and solution trends in Learning Systems In order to understand how to interpret our 9-Grid™ model properly, we strongly recommend that you read our background paper 'Introduction to the Fosway 9-Grid™' which explains the model in detail.
Ask the Analyst: Live Q&A
Our analysts hosted a live online session answering your questions about the new 9-Grid™ on February 9th. Fosway's founder and CEO, David Wilson and Senior Analyst, Fiona Leteney took your questions and discussed the 9-Grid™ in general.
"These are tough times more widely but the market remains buoyant and healthy, and continues to evolve and innovate.  Our research shows that the digital transformation of learning is still ongoing and that the vendors are helping, and in many cases, driving corporate innovation. Success for learning will always require alignment with ever-changing business priorities."
What are Suites and Specialists?
Learning System Suites
These are platforms supporting and integrating a broad range of traditional and next gen learning approaches. They aim to cover all the main bases – traditional learning management, heightened learner experience, old and new learning channels. They are the evolution of LMSs that have added next gen and learner experience capabilities, but also the evolution of the NGLEs/LXPs that have back-filled learning management capability to become a 'one stop shop' for modern learning. They are the complete opposite of Learning System Specialists.
Learning System Specialists
They unashamedly focus on specific areas of capability with a disruptive high impact agenda. Whether that is being the best at mobile learning, doing AI-managed adaptive delivery, or building integrated learner experiences from multiple sources, Specialists have a focused proposition and want to lead the market in their chosen focus area. Specialists will rarely be the only Learning System in an organisation. They cannot cover all the areas of learning that a company needs to manage or support. Instead their goal is to disrupt the Suites and to deliver heightened impact in a specific area of modern learning.
Digital Learning Realities Research
Fosway's ongoing Digital Learning Realities research, now in its sixth year, explores the digital learning landscape. This year's research, carried out in partnership with the Learning Technologies Conference, looks at corporate learning in a post-pandemic world.
More than 500 senior learning professionals from enterprise organisations across Europe were surveyed between January and October 2021. They provide their insights on how learning is changing as organisations move beyond the COVID-19 pandemic. The research reveals:
• The impact of the pandemic on L&D strategies
• The effectiveness of learning technologies
• The innovation driving digital learning
• Skills as a strategic driver of learning