9-Grid™
9-Grid™ is EMEA's leading market analysis model for Next Generation HR and Learning
9-Grid™ is a five dimensional market analysis model that is used to understand the relative position of solutions and providers in the learning and talent systems market. 9-Grid™ has been in evolution since 2008 and is driven by demand for analysis and insight designed for European-based companies. Too often, organisations have had to rely on a US-centric view.
We created 9-Grid™ based on Fosway's unrivalled, independent research in the Next Generation HR and Learning markets over 18+ years, and with the insights and experience of our Corporate Research Network. This comprises over 150 leading global companies; typically enterprise-scale organisations with a large European presence.
A key difference of the 9-Grid™ to other analyst models, is that all of the nine zones have value and a set of actions to maximise that value. 9-Grid™ explicitly prompts real conversations around the trade-off between customer performance, solution sophistication and total cost of ownership.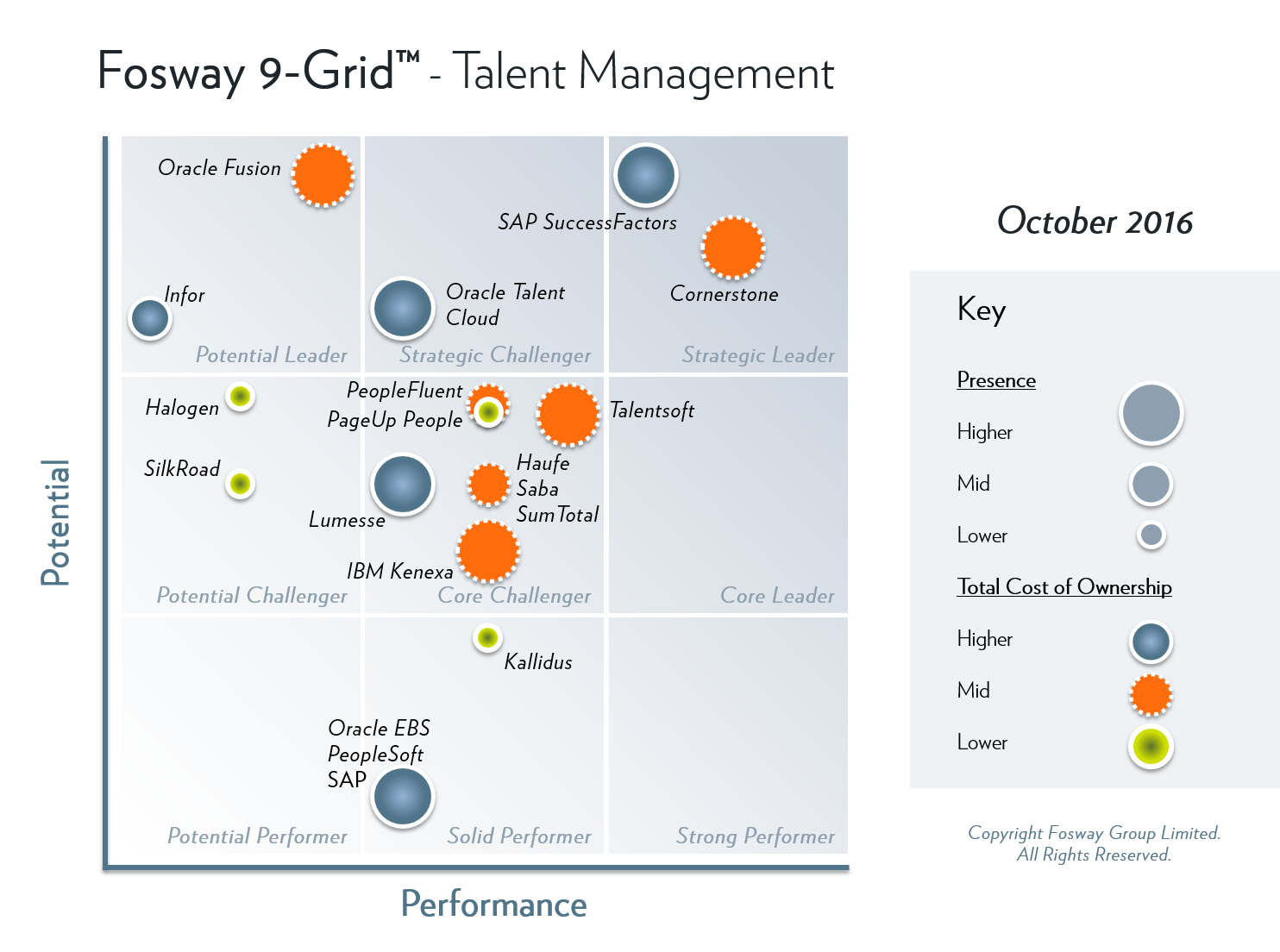 DOWNLOAD FOSWAY 9-GRIDS™ FOR:
Read more in this Introduction to 9-Grid™
THE FIVE DIMENSIONS OF 9-GRID™:
Potential – the solution's scope and sophistication

Performance – comprising market performance and customer performance

Presence – historic and current presence including size of related business and number of enterprise customers

Total Cost of Ownership – the full cost of acquiring, implementing and operating the solution (typically over a 3 year period)

Future Trajectory – the impact of trends in the market, related to a vendor's Performance and Potential
VENDOR REPORTS
We know how expensive and time consuming research can be. Once you have reviewed our 9-Grid™ reports, you will have gained useful insights into the various solutions on the market. To support the next step in your procurement processes and reviews of the key players across the Next Generation HR markets, you can access Fosway's Vendor Reports. This exclusive research provides unbiased insights into the solutions available today. Vendor Perspectives are the only in-depth, independent analysis that support organisations based or operating in, the UK and EMEA.


   READ MORE
FUTURE 9-GRID™ REPORTS
With the addition of the new Fosway HR analyst practice and the expansion of our Next Generation Learning research, there will be new 9-Grid™ models launching in 2017. We will be exploring the suppliers and solutions in important market sectors Learning Services, including managed learning. Our analysts are also recalibrating our taken on e-learning with the launch of the 9-Grid™ for Digital Learning in January 2017. These reports will consider these markets on the same five key dimensions of Potential, Performance, Presence, Total Cost of Ownership and Future Trajectory.


   READ MORE
It's so important to all the thousands of buyers based in the UK, EMEA and internationally to have access to independent analysis that accurately reflects their market. Most of the other research models that exist are US-centric and therefore provide very little real value to organisations seeking to make the best decision about which learning and talent system to invest in
DOWNLOAD MORE OF OUR LATEST RESEARCH