Article
5 Minute Read
What You Told Us About The Future Of Learning Technology

There is no shortage of people telling you what to think and what you should be doing, but very seldom do the buyers get a chance to offer their views, in any volume, about the learning technology market. Yes, there are lots of anecdotal stories and these can be used to fill-in some of the gaps, but we need to add real data to help provide the whole picture.
With over 1000 respondents, you helped us gather some of that data and provided some definitive buyers insight through our survey conducted at the start of the year, in association with Learning Technologies and Learning Skills Group.
So, picking up on one of the many themes we explored in the survey, what do buyers think is going to change in the learning technology in the future.
Here are some of the key messages
1)    Mobile, video and social are at the core of future training delivery – with over 80% expecting to increase their use. With mobile, video and social being so pervasive in our day to day lives it is not unsurprising that these should emerge as the top themes where buyers will be looking to increase their demand of learning technologies in the future. In many ways you could call it catch up. But as we have said before these are not simply isolated, silo'd delivery channels for us to put the word learning after, as so frequently happens, mobile learning, video learning or social learning. And they are also not just about doing the old things on new platforms or with new media. At its core it's about the opportunities melding these together creates for genuinely new, truly engaging and agile learning experiences. And that should be exciting for everyone – especially the learners – if we get it right!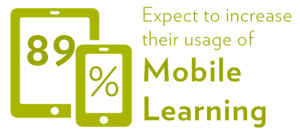 Naturally, lots of organisations still have real challenges with their IT infrastructure to deliver the bandwidth necessary to make mobile video as pervasive as we might hope, the philosophy of BYOD is not in every organisation and that can be a barrier for expanding the dream of anytime, anywhere access to learning.  But, Cloud solutions and the expansion of Wi-Fi networks is making this more and more of a possibility, for those who want to embrace it. And by the numbers – more and more of us are.
Whether or not the suppliers can step up to the mark, whilst maintaining levels of customer service and value for money remains to be seen. And this is something we'll be focusing on in detail in the next phase of our research.
2)    Performance support solutions will grow as part of the learning mix, with 75% of customer expecting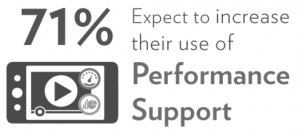 an increase in their use. Performance support has all too often been the neglected tool of the learning technology toolbox, but this is potentially going to change in the future with 75% of buyers expecting to increase their use. Given that proponents of performance support like Gloria Gery were writing about this over 25 years ago, this really is playing catch up, but as with video, social and mobile the technology is becoming more accessible and enabling. But, the learning technology market has often been the barrier as much as the enabler. For too long most bespoke learning content providers have been set up to sell e-learning courses powered by instructional design, rather than learning experiences powered by learning design. And that needs to change.
3)    Virtual classrooms will still be a major vehicle for technology enabled learning. It's easy to get carried away
with the 'new' and emerging technologies and forget that even the established and very popular learning technologies like virtual classrooms are also evolving and that demand for those solutions is growing. From our survey 80% expect to increase their use. What's interesting is that with the advent of Skype, and other social collaboration software, the virtual classroom is not the only option for us to share and exchange in real time. And if anything, the use of peer to peer video and screen sharing opens up a range of opportunities which we would rarely call formal learning, but are perfect for coaching and performance support, if we have the creativity to think beyond a course.
4)    The LMS is ALIVE! Only 1% plan to stop using their LMS, with 90% expecting their LMS usage to increase or stay the same. Whilst the demise of the LMS been predicted for a long time, in reality only 1% of respondents

told us they planned to stop using their Learning Management System. With a whopping 90% expecting their LMS usage to increase or stay the same over the coming year.
Love them or hate them, Learning Management System providers have been stepping up their game around learner user experience, mobile access and enabling more and more diverse training delivery models. Learning Management Systems are evolving and new entrants are redefining our expectations of what an LMS is and how it behaves. As a result, the LMS available today are a far cry from some of the training administration systems of days gone by. That's not to say everything is great. LMS suppliers consistently have the worst ratings of any learning technology, and that makes the LMS market ripe for disruption and innovation.
Our challenge as buyers is to feed that innovation with high expectations and keep pushing the learning technology market, not for what they think we want, but for the agile learning solution we really need. To help move the expectation from a focus on functionality to a focus on the whole learning experience.
The infographic and slides from our Learning Technologies presentations can be found here. The next phase of our research launches in April 2016.
This article, written by Fosway's Director of Research, David Perring, first appeared in E-learning Age magazine.
Discover how we can support L&D with our Advisory Services