The Fosway team is delighed to share our latest new research that shows a radical shift in talent management. The 2020 Fosway 9-Grid™ for Talent & People Success blows apart the traditional foundations of talent management and ushers in a new era of democratisation and positive disruption to help HR get their people strategies fit for the future.
The report highlights that for too long, talent management has focused on a limited number of high potentials and top tier employees. Whilst there has been dissatisfaction from some corners for a while, the COVID-19 crisis has now made talent an enterprise-wide issue. Organisations are having to pivot who works where, doing what and when – and traditional talent management processes and structures have proved insufficiently agile or transformational at the time they have been needed most.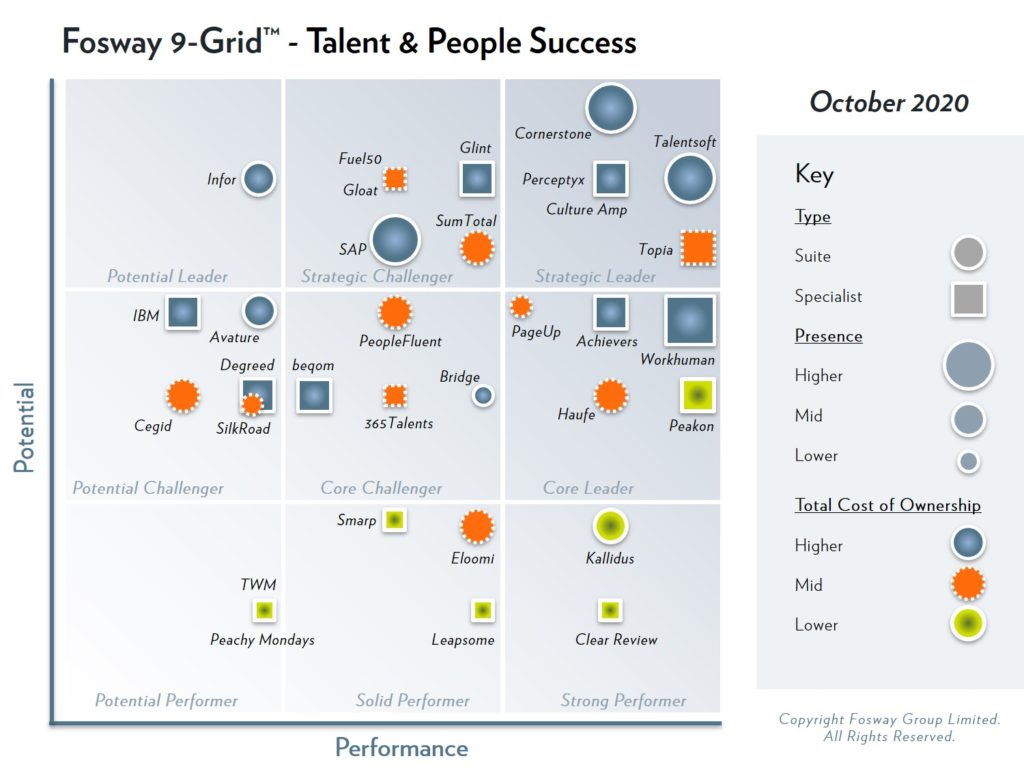 David Perring, our director of research at Fosway explains, 'With the new world of work unfolding around us at pace, the old foundations of talent management fail to add up. It's time for organisations to rethink and move beyond historic views of succession planning, performance management, and annual engagement surveys. Against a tough backdrop of recruitment freezes, training budget cuts, furloughs and redundancies, it's time to tackle talent differently now.'
The 2020 Fosway 9-Grid™ for Talent & People Success builds on the previous six years of 9-Grids™ that were focused on talent management. In addition to the Group's other annual 9-Grid™reports across Cloud HR, Talent Acquisition, Learning Systems and Digital Learning, it is a key piece of industry research used by buyers of HR, talent and learning solutions across Europe.
David Wilson, CEO explains, 'Last year we widened our analysis to encompass a growing number of specialist talent solutions. But Talent Management has got disrupted by HCM Suites from above, and by fast growing disruptors and specialists from below. It is time to rethink and recalibrate. The pandemic has forced organisations to change. Companies must be agile as must their workforce and their talent processes. This is not just about employee experience; it is about organisational agility, performance and success. Which is why we have completely reclassified this category and urge HR to understand the critical need to look at all of its people and rethink talent approaches completely.'
Ask The Analyst: Live Q&A
David and David will take questions on this new research in a live online 'Ask The Analyst' session on 18 November 2020. Register for your free place here.
The full 2020 Fosway 9-Grid™ for Talent & People Success report can be downloaded online now.