ASK THE ANALYST: 9-GRID™ FOR CLOUD HR
The Fosway 9-Grid™ is the only European market analysis for Cloud HR. Join Fosway's founder and CEO, David Wilson, and senior HR analyst, Sven Elbert as they unpack this year's research.
The 2020 analysis shows the far-reaching impact of the COVID-19 pandemic as HR remains in the eye of the storm, supporting people and organisations through the turmoil of the crisis. From payroll, to workforce management, to employee engagement, there is no area of HR tech that has escaped new demands during this tough time. And it is driving real innovation, often where it has been long overdue.
This unique session invited HR professionals to ask their burning questions around the 2020 research and the 9-Grid™ in general and you can now watch the full recording above.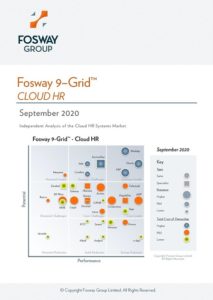 GET INVOLVED
We currently have a number of open research projects you can get involved with, including:
If you'd like to discuss any aspects of the research privately, please don't hesitate to contact jack.smith@fosway.com
LATEST RESEARCH
We are constantly researching the European HR, talent and learning markets and sharing the insights we gather in viewpoints, reports, articles, infographics and opinions from Fosway analysts. Sign up below and get our latest research sent straight to your inbox.