15 Minute Read
The State of the Learning Technologies Market Report 2016

May 2016
Where do you currently go to find that precious information that helps you decide which tools and solutions to implement? How do you get a handle on what's really happening in the market in terms of trends, growth, spend and customer success? Until now there has been no single place that provides a comprehensive assessment of the market. But the new strategic research partnership between Fosway and Learning Technologies – and its supporting community, The Learning and Skills Group, is changing that.
This is the first report based on the data from the Learning Technology Trends survey, conducted in January 2016 with over 1000 respondents. The results tell some interesting stories and we are pleased to share the insights from this research with you here.
Independent research into the learning technology market in Europe is hard to come by
There is not enough independent data about the European learning technology market. Many analysts have left the learning space alone, and what research there is, most commonly comes from suppliers typically highlighting causes close to their own market positioning. Or research might be generated by American authors and is therefore heavily influenced by their views of the US market.

Time for transparency
It's against this background that Fosway Group, in association with Learning Technologies and the Learning and Skills Group, created the first part in an ongoing programme researching the 'State of the Learning Technology Market'. The aim is to uncover the realities behind the hype and start to help buyers make informed decisions about their learning technology choices. And of course, for that data to bring a uniquely European perspective.
With 1000 respondents, this is a serious research initiative
With almost 1000 respondents to the survey, gathered at the start of 2016, the information we have gathered from customers, consultants and suppliers is significant. Here is what you need to know about the respondents:
• They are overwhelmingly based in Europe and are focused on European organisations.
• 90% have an organisation headquartered in Europe
• 98% are personally based in Europe
They also represent a good cross section of European industry:
• 40% of respondents are from organisations > 5000 Employees
• 65% of respondents come from organisations > 1000 Employees
They cover the views of providers and consumers:
• 55% are customers, 20% are consultants and 25% represent suppliers
The Key Headlines
What is the customer experience of European learning technology?
• For most, their customer experience of learning technology has stayed the same over the past year – 55%
• The learning technology market does have positive momentum, with 40% seeing an overall improvement
• For a very small minority of 5% their experience has worsened
On the face of it, there appears to be significant stagnation in buyers' experiences of learning technology. As we'll reveal later – the strength of learning technology platforms, content, services and consulting varies considerably, both across and within learning technology types. The issues for buyers and providers alike is how well this stagnation is being addressed.
What did customers tell us about how well suppliers understand their needs?
• Too many customers do not adequately feel their supplier understands their needs
• Over one third of customers occasionally, rarely or never feel their needs are understood
• Over half of LMS customers don't feel their needs are always or frequently understood
The bedrock of any successful purchase is making sure both the buyer and seller understand the need they are addressing. The good news is that nearly 70% of the time, providers will understand customer needs. And customers only identify 2% of providers who never understand their needs.
But whilst that is a pretty good average, it should not be cause for complacency. Unfortunately, for learning content provision there is a one in three chance that customer needs won't be clearly understood. For Learning Management Systems (LMS) providers this is even worse, at over 50%. Given the level of investment in LMS platforms, this is a significant market weakness and buyers must share some of the blame around their ability to communicate what they need from these solutions. It is clearly an area that this part of the market needs to be much more effective at communicating. If it doesn't, the apparent gap in what customers want and what they are getting makes the LMS marketplace, in particular, ripe for disruption.
How often do suppliers deliver great service?
• The majority of learning technology customers always or frequently receive great service – 62%
• Learning content providers deliver the highest customer service, with 76% always or frequently creating a positive impression
• Consulting services are most likely to always deliver great service, at nearly 30%
• LMS providers are typically the weakest service providers -with 60% failing to always or frequently deliver great service
The delivery of service excellence must be a concern for learning technology providers and professionals. The fact that so many do not always deliver 'great' service is a concern, but also represents an excellent opportunity. The opportunity for providers to compete on service quality, not functionality is potentially immense. For LMS providers, who faired particularly poorly, their low rating here may come from shrinking their service operations. As part of the move to SaaS (Software-as-a-Service) models – shrinking services whilst growing license revenues has often been seen as a positive move by investors. But this may have had some adverse effects. For buyers, proactively contracting around and managing their service expectations may be one way of mitigating this. For suppliers, clearly a lot that could be learned from learning consulting and learning content providers.
How often do suppliers deliver value for money?
• Most buyers feel they get value for money (60%)
• Learning administration services provide the highest value for money (VFM) for customers – 75% always or frequently
• If you look for value for money you can always find it – but only around one in 10 LMS and content providers always provide value for money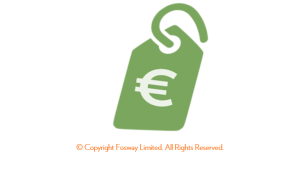 When it comes to the value for money customers get from their learning technology providers, learning administration is the clear winner. Perhaps this shouldn't be a surprise, because the foundation of most learning administration outsourcing is cost management – and there are always very clear business cases and tangible ROI behind admin outsourcing projects. As a result, value for money is very transparent.
So, if there is a simple lesson to be learned, if you want to achieve good value for money on any learning investment – you should have a robust business case. Be clear about the money that you'll save, as well as how much money your organisation is going to make from your harnessing learning technology solutions!
Perhaps it is no coincidence that one of the common complaints Fosway Group analysts hear from suppliers is the lack of willingness from buyers to set business metrics and measures of success. If buyers want to see the value of their investments, they need to take measurement much more seriously.
How often do learning technology providers exceed learners' expectations?
• Learning technology can be too underwhelming with only one in 10 feeling their solutions always exceed learners' expectations
• Organisations' LMS platforms are least likely to wow their audiences – only 20% always or frequently exceed learners' expectations
• Learning content providers only exceed learner expectations just over a third of the time
Of all the questions, this one potentially highlights the area of most concern. The long term growth of the learning technologies market is ultimately dependent on its ability to drive advocacy amongst its end users – the learners themselves. Today, the ability to consistently exceed learners' expectations is a rarity, especially in LMS and learning content. Whilst that might be, in part, a result of too many solutions being too much alike, there is a strong suspicion that this might also reflect an under investment in the learning experience from buyers as well. Learning technology is often used by organisations to save costs. So, the pursuit of the cheaper solution, rather than the better solution, might be a contributory factor in these results. After all there is something in the phrase – you get what you pay for!
How often do learning technology providers deliver a positive impact?
• Learning technologies make a difference – with less than 5% of customers reporting they have never had a positive impact
• Typically learning technologies have a positive impact always or frequently over half of the time
• Buyers find it hardest to achieve a positive impact with their LMS with over one fifth rarely or never making a positive impact
The challenge from the survey results is not if learning technology has a positive impact, but rather how often. If we take 'always' and 'frequently' as our target, then learning technology is hitting its mark more often than not – just at 54%. But there is considerable room for improvement. Clearly setting tangible goals and measurable business outcomes is a critical first step to rectifying this situation. But, business metrics are only part of the answer. There also needs to be an increased focus on employee advocacy for the learning itself. That requires two things. Firstly, a greater focus on measuring what learners think of the learning experience. Secondly, engaging with them as consumers, in a process of continuous improvement. Learners should have a more prominent voice in selecting and shaping solutions.
Ultimately though, how often learning solutions have a positive impact on their organisation is down to the effectiveness of learning teams – and how closely they truly understand and support the needs of their learners.
How often do learning technology providers innovate their offering?
• Innovation is not as widespread as you might assume for a technology focused market
• As the learning technology market matures, providers appear to be gravitating to similar models and methodologies
• Less than 50% always or frequently see providers innovate their offering, this varies considerably between vendors and solutions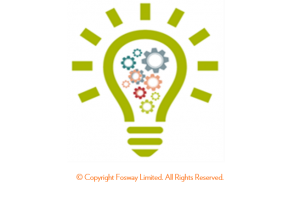 Of all the learning technology solutions from our survey, it's the authoring tools sector that seems to be demonstrating the most innovation, with learning content and LMS falling behind. For authoring, this could be accounted for by the significant shifts in learning delivery– and which is most clearly encapsulated in mobile learning. What is potentially more surprising is the stagnation of learning content. Only 39% 'always or frequently' see providers innovative their offering in the content space. As discussions with Fosway Group's Corporate Research Network illustrate, there appears to be an element of group think that has emerged around what learning content is and how it behaves. To quote some specific customer feedback, 'When you put out a tender for bespoke content – most of the time what comes back from e-learning suppliers is essentially the same'. Ultimately, how much innovation is the right amount of innovation is difficult to assess, up until we start to see some step change in learning results from buyers. But, in the LMS market in particular, where only one quarter of respondent feel they 'always' or 'frequently' see their providers innovate, don't be surprised if these customers start to experiment with more next generation-style learning solutions.
How do you expect your demand for learning technology to change in the future?
• Mobile, video and social are the top trends with over 80% expecting to increase their use
• Customer expect to increase their demand for more performance support solutions – 75% expect increased demand
• For all the jaundiced ratings from the survey, only 1% plan to stop using their LMS, with 90% expecting their LMS usage to increase or stay the same. The LMS is not dead!
• 80% expect their demand for virtual classroom solutions to increase
With mobile, video and social technologies so pervasive in our day-to-day lives, it is not unsurprising that these should emerge as the top areas of learning technologies where customers are increasing their demand. In many ways you could say the market is catching up with consumer-led technology. But, this change does create opportunities for innovators, because these trends aren't just about doing the old things on new platforms, or with new media– it's also about creating genuinely new and engaging learning experiences. And that should be exciting for everyone!
Want to find out more?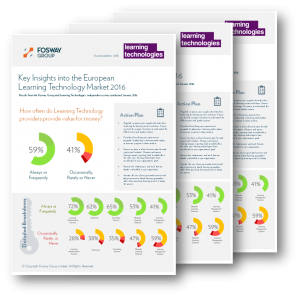 If you want to look at the finer details of the survey and get some inspiration for how to address some of the challenges and opportunities it highlights, then we have created a series of data sheets. These are designed to dig deeper into the key market areas identified as part of the research; understanding customer needs, exceeding learner expectations, delivering great service, value for money, making a positive impact and innovating your offering.
Datasheet #1: Understanding Customer Needs
Datasheet #2: Exceeding Learner Expectations
Datasheet #3: Delivering Great Service
Datasheet #4: Providing Value For Money
Datasheet #5: Making a Positive Impact
Datasheet #6: Innovating Your Offering
The next phase of this ongoing programme of research is live and you can take part now. We look forward to your continued contributions.
Accelerate and de-risk
To talk to us about our research on learning and talent systems, or to discuss what it might specifically mean for your organisation please contact us directly.
We will use our independent expertise to provide you with the guidance you need to accelerate and de-risk your decisions. We have a wealth of experience, tools, research and profiles at our disposal.
We don't have any products to sell and we have no vested interest to bias your outcomes. We concentrate on pragmatic, independent advice.
Accuracy of information and warranties

The analysis and recommendations made in this document are based on the information currently available to Fosway and from sources believed to be reliable.
Fosway disclaims all warranties as to the accuracy, completeness or adequacy of such information. Fosway will have no liability for errors, omissions or inadequacies in the information contained herein or for interpretations hereof.
Opinions expressed herein are subject to change without notice. All content is copyright Fosway limited unless otherwise identified. All rights reserved.
About Learning Technologies
Learning Technologies is Europe's leading L&D exhibition and conference. It is organised by CloserStill, Europe's premier media group for the learning industry, which provides conferences and exhibitions, industry awards, weekly webinars, publications and online resources: all in support of organisational learning and the technology used in learning at work.
Its events, products and publications comprise:
• Learning Technologies Conference and the Learning Technologies and Learning & Skills Exhibitions
• Learning & Skills Group Conference and the Learning Technologies Summer Forum
• Learning and Skills Group, an international community of over 9,000 learning and development professionals
• E-Learning Awards – celebrating excellence in e-learning and learning technologies
• Inside Learning Technologies Magazine and E-learning Age
Contact the team via info@learningtechnologies.co.uk or call +44 (0) 1730 817600.
About Fosway Group
At Fosway Group, we understand that developing and engaging people is how complex global organisations deliver performance and achieve success. Just as every employee's talent journey is unique, so is every organisation's people strategy.
Fosway Group's analyst and advisory services deliver the insights your organisation needs to achieve results and eliminate risk. We know that every aspect of next generation HR and talent are more intertwined than ever. When you work with us, you accelerate your insight and make better decisions.
We're Europe's #1 independent HR analyst, and just like the Roman road we draw our name from, you'll find that we're unusually direct. We don't have a vested interest in your technology or consulting choices. You can depend on us to tell you what you need to know to succeed.
Example clients include: Alstom, Aviva, Boots UK, BP, BT, Centrica, Deutsche Bank, Faurecia, HSBC, International SOS, Lloyds Banking Group, Novartis, PwC, Rolls-Royce, Royal Bank of Scotland, Sanofi, Shell, Swiss Re, Telefonica, Thomson Reuters, Toyota Europe, and Vodafone.
Contact us
Talk to our analyst team today about your talent management requirements and get insights into your procurement process and strategic decision making. Contact us online or call +44 (0)20 7917 1870 or email info@fosway.com.
Find out more about our strategic research with Learning Technologies