Article
5 Minute Read
Fosway Symposium: HR, talent and learning in 2017

This year's annual Fosway Symposium brought together our HR and learning analyst practices for the first time at a roundtable event. Attended by heads of HR and learning from FTSE 100 and other global organisations, this is a very different type of event.  It isn't about our analysts standing on stage presenting. It's about collaboration and sharing insights based on current challenges facing organisations today and the future of work as a whole.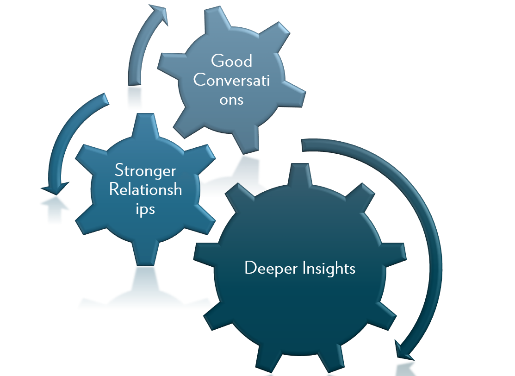 In case you're not familiar with the model of Fosway's roundtables, we operate under Chatham House rules which gives attendees real freedom to share what they're doing and how they're doing it – often in very frank terms! It's refreshing because so often people's views have to be sanitised just in case they are frowned upon by their organisation. So, with that in mind, this summary talks in general terms about the findings from the day.
Key themes
As the world of work continues to evolve at pace, this year's Symposium focused on a number of topics that our research has demonstrated are important across HR and learning.
Employee engagement has remained the number one measure of success for HR for the last two years, so two sessions focused on employee engagement beyond the annual survey, and specifically exploring how we can transform learner engagement.
HR seems to have been landed with the responsibility for employee engagement by default, but most HR leaders feel that is needs to be a wider issue than just HR asking questions in an annual survey. If senior management aren't seen to buy into the idea, it's difficult for people to believe the organisation really cares about their engagement. And we need to 'take their temperature more often' and move to more continuous feedback and pulse surveys, rather than an annual cycle.
The point was also made here that is can be difficult for HR to 'close the circle' – meaning that if issues are surfaced as a result of employee feedback, it's not always within HR's power to address those issues. 'Line managers probably have a bigger impact than anyone on people's engagement' commented one attendee. But diversifying compensation and benefits – especially as organisations become flatter and traditional promotion opportunities shrink – is within HR's remit. And we are seeing more creative ideas around wellness programmes, gym memberships, sabbaticals, day release and charity initiatives that are all designed to drive ongoing employee engagement.
21st century talent acquisition and recruitment
With 87% of organisations finding skills gaps becoming more significant, this is a central theme of any talent management discussion. More and more HR leaders are seeing strategy in this area shift outside of the so called 'top talent' as the impact of changing generations and trends like the gig economy start to really take effect in organisations. Several of the elements in the employee engagement roundtable resurfaced here with recognition that evolving demands around new benefits are all part of the talent acquisition process. Salary isn't the only driver in today's world of employer rankings and reviews for example. And it is no longer all about simple career progression either. Other aspects of CSR and flexibility are becoming almost as important. One blue chip company we spoke to had graduates who have been in the job for just two years requested sabbaticals for example. So, we can already start to see how several of the day's key themes overlap.
Learner engagement
Shifting to exploring learner engagement specifically raised a number of similar challenges. It is a top priority for L&D with 83% wanting to improve their standings, but one that is without quick fixes. Ultimately, the consensus was that learning needs to be seen as a continuous process and that 'L&D is good at initiatives but not campaigns'. Interestingly, numerous attendees cited the need to learn lessons from their marketing/internal comms colleagues with one already having hired a digital marketer to sit specifically within the L&D team. Fostering engagement around social learning initiatives and creating user generated content is not something that happens overnight, especially in large corporate environments where many people simply do not want their learning to be self-led. 'They want L&D to tell them what they need to do, when they need to do it so they can get on with their day job.' So overcoming these sorts of barriers requires sustained campaign-oriented communications to drive engagement and keep people coming to different learning resources.
Impact is king…isn't it?
But – as the roundtable conversations bore out – engagement doesn't always lead to impact. Most organisations still find it hard to measure the impact of learning and sadly as a result, many don't even try. But it was encouraging to hear stories that go beyond the traditional approach of trying to prove the financial ROI of learning. One organisation places enormous value on its employer brand proposition. They employ huge numbers of staff in a competitive industry and in their words, their people could 'easily go and work for a similar company'. They also see training opportunities as a real benefit, so following different learning interventions, this organisation explore the impact it has had on their staff's Net Promoter Score and the scorecard they have set up around their employer brand. Their aim is for training not just to impart information or even behaviour change, but for it to 'help make people feel appreciated'. This is an interesting viewpoint and the sort of initiative that other organisations could learn from in trying to demonstrate the impact of what L&D delivers. Kirkpatrick be damned…    
Transforming HR systems in the Cloud
For 73% of organisations, moving to the Cloud is a key driver for changing platform. But discussions showed that the move isn't always easy for enterprise organisations. Many see it as a fresh start and an opportunity to leave legacy issues behind, but resourcing and securing buy-in for big systems projects can be challenging. Attendees see ongoing innovation, improved total cost of ownership and a better user experience as perceived benefits – ones that we at Fosway would agree with. However, we are still some way from Cloud being the norm in enterprises. And be warned, with so many organisations planning to move, seasoned implementation partners that work with the large HR software providers are going to be hugely in demand and could become a scarce resource over the next few years.
90% of organisations expect to increase or maintain their investment into digital learning with more innovative types of content and next generation learning systems offering some exciting new opportunities, but also blurring how best to transform learning strategies going forwards. Even the term 'digital' brings with it so many different interpretations. As a label, many feel it is just too ambiguous. However, most attendees agreed that 'being digital' is more about a cultural and behavioural change in organisations, than it is about the technology per se. And as one attendee pointed out, is it dangerous to lose the 'human' element of Human Resources?
Most also agreed that L&D is too often distracted by shiny and new technology – 'new trains without any tracks to run on' as one attendee sagely observed i.e. new types of content should not be introduced without due consideration of a) their worth and potential impact and b) the right systems for them to run on. Nearly all our attendees are constrained by budget and whilst they might like to explore some of the more innovative aspects of say virtual reality solutions like Hololens, hype remains just that – hype.
Next generation learning systems
Meanwhile, discussions around the LMS brought us firmly back to the real world. There was some derision around 'traditional' learning management systems during the different roundtables but also defence that they are not going anywhere any time soon. Our research shows that 96% of organisations expect to increase or maintain their investment in the LMS – and it isn't just about compliance (although that remains a 'nuts and bolts' aspect of what L&D needs to do for most of our attendees). The need for the LMS goes beyond that – it's about building capabilities, bridging skills gaps and acting as an engine room for talent management and succession. The debate here was more focused around how to make it really work, especially the next gen options that are performing well in the market. UX featured heavily, following the lead from consumer applications like Netflix and Spotify. But there was also a strong argument for making learning platforms less visible. Deep links and immediate access to content potentially superseding new user interfaces. There is real appetite for change though and we can expect much more disruption and innovation in this market.
Getting a great customer experience
Finally, but no less importantly, we discussed the challenges for HR and learning buyers of getting a great experience from their technology suppliers. Our research shows that only 24% report suppliers having a positive impact on their organisation…the full report makes for some sobering reading. But vendor bashing is too simplistic. It takes two to tango and corporates must invest properly in terms of their time and quantifying their desired results, as well as their budgets. You need to be a 'good customer' as well as insisting on your vendor being a 'good supplier'. Interestingly, suppliers were considered by many to be too passive. Corporates want to be challenged – and after all, as we often point out, it is the vendors that are on the coal face of implementations and troubleshooting software every day. They have a lot of valuable input to share. So, let them share it!
This is a major area of research for Fosway. Symposium is a unique opportunity for corporates and vendors to discuss issues like these in a 'safe' environment. And we will be exploring them further throughout the rest of 2017.
There are more details here about our roundtables and if you'd like to know more about future events, drop us a line via info@foway.com
Download more of our latest research here