The Volume Vs. Value Equation

This is the second article in the 'Recipes for E-learning Success' series. In it, Fosway analysts implore L&D professionals in the early 2000s not to focus on the size of their burgeoning e-catalogues, but to focus on the quality. Useful insight and advice, particularly for large enterprises.

January 2001
In the first article in this series, we analysed the factors that go into making e-learning successful in organisations. In hard terms, the percentage of training and development activity that currently is delivered or supported using technology is still very small. Whilst certain sectors such as IT training have moved more quickly to adopt broader use of technology-supported learning, for others it hasn't even appeared on the radar.
The real issue is not about the magnitude of the shift required to achieve this adoption of e-learning. Our concern is more about the nature of the shift – ensuring that the focus is about value rather than just volume. There is a real danger that in the e-gold rush to put content online and make it interactive, we miss the point and focus on the size of the e-catalogue rather than the value of the learning it delivers. With much of the early justification for investment in e-learning being based on reducing the cost of training delivery, it is easy to concentrate on simple equations of volume training economics and cheap online courses. The singular focus placed on cost reduction is probably one of the largest challenges we face when talking to companies about e-learning.
Most e-learning activity is currently in areas of generic skills and knowledge acquisition around areas such as IT, or health and safety. We call this first stage e-thinking – a focus on cost and volume rather than value. It is concerned with content delivery rather than learning quality.
The driver behind this first stage thinking is simple, it is economics. If you are a corporation with thousands of employees who need training in generic skills and knowledge, sending them away on courses is expensive. It is expensive for them to be there (opportunity cost), expensive for them to get there (travel and subsistence) and it's expensive for them to be trained (training cost). If you can put them through some online courses that are available off-the-shelf for a fraction of the cost, financially it makes a lot of sense.
The economics river also flows the other way too. If you are a training provider investing in developing e-content, you need to develop course titles that sell in volume. Anyone with experience of technology-based training content production will understand why. Creating high quality interactive web content is expensive. If the development cost is high and the target price needs to be low because of the inherent demand to reduce the cost per head, then the number of heads has to be high. Titles need to sell in volume.
Both the provider and the corporation therefore agree – create high quality low cost generic content and focus on volume.
The trouble is that the economics of cost isn't necessarily the economics of value. Whilst cost economics may work better with volume, value economics don't. The volume may be greater in generic content areas, but the higher value is achieved with more specific or unique subject matter. This can be simply illustrated in the following diagram.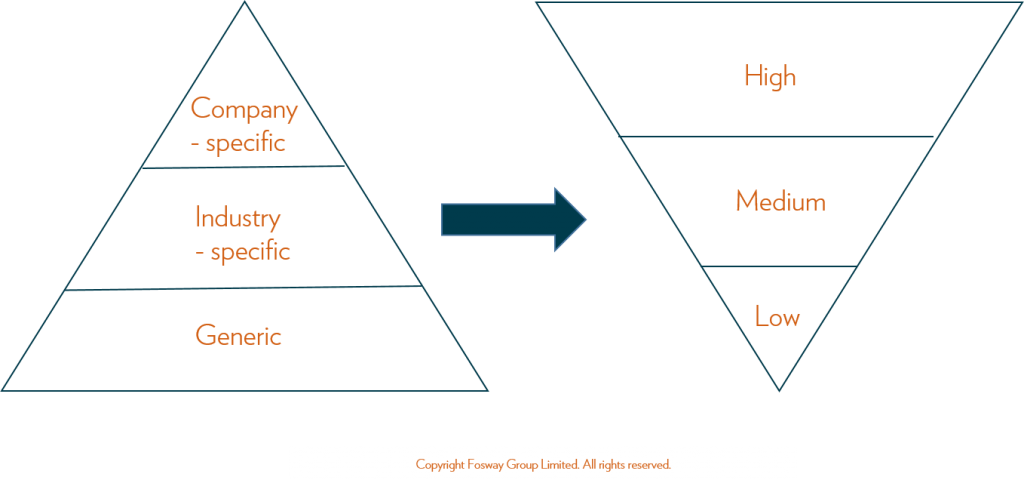 The left triangle shows the layers of the organisational skills development cake. At the lower levels where skills are generic, the volume is high. Look at IT applications training. This marketplace is very competitive with lots of suppliers and lots of alternatives – classroom, books, CDs, videos and now internet-delivered courses. But while volume may be high, for generic areas, value is not. Knowledge is often quite superficial, and in organisational performance terms aggregate value is low.
As we move up the layers, the subject matter becomes less generic and more focused: firstly around the specific industry or business within which the company operates, and then ultimately to aspects which are unique to the company. It concerns people, products and processes. Although the volume of activity decreases, the value delivered increases. There is evidence to indicate that this value increases exponentially rather than linearly. As we become more focused and company-specific, aggregated value gets larger.
So what does this all mean? From a corporate training and development point of view, the obvious focus of e-learning activity on high volume generic skills is wrong. That is not to say it is not worth doing, just that there are other things that are more valuable. We should be looking at how we can use e-learning to support and re-engineer the delivery of core development programmes and company-specific subject matter.
Here is where the true benefits of e-learning come into play, outside reduced cost of delivery. The ability to:
• Reduce time to learner, making new knowledge accessible across the company almost instantaneously
• Reach people regardless of their location
• Integrate learning and development activity right into the workplace
• Manage learning and development assignments based around real business problems
• On the job rather than theoretical case studies in a classroom
• Provide online mentoring support and coaching support direct to the learner's desktop
With tools like live virtual classrooms running across the corporate intranet or accessible remotely through dial-up connections, it is possible to rapidly develop and deliver company specific training sessions and discussions across the business. Once the technology infrastructure is in place, these sessions can be produced within days rather than weeks or months. Time to market is reduced and relevancy of the material is increased. A subject expert can develop material using standard tools like Word and PowerPoint rather than specialist multimedia development tools. Sessions can then be scheduled and delivered live to groups of people in any location. It means that there are cost savings based on reduced travel and subsistence, even if the content is not self-paced and requires a facilitator. These sessions can also be recorded and made available to others who were unable to make the live events, increasing the reach and consistency of delivery. Importantly what we are recording is not just one-way traffic from the presenter. We are recording the interaction from the learners and the use of the supporting tools. The value is higher.
This approach is very powerful and directly applicable to almost all development programmes within business today. Time to market can be reduced dramatically, and the value of the learning is very high, as it is totally customised and specific. Here we are using e-learning as a mechanism to accelerate and enable communication, collaboration and facilitation of learning, not just as a mechanism to push content.
And that is where e-life becomes really interesting!
Summary
Success in e-learning involves three key areas. Firstly, a broad understanding of all the various components – from Learning Management Systems to content development techniques, from IT infrastructure to learning design and management of organisational change. Next, since e-learning programmes are rarely inexpensive, it is critical to get a high return on your initial investment, so making use of the most experienced resources possible is vital for success. The value of those who have 'done it before' cannot be underestimated. And finally, it is essential to co-ordinate and manage these components, business functions and resources. E-learning crosses many boundaries and should be viewed as a strategic endeavour, and managed as a truly cross-functional programme.
We hope that the articles in the 'Recipes For E-learning Success' series help you to understand some of the current issues surrounding this topic and have stimulated you to review your ideas on e-learning. Fosway is continually researching and developing e-learning best practice, and is focused on sharing its knowledge and experience with its customers and e-learning practitioners.
Weiterführende Artikel von Fosway
The other articles in this series are as follows:
• Recipes for E-learning Success
• Blended or Integrated E-learning
• Design Dynamics for E-learning
• Building Learning Communities
• Synchronous Vs. Asynchronous
• E-learning Standards
Entscheidigungen beschleunigen und Risiko vermeiden
To talk to us about our research on learning and talent systems, or to discuss what it might specifically mean for your organisation please contact us directly.
We will use our independent expertise to provide you with the guidance you need to accelerate and de-risk your decisions. We have a wealth of experience, tools, research and profiles at our disposal.
We don't have any products to sell and we have no vested interest to bias your outcomes. We concentrate on pragmatic, independent advice.
Richtigkeit der Informationen und Gewährleistungen

The analysis and recommendations made in this document are based on the information currently available to Fosway and from sources believed to be reliable.
Fosway disclaims all warranties as to the accuracy, completeness or adequacy of such information. Fosway will have no liability for errors, omissions or inadequacies in the information contained herein or for interpretations hereof.
Opinions expressed herein are subject to change without notice. All content is copyright Fosway limited unless otherwise identified. All rights reserved.
Über Fosway Group
At Fosway Group, we understand that developing and engaging people is how complex global organisations deliver performance and achieve success. Just as every employee's talent journey is unique, so is every organisation's people strategy.
Fosway Group's analyst and advisory services deliver the insights your organisation needs to achieve results and eliminate risk. We know that every aspect of next generation HR and talent are more intertwined than ever. When you work with us, you accelerate your insight and make better decisions.
We're Europe's #1 independent HR analyst, and just like the Roman road we draw our name from, you'll find that we're unusually direct. We don't have a vested interest in your technology or consulting choices. You can depend on us to tell you what you need to know to succeed.
Example clients include: Alstom, Aviva, Boots UK, BP, BT, Centrica, Deutsche Bank, Faurecia, HSBC, International SOS, Lloyds Banking Group, Novartis, PwC, Rolls-Royce, Royal Bank of Scotland, Sanofi, Shell, Swiss Re, Telefonica, Thomson Reuters, Toyota Europe, and Vodafone.
Contact us
Talk to our analyst team today about your talent management requirements and get insights into your procurement process and strategic decision making. Contact us online or call +44 (0)20 7917 1870 or email [email protected].
Teilen Sie diesen Artikel