Learning Technology Market 2016: Making A Positive Impact

May 2016
Based on the results of the Fosway and Learning Technologies independent market trends survey, conducted in January 2016, we have created a series of datasheets to explore some of the key areas. Each contains an action plan with insights and advice from Fosway analysts. The fifth datasheet looks at the positive impact that learning solutions can have on an organisation – and how this can be increased further still.
How often do learning technology providers deliver a positive impact?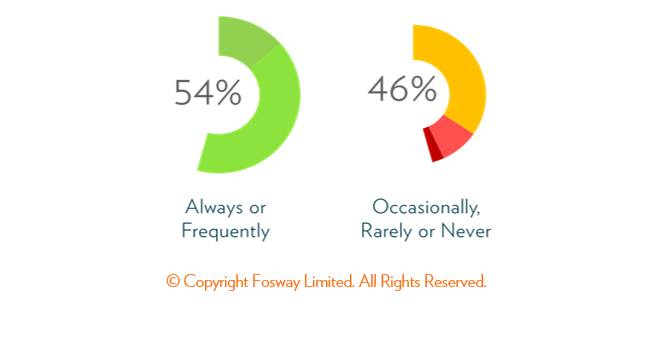 Detailed breakdown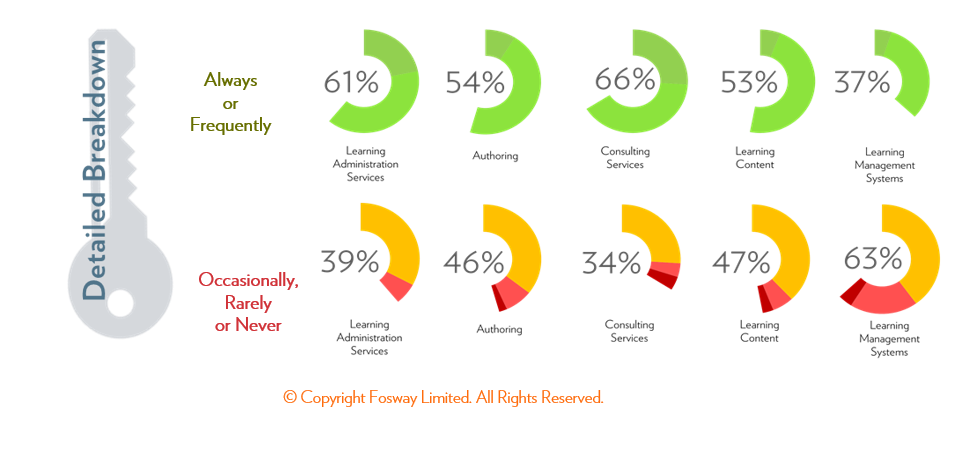 Action plan
1) Those commissioning learning solutions need to set clear goals for how they should impact impact key audiences both in terms of employee advocacy and results.
2) Forge strong ties to HR and any existing talent management processes. Outline a proactive strategy and the tactics that show how your learning infrastructure and learning ecosystem enable onboarding, talent development, performance management, career-planning and talent succession.
3) Prioritise learning activities on the predictable drivers for training in your organisation including new systems, new starters, new products, new processes, organisation change and audiences with tangible performance goals.
4) Organise an independent review of your learning approach and solutions to get a fresh perspective on where you can make the most dramatic improvements.
Mehr Informationen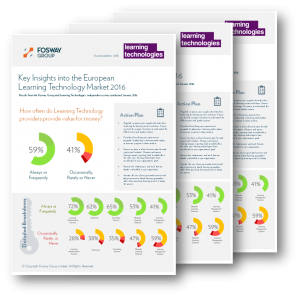 If you want to look at the finer details of the survey and get some inspiration for how to address some of the challenges and opportunities it highlights, then we have created a series of data sheets. These are designed to dig deeper into the key market areas identified as part of the research; understanding customer needs, exceeding learner expectations, delivering great service, value for money, making a positive impact and innovating your offering.
Datasheet #1: Understanding Customer Needs
Datasheet #2: Exceeding Learner Expectations
Datasheet #3: Delivering Great Service
Datasheet #4: Providing Value For Money
Datasheet #5: Making a Positive Impact
Datasheet #6: Innovating Your Offering
The next phase of this ongoing programme of research is live and you can take part now. We look forward to your continued contributions.
Entscheidigungen beschleunigen und Risiko vermeiden
To talk to us about our research on learning and talent systems, or to discuss what it might specifically mean for your organisation please contact us directly.
We will use our independent expertise to provide you with the guidance you need to accelerate and de-risk your decisions. We have a wealth of experience, tools, research and profiles at our disposal.
We don't have any products to sell and we have no vested interest to bias your outcomes. We concentrate on pragmatic, independent advice.
Richtigkeit der Informationen und Gewährleistungen

The analysis and recommendations made in this document are based on the information currently available to Fosway and from sources believed to be reliable.
Fosway disclaims all warranties as to the accuracy, completeness or adequacy of such information. Fosway will have no liability for errors, omissions or inadequacies in the information contained herein or for interpretations hereof.
Opinions expressed herein are subject to change without notice. All content is copyright Fosway limited unless otherwise identified. All rights reserved.
About Learning Technologies
Learning Technologies is Europe's leading L&D exhibition and conference. It is organised by CloserStill, Europe's premier media group for the learning industry, which provides conferences and exhibitions, industry awards, weekly webinars, publications and online resources: all in support of organisational learning and the technology used in learning at work.
Its events, products and publications comprise:
• Learning Technologies Conference and the Learning Technologies and Learning & Skills Exhibitions
• Learning & Skills Group Conference and the Learning Technologies Summer Forum
• Learning and Skills Group, an international community of over 9,000 learning and development professionals
• E-Learning Awards – celebrating excellence in e-learning and learning technologies
• Inside Learning Technologies Magazine and E-learning Age
Contact the team via [email protected] or call +44 (0) 1730 817600.
Über Fosway Group
At Fosway Group, we understand that developing and engaging people is how complex global organisations deliver performance and achieve success. Just as every employee's talent journey is unique, so is every organisation's people strategy.
Fosway Group's analyst and advisory services deliver the insights your organisation needs to achieve results and eliminate risk. We know that every aspect of next generation HR and talent are more intertwined than ever. When you work with us, you accelerate your insight and make better decisions.
We're Europe's #1 independent HR analyst, and just like the Roman road we draw our name from, you'll find that we're unusually direct. We don't have a vested interest in your technology or consulting choices. You can depend on us to tell you what you need to know to succeed.
Example clients include: Alstom, Aviva, Boots UK, BP, BT, Centrica, Deutsche Bank, Faurecia, HSBC, International SOS, Lloyds Banking Group, Novartis, PwC, Rolls-Royce, Royal Bank of Scotland, Sanofi, Shell, Swiss Re, Telefonica, Thomson Reuters, Toyota Europe, and Vodafone.
Contact us
Talk to our analyst team today about your talent management requirements and get insights into your procurement process and strategic decision making. Contact us online or call +44 (0)20 7917 1870 or email [email protected].
Teilen Sie diesen Artikel