Article
Where should you be focusing your L&D innovation in 2017?

Every year there is a new trend in learning, particularly in learning technology. Previous years have seen us explore social, mobile and gamification – each hailed as the next 'big thing'. 2016 has seen a lot of hype around virtual reality, which is all well and good, but is this kind of solution really on the brink of being adopted by most organisations today?
As an industry analyst, it is a mission close to our hearts at Fosway Group to understand the actual reality (as opposed to the virtual one) faced by learning professionals. Every corporate context is unique and brings its own set of challenges. The trends that become adopted in a high tech company for example, are often slow (or non-existent) to filter through in say, public sector organisations.
For 2017, we have identified a number of game changers, but rather than just focusing on the latest technology innovations, these all form part of a bigger, more strategic picture. The approach of today's learning leaders is shifting to cope with new challenges presented by technology, working habits and the increasingly sophisticated demands of learners. So, we believe the key areas for consideration in 2017 should be as follows.
Digital transformation in business is driving new digitally-led learning strategies, but digital learning is also a great catalyst for digital transformation. Be the spark that transforms your organisation!

Technology-led learning has been an established and vital strategy for corporate learning for well over a decade. But its use has often been limited or as a lower value approach by some L&D professionals. However, with the need for companies to now become digital businesses, and with resulting changes in their support functions and user expectations, there is an accelerating digital transformation that needs to happen in learning too. L&D leaders need to recognise this shift as a key trend which will impact the way they look at their learners, where and how learners expect to engage with them, and the tools they use to manage, deliver, support and assess learning in their organisation.
L&D should focus on supporting learning cycles – moving beyond 70:20:10 and 'resources not courses'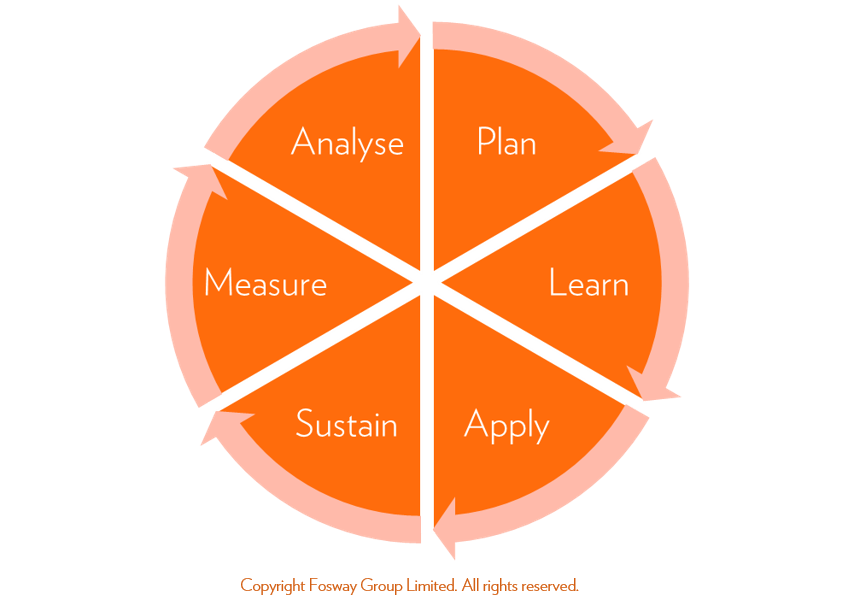 It is time to start thinking of the learner journey as a non-linear, ongoing cycle. People learning in small chunks of change rather than a neat 'start to finish' process. Fosway's PLASMA model (above) breaks down the different stages of the learning cycle and in many ways, it's an antidote to the limits of much touted approaches including the 70:20:10 model. Instead of one-off events, there is a mind shift towards continuous experiences, harnessing the best solution for the learner and helping to engage learners at different points. But this is about more than just replacing courses with resources. Learners should be able to start at any point in the learning cycle and each stage can either be 'just-in-time' and last a few minutes, or an ongoing programme that lasts several months.
But how and when different technologies are used in this approach will be unique to different learners and their organisational context. The PLASMA learning cycle demonstrates you need to be able to describe your learners' journeys and tell the story of what the learning experience should be for specific audiences. And a huge part of that is how, when, where and why they are accessing learning.

Most established learning technologies are still failing to engage learners and the focus on UI and UX continues to fall short of learners' expectations. Demand better!

Recent Fosway research conducted with 500+ senior HR professionals across Europe found that employee engagement remains the leading measure of HR strategy today. This is the third year in a row it has ranked as the most critical measure, with respondents rating employee engagement as six times more important than having HR presence at board level. Our digital learning research reinforces the point:
Digital learning can be too underwhelming with only one in 10 feeling L&D solutions always exceed learners' expectations
Organisations' LMS platforms are least likely to wow their audiences – only 20% always or frequently exceed learners' expectations
Learning content providers only exceed learner expectations a third of the time
The ability of the next generation of digital learning to engage learners is pivotal. With 90% of L&D professionals increasing, or at least maintaining, their use of the LMS, it still provides a main access point and can make or break your learning strategy. But despite a clear trend to improve the user interface, true learner engagement is something that has been systemically neglected by platform providers.
Thinking of learners as consumers is driving major changes in learning content and how we treat them. Think about what that means for learning in your organisation.

Our research shows increases across the board in the different digital learning content types organisations will be deploying:
82% expect their use of social learning to increase
89% expect to see use of mobile learning go up
81% expect their volume of video based learning to increase
71% expect to increase their use of performance support materials
All of this is reflective of the content we interact with every day in our personal lives. We know that tech giants such as Facebook and Microsoft are investing heavily in these areas, making our consumer experiences richer and more diverse, yet completely seamless (well, that's the idea anyway). And corporate L&D needs to play catch up. But make no mistake – the learner is now a consumer and the consumer is king. To deliver a consumer grade experience that ticks the all important employee engagement box at every stage of the learning cycle, there is work to do. But it is achievable (and in 2017 too – not some distant date in the future):
Consumerisation of learning: Learners will be treated more and more as consumers in how systems engage and nudge them through their learning journeys. Big data and machine intelligence are already influencing this and it's a trend that's sent to increase exponentially.
Mobile is an entry level requirement: Those who only design content or platforms for desktop won't be doing so for much longer. Mobile will continue to subtly transform content style – long scrolling courses will increasingly replace page turners.
Video emerges as primary content format: Especially where it incorporates 'real' people and advice. Advances in in-video search will accelerate this trend next year.
And look out as the virtual reality bubble bursts again: It has potential as a niche proposition where the use-cases adds value – think high consequence scenarios and explorative environments. But for most, augmented reality has greater potential in the long term.
The need to stimulate learner engagement across the learning cycle will start to transform learning platforms – especially as the presence of AI and machine intelligence grows. Push your suppliers to understand where they are taking you.

Each stage of the learning cycle can be supported by technology that already exists in many organisations but perhaps isn't being harnessed. Or the solutions are out there but you might need to invest in the right one. For instance, diagnostic tools and skills assessments in the planning stage of the learning cycle can support adaptive learning paths that dynamically create courses based on where learners should be focused as they progress; or automated courses created through machine intelligence that makes selections for learners based on individual preferences.
During the learn stage, gamification techniques and a blend of digital channels and content types could be used. As learners apply their knowledge, online journals could support reflection and on-th-job assignments coordinate action-based learning to demonstrate how they are using their new skills, attitudes and behaviours. When they then try to sustain this, L&D could nudge and prompt peer-to-peer feedback and input improvements over time through providing just-in-time support materials, references and resources. As you seek to measure the impact of learning, benchmarking tools, quality assessment and 180/360 degree feedback can provide much needed insight on the effectiveness of what you're doing. Ultimately, both individual learners and L&D can see to analyse their development using diagnostics and evaluation tools.
None of this is the future. This all exists and could be used right now!
What needs to be carefully considered in 2017, and what underpins all of the above, is your next generation learning technology architecture. It's simply not enough to implement a learning management system and hope for the best any more (if in fact that ever was enough).
L&D teams that show tangible measures of success will continue to receive the greatest backing from their stakeholders, whilst the others will continue to struggle to get investment. If you don't have compelling measures in place today, change that in 2017.

Now all of the above – digital transformation, learner engagement, better access and more diverse methods of delivering learning content, mean nothing if there is no impact from what L&D is doing across the rest of the organisation. How many of us in L&D has access to live business data to understand the impact of their learning activity? Fosway's findings reveal all too few. And in 2017 that needs to change.
One of the keys to this is that the next generation of digital learning solutions come complete with much more sophisticated analytics. And this data can ultimately be harnessed to trigger more engaging learning experiences across your organisations.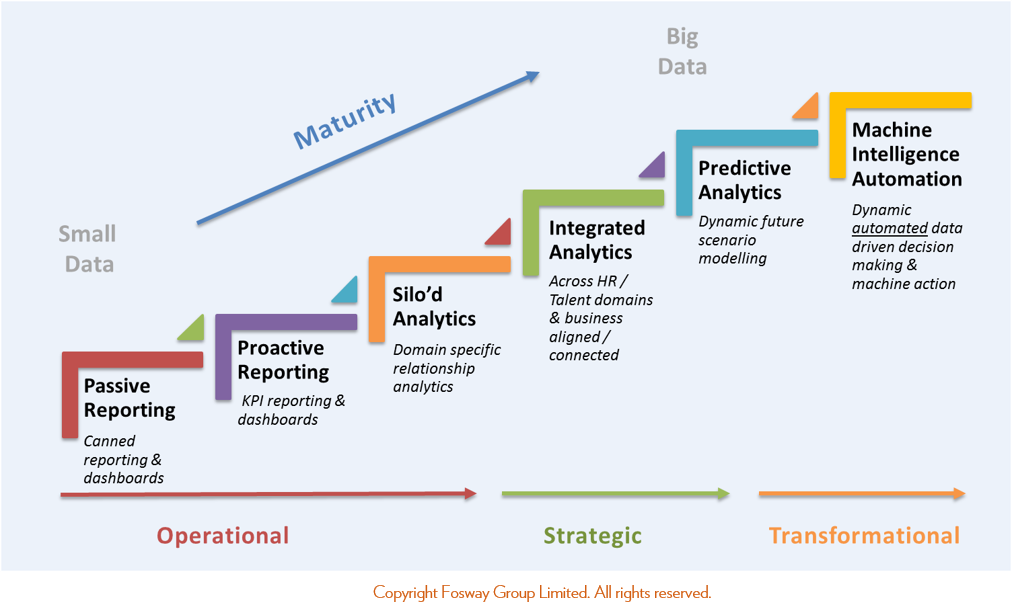 Most corporates are struggling with anything more than what the Fosway Analytics Maturity Model (above) calls Passive Reporting. But as learning solutions mature, we reach the dizzy heights of Predictive Analytics and Machine Intelligence Automation which become truly transformational. And the main beneficiaries are the end users, the learners, who start to experience more tailored, personalised learning journeys based on their preferences, their skill levels, their career paths.

The broader talent management and HR landscape is disrupting learning technology decision.

The learning function and HR are inextricably linked, even if in many organisations they seem poles apart. It is critical for L&D to understand how it fits into the broader HR decision making process. L&D still needs to retain a focus on executing operational objectives but ideally needs to also build its influence against a backdrop of ongoing HR transformation (which is set to continue in 2017). Are you an operational or transformational team and what implications does that have for your team?
By being more agile and more innovative, learning actually has an opportunity to lead the way which is an exciting prospect. One of HR's biggest challenges is often the level of disconnect between their current processes across the talent management lifecycle. From recruitment, to onboarding, to learning, performance appraisals and succession planning. These processes need to become more aligned and learning has a 'rhythm' or a frequency of need that is much higher than the other talent and HR processes, many of which are annual or event based.
Learning inherently provides an opportunity to connect talent processes into the everyday flow of work, which can be maximised if L&D rethinks its structure, access, delivery and impact. By delivering a compelling user experience through user friendly digital solutions, L&D can potentially have a huge impact on employee engagement and performance across an organisation. By its nature, HR tends to need to be more strategic and think longer term. But that doesn't remove the need for results to be delivered today! HR has to be careful it doesn't get swallowed up in its own strategic bubble and a more agile, digitally-led L&D function can be just the antidote to that. An approach that should see learning make an immediate impact in 2017 and beyond.
Check out the Digital Learning Realities research to help you understand how you measure up in 2017.

Over 1100 L&D professionals took part in this year's Digital Learning Realities research that Fosway conducts in partnership with the organisers of the annual Learning Technologies conference and exhibition. To see how your organisation compares, view the headline results here.
This article, written content and communications manager, Kate Graham, first appeared in Training Journal.
Teilen Sie diesen Artikel