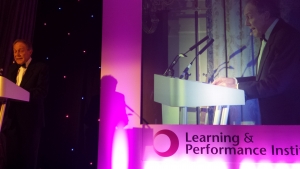 Last week saw the 20th annual Learning Awards in London (formerly the Institute of IT Training Awards) run by the Learning and Performance Institute. After a busy week at Learning Technologies 2016, it was a timely opportunity to reflect on the industry and the progress being made by those on the front line of L&D.
These awards tend to attract strong entries from both the public and private sectors, representing whole teams of learning professionals who are proud of their achievements. And their real-world adoption of next generation learning technologies is demonstrating the shift in L&D from the classroom, to learning that is becoming more and more embedded in people's daily workflows.
The full list of winners is available here. Stand out personnel on the winners rostrum include Julian Stodd who c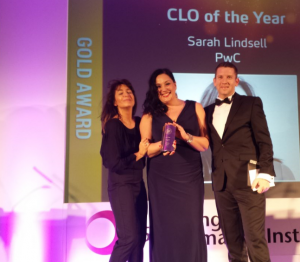 ollected the Colin Corder Award for Services to Learning. And Sarah Lindsell of PwC who won Chief Learning Officer of the Year, followed all the way to the stage by her applauding team.
What's notable about the other winners, particularly from an awards that has its roots in traditional face-to-face training, is the diverse application of technology in learning. Gold awards went to an internal learning toolkit, an innovative blended approach, and solutions involving social learning, virtual worlds, gamification and learning algorithms. All technologies we have been talking about for some time, but which are now actually coming to life in the workplace. No longer can the focus of learning be on delivery and completion rates. It is about performance support, on-demand resources, peer-to-peer learning, user experience and employee engagement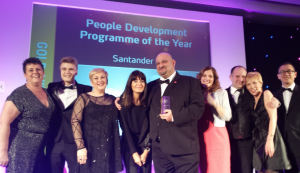 Our recent research highlights an increased appetite for diverse content types (Mobile – 89%, Social – 82%, Video – 81%, Virtual Classrooms – 80%). So the pressure is on both vendors to deliver workable solutions and L&D professionals to implement them, backed up by systems and processes that can properly support this ever evolving mix.
To that end, it is positive to see the LPI recognising new entrants to the supplier side of the market with an award aimed at start-ups. And the diversity of vendors entering the awards has also dramatically increased in recent years. The Learning Awards represent a broach church with a wide range of categories, but it is a good reflection of a buoyant market – particularly after a lively Learning Technologies event – to see innovative technology at the heart of so many successful, real-world projects.