With online learning now the only game in town as a result of the COVID-19 crisis, the full impact on the learning technology market is assessed for the first time in the new 2021 Fosway 9-Grid™ for Learning Systems. Released today by this year's research highlights the significant consequences of the shift to remote working and learning.
Die Anbieter haben einen Anstieg der Nutzung ihrer Plattformen um 200-300 % verzeichnet, da die Unternehmen die gesamte betriebliche Weiterbildung digital umsetzen mussten. Für Learning & Development-Teams genauso wie für die Anbieter bedeutete dies einen enormen Druck ausgeübt, um Antworten unverzüglich zu liefern, Implementierungszeiten zu senken und eine schnelle Wertschöpfung für Online-Lernprojekte zu bieten. Diese Situation hat einige kreative, kundenorientierte Online-Lösungen hervorgebracht, wie z. B. COVID-19-Portale, die den Organisationen zu geringen oder gar keinen Kosten zur Verfügung gestellt werden, und Plattform-Rollouts, die Wochen statt Monate dauern.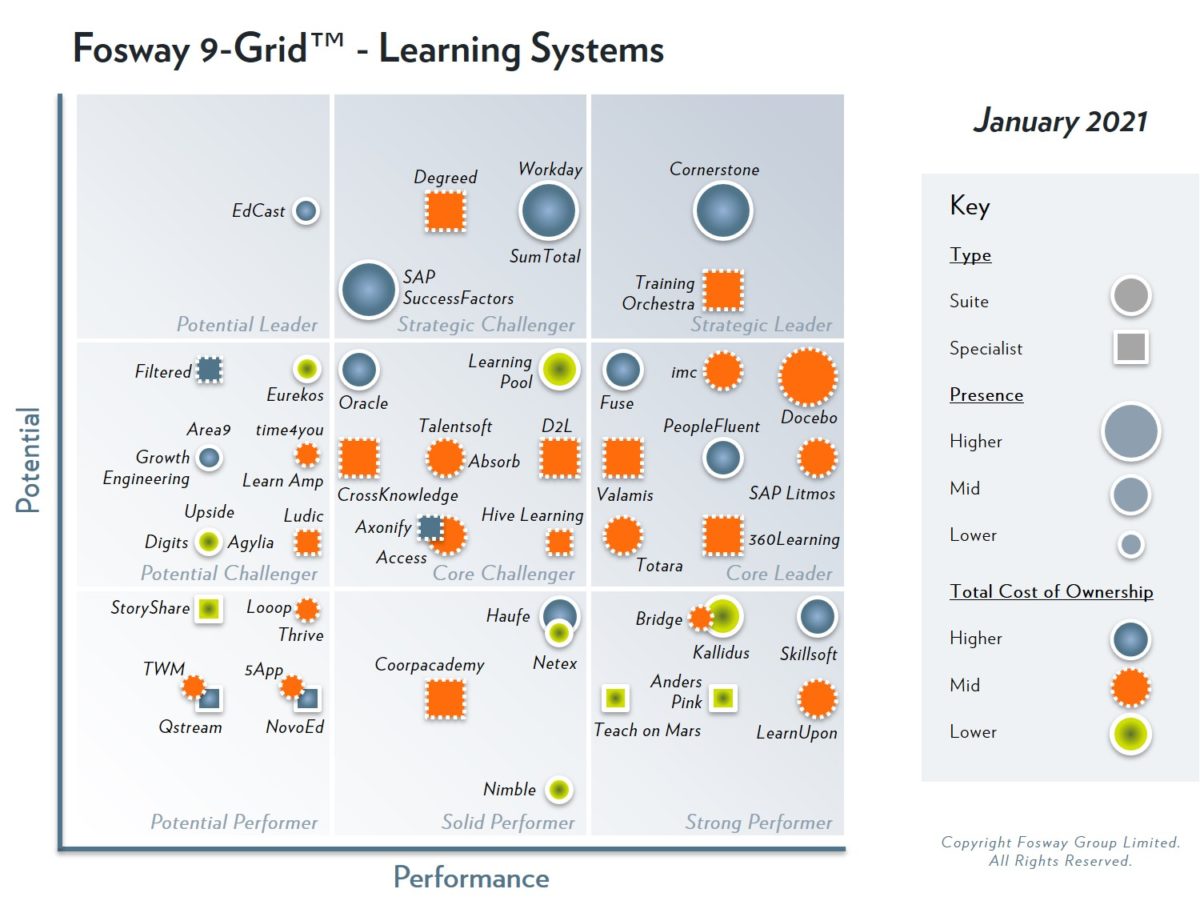 Aber es gibt nach wie vor eine Tendenz, sich an veraltete Bezeichnungen zu klammern, insbesondere an die künstliche Unterscheidung zwischen LMS und LXP. Im Jahr 2020, bevor COVID-19 nach Europa kam, verwarf Fosway das Label LXP als verwirrenden Marketing-Hype und klassifizierte die Systeme neu in Learning System Suiten und Spezialisten. Ein Jahr danach und ein neunmonatiges intensives Forschungsprojekt weiter und alle Fakten belegen, dass dies der richtige Schritt war.
LXP war keine schlechte Idee – sie hat nur nie das getan, was auf ihrer Verpackung stand. Analysiert man die Realität hinter der LXP-Story, wird deutlich, dass Käufer genauer verstehen müssen, welche Aspekte der "Learning Experience" sie tatsächlich verändern möchten und warum. Unternehmen müssen aber auch besser verstehen, worin sich die Anbieter im Kern wirklich unterscheiden, um größere Erfolge für ihr Business zu erreichen. Am Ende des Tages bieten Suiten und Spezialisten den besseren Weg, um den Markt und die Optionen für Unternehmskunden zu verstehen.
David Wilson, our CEO said, "Das Jahr 2020 erwies sich als herausfordernder als erwartet, aber die Learning System-Branche ist an dieser Herausforderung gewachsen und hat ihren Wert für die Kunden bewiesen. Das 2021er 9-Grid™ für Learning Systeme spiegelt sowohl den Erfolg der Anbieter in der Krise wider, zeigt aber auch neue Innovationen, neue Marktteilnehmer und neue disruptive Spezialisierungen auf."
"The LMS and LXP labels now need to go for good. As we predicted, the convergence of modern learning systems has continued apace. As Specialists continue to backfill their solutions with traditional LMS functionality, the Suites are integrating specialist capabilities to be more disruptive. Where they meet in the middle is hugely confusing for buyers."
Ultimately, we hope to recalibrate what is meant by the term 'learning experience' which is thrown around so casually – but, in reality, is about so much more than a nice learning system and nice learning content…
The full 9-Grid™ for Learning Systems report can be downloaded here.
David Wilson, and our senior analyst, Fiona Leteney, will take questions on the research in a live online 'Ask The Analyst' session on 9 February 2021. You can register for your free place here and ask us all your burning questions – nothing is off limits! Places are allocated on a first come, first served basis though so don't miss out.
You might be wondering where the 2021 Fosway 9-Grid™ for Digital Learning is as it's usually released in-line with the Learning Systems analysis. This will now be launched at the end of February.
We're also producing a new series of research papers looking at disruptive learning specialisms and the wider learning ecosystem from February onwards too, so lots to look forward to.