Article
5 Minute Read
The Realities Of Digital Learning in 2017

Getting beyond e-learning
Part of our role as industry analysts at Fosway is to understand and make sense of the evolution of technology and ongoing shifts in the market. To that end, the Fosway 9-Grids™ were launched five years ago to much interest from e-learning buyers and providers alike. But the demands from learning technology market are changing. There remains sustained demand for technology-led learning solutions across Europe and beyond. However, the nature of the requirements is shifting. Providers now offer broader and broader solutions that include much more than e-learning alone. The impact of increasing in workplace, social and collaborative learning and focus on learner engagement mean that more and more buyers are looking for a complete digital learning experience.
It's about the full learning cycle
As learning teams look to create greater ongoing engagement with learners, the focus on creating learning experiences – not just formal interventions – continues to increase. I wrote in a previous article about the PLASMA learning cycle and the importance of supporting learners with potentially shorter bursts of content or performance support, in a sustained way over a period of time. We are continuing to see the adoption of shorter learning bites (micro learning) and a move away from longer e-learning courses.
As a result, many providers are becoming more innovative and more complete in the way they look at providing learning solutions. Stronger providers characteristically now provide a range of learning options from PDFs to portals and complex scenario-based simulations. Although interestingly, some of the more progressive solutions appear to be being developed by vendors outside of the established e-learning providers community.
This shift is bringing greater complexity to buying decisions. Buyers now need to sift across ever broadening solutions options and providers. Especially as many digital learning options seem to be converging. Vendors that traditionally provided bespoke e-learning now offering portals, and software providers like the LMS companies now announcing supporting content ventures. It is becoming harder to make an informed decision.
So, where does that leave the buyers? How can you make informed choices?
What are the important digital learning capabilities?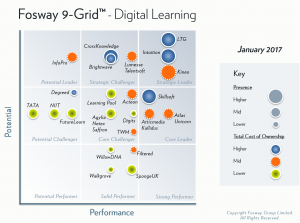 As an independent analyst, we've been working to help buyers become better informed and make better decisions. As part of this, the new Fosway 9-Grids™ for 2017 reflect the critical shifts in the market and we've recalibrated our analysis, with Authoring Tools now extending its reach to evaluate Authoring Systems. Analysis of the Learning Management Systems (LMS) market now changing to Learning Systems so we can adequately explore the new breed of Next Generation Learning Environments (NGLE) which emphasise social, video, mobile and the user experience rather than the traditional formal training administration. Finally we've replaced Bespoke E-learning with Digital Learning to capture the shift to a more holistic view of learning solutions.
As part of our research and analysis of the market captured in the Fosway 9-Grids™ we have compiled from over 10,000 lines of data, conducted in-depth solution briefings and demonstrations and conducted numerous one-to-one customer interviews and testimony from our corporate roundtable events. All this distilled into the view of the market captured in our 9-Grid™ models. But, the most important point to remember about our research is that this is all independent. We have no vested interest in where providers appear and no one pays to appear in any of the 9-Grids™. We include who we think merits inclusion.
Success is about more than just digital technology – business measures are key
In parallel to the release of the 2017 9-Grids™ we have been conducting our Digital Learning Realities research in partnership with the organisers of Learning Technologies for the second consecutive year. With over 1100 respondents, this data is telling some interesting stories which we will explore more next time.
Suffice to say, the pressure is on providers in this new digital landscape is intense. But focusing on technology alone is not enough.  We need to take a balanced approach that serves learners, supports the learning cycle, build meaningful learning experiences, creates measurable impact and serves learning teams. These five things are at the heart of digital learning. It is not just about learning content and learning delivery anymore. It's much more challenging to find the right partners and our research is one way you can lift the lid on which vendors can help you in your journey.
As always, the Fosway 9-Grids™ are freely available online, with the Digital Learning Realities research due to be published in a series of reports from the end of February 2017.
This article, written by director of research, David Perring, first appeared in E-learning Age magazine.
Download the 2017 Fosway 9-Grids™ for Learning now