SaaS Impact on Talent and Learning Systems

April 2009
Why SaaS is the critical deployment option for enterprise organisations

How are Software-as-a-Service (SaaS) or on-demand applications shaping the market in learning and talent systems? What will their impact be longer term? What are the barriers for SaaS in Enterprise customers? What are the key questions to ask potential suppliers?
This Core Insights paper explores how SaaS became the major force in the business applications market, impacting new and existing providers alike, and increasingly dominating corporate decisions on a range of business application decisions from accounting and customer relationship management through to video conferencing.  The learning and talent systems market has been no exception to the above trend, but how significant is SaaS in this specific market, and what are the implications for both suppliers and customers?
As Europe's #1 HR and learning analyst, Fosway Group has been tracking the learning and talent systems market for many years. Here we examine the significant shift in the attitude of corporate decision makers towards adopting SaaS/Cloud solutions to their learning and talent management needs.
Introduction
Evolving from roots in Internet-hosted software applications, from 2000 onwards, Software as a Service (SaaS) has emerged as one of the most significant trends in the software industry.
Defined by Wikipedia as:
'A model of software deployment where an application is hosted as a service provided to customers across the Internet'

SaaS has become a major force in the business applications market, impacting new and existing providers alike, and increasingly figuring in corporate decisions on a range of business application decisions from accounting and customer relationship management through to video conferencing. The learning and talent systems market has been no exception to the above trend, but how significant is SaaS in this specific market, and what are the implications for both suppliers and customers?
Why focus on SaaS in learning and talent systems?
As Europe's #1 HR and learning analyst, Fosway Group has been tracking the learning and talent systems market for many years. Our research indicates what we believe to be a significant shift in the attitude of corporate decision makers towards adopting SaaS solutions to their learning and talent management needs.
What are learning and talent systems?
Learning and talent systems are a set of business applications for managing and delivering learning and talent processes within a corporate environment. This covers a wide range of functionality and applications including Learning Management Systems (LMS), Learning Content Management Systems (LCMS), authoring tools, performance management, talent management, succession planning, recruitment and on-boarding, assessment and so on. Vendors can specialise in providing one part of this spectrum, or in providing a suite of applications across a range of functionality. We will discuss the different approaches in more detail in the next chapter of this paper.
The impact of SaaS
Although a technology trend, corporate learning and talent leadership has increasingly become aware of SaaS as a viable option for the systems that support their core processes. Sometimes this has been facilitated by the involvement of their IT colleagues, and sometimes despite them.
The growth in acceptance of the viability and strong value proposition of SaaS in other mainstream business application markets has also made SaaS a more attractive opportunity in the learning and talent systems market as well. New suppliers of SaaS-only learning and talent solutions have appeared in the market and seem to be growing faster than more established software suppliers that are also now increasingly offering SaaS or on-demand versions of their software too.
Overall, Fosway believes that SaaS is a major trend for the learning and talent systems market, and will significantly impact both corporate decisions and supplier success. But, as yet, it is not the only answer, or even the dominant model.
There are many questions associated with SaaS in the learning and talent systems market that are receiving little attention currently:
• Why are companies interested in SaaS for learning and talent systems?
• How appropriate is SaaS really for learning and talent systems?
• Are Enterprise organisations buying SaaS solutions for learning and talent management, or is it only small to medium companies who are interested in SaaS because of the perceived cost advantages?
• What are the barriers to using SaaS in reality, and what lessons have organisations learnt in deploying SaaS solutions for learning and talent management?
These are some of the questions we will attempt to address in this Core Insights paper.
Research methodology
This Core Insights paper is based on information and analysis gathered by Fosway throughout its research into the corporate learning and talent systems market. This includes input from:
• Conversations with many large corporate organisations in the UK, Europe and internationally
• Formal research including corporate roundtable discussions and structured research projects looking at trends in Enterprise learning and talent systems including LMS, performance management systems and other talent management applications
• Detailed advisory assignments with a range of major multinational organisations on their current and future learning and talent systems strategy and supply options
• Independent research and profiling of the leading learning and talent systems vendors over many years
The aim of this paper
The aim of this paper is to analyse the relevance and applicability of SaaS in the learning and talent systems market. We also want to provide organisations with guidance on the key questions they should be asking themselves when considering potential SaaS solutions, and key questions to pose potential suppliers.
Overall, we want to help educate the market, and to explore the real impact that SaaS will have on the learning and talent systems market longer term.
The content of this document is split into the following main sections:
• An introduction to SaaS, including background on the evolution of SaaS in the enterprise software market, referencing research on its impact and uptake in other business application markets
• The history of SaaS in the learning and talent market, including the specific drivers for SaaS in learning and talent systems, as well as an overview of the typical benefits and barriers for SaaS
• A short case study overview of the successful adoption of a SaaS learning and talent solution in Barclays
• Understanding your options including key questions to ask internally when considering a SaaS approach, and key questions to ask potential vendors. This section also includes a discussion of the impact of SaaS on TCO (Total Cost of Ownership)
• Predictions on the longer-term impact of SaaS in the learning and talent marketplace, both for large enterprises, and for the mid-market
• A short overall summary and conclusions
The appendices of this document include a glossary of the key terms used in this document, as well as references to third party research and white papers on SaaS in general and for learning and talent systems.
The history and evolution of SaaS
According to Wikipedia, the term 'Software as a Service' has been in usage since 2000 or soon after, describing a 'model for software deployment where an application is hosted and provided to customers across the Internet'. SaaS is now a term in common use in the IT industry, with thousands of software vendors providing SaaS solutions across the complete spectrum of business applications.
Our view is that SaaS evolved from two main sources:
1. Application Service Providers (ASPs), a class of companies who were hosting and running business applications as a publicly available service, normally over the Internet, and
2. Software companies that recognized the potential to create recurring revenue streams by providing their software solution as an ongoing service, managed by them on their servers, or by a third-party Internet Service Provider (ISP)
Whatever the actual origin, SaaS has become a major force in the IT industry with an increasing number of companies providing SaaS-only solutions, and by the introduction of on-demand or SaaS products from the established behind-the-firewall (BTF) or on-premise software vendors. Whilst there might be arguments about the technical differences between SaaS, ASP or on-demand, for the purposes of this paper and the majority of learning and talent professionals, they are effectively equivalent concepts.
Salesforce.com
The company that really put SaaS on the corporate radar is Salesforce.com, providers of a SaaS-based Customer Relationship Management solution. Founded in 1999, Salesforce.com has grown organically from a standing-start to over 41,000 companies using their SaaS solution over the past eight years. Now with revenues over $700m a year and still growing at approximately 40-50% year on year, Salesforce.com has set a benchmark for many entrepreneurs and investors on the potential of SaaS as a business model.
For corporate customers, it also helped redefine the basis on which they thought about buying their software. Dealing with some of the most sensitive data (customers and sales information), Salesforce.com proved to many companies that they could have access to an Enterprise-class application without the overhead of having to run and maintain it themselves. This saves them time and resources, but it also saves them money.
Salesforce.com also quotes figures from IT analyst, Gartner, showing a lower TCO (Total Cost of Ownership) for a SaaS solution over an on-premise solution.
The key elements of SaaS
According to IDC, the key elements of a SaaS solution are:
• Provision of network-based access to, and management of, a commercially available software package
• Management of the operational services to run that software from a central location rather than in the customer's own site
• Delivery of the application to multiple customers
• Centralised updating of the software functionality and code
Gartner definition
IT Analyst, Gartner, defines SaaS as:
'Software that is owned, delivered and managed remotely by one or more providers.'
Where:
• The application is based on a single set of common code and data definitions
• It is consumed in a one-to-many model by all contracted customers
In reality, this seems much closer to accepted normal operating model for SaaS applications in the market. The important additions here are around the common code set, subscription model and one system to many customers.
These are all important points in differentiating a SaaS solution from an externally hosted on-premise system which normally will have one customer and commonly (at least for corporates) is an acquired perpetual licence plus an additional hosting cost.
Multi-tenancy
The use of a shared system for multiple customers also raises another important technical concept in SaaS; that of multi-tenancy, or the ability to run multiple customers (tenants) on a single instance of a single code set. Multi-tenancy is very much an IT architectural concept, and can be contrasted with a multi-instance approach where separate software instances are set up for different customers on either separate or shared hardware.
Although not universally accepted within the software industry, multi-tenancy is an important concept. It supports the scalable delivery of many customers with good economies of scale.
Simplistically, one instance of the code means one system to support, one system to update and maintain.
General benefits of SaaS
Jason Maynard, an analyst at Credit Suisse, has compared software to electricity, pointing out that most firms don't own generators; they just buy electricity from the grid. This statement points to a significant switch in approach that can bring significant benefits to the consuming organisation. So what are the main benefits of SaaS? In essence they are:
• Save money through lower entry IT costs and economies of scale
• Save time and resources through removing basic implementation and maintenance tasks
• Faster access to innovation – you are always on the latest code!
• Share resources and a community of interest with other customers of the service
• Increase vendor focus on customer satisfaction (you pay as you go)
A combined outcome from all of the above is generally the ability to significantly lower the costs and effort of entry to adopting a SaaS solution versus an on-premise system which has to be uniquely set-up and maintained, with all its associated resource implications. This makes SaaS a particularly compelling option for smaller to mid-sized companies that lack the investment capability and specialist IT resources found in their larger Enterprise neighbours.
But these benefits are also of significant value to Enterprise organisations. The reduced cost, time and resource overheads are an attractive carrot for many tactical projects, especially as it is perceived as removing the internal bottleneck of IT resources. Faster innovation and increased focus on customer satisfaction can also mean that once on a SaaS platform, business stakeholders can be reluctant to come off it and move to what they perceive as a lower-quality more expensive internal service.
Either way, the SaaS model seems to offer some compelling advantages. But what are its limitations?
The common concerns
The common concerns raised about the use of SaaS for corporate business applications are:
• Security – especially identity and access management
• Data protection and post-access security
• Scalability and performance
• Integration with on-premise applications
• Controlling upgrades and new functionality
• Ability to customise
Probably the first concern raised from IT departments about SaaS is security. This argument seems largely to be in the eye of the beholder, with many organisations in the same market sectors taking completely different positions on whether security is a real barrier. One common perception is that data is less secure because it may not be physically separated. In reality, many SaaS sites are significantly more secure than corporate sites, and are frequently formally tested to ensure they remain so. Another set of concerns relate to the integration of applications back into source data systems inside the firewall. The issue of integration in general needs to be explored separately outside this paper, but clearly the SaaS vendors have had to develop robust mechanisms to integrate. Every customer has this need and they would be out of business if they could not meet it.
What is significant here is that all of these barriers are really IT issues. From a talent and L&D perspective there is little here that would be a genuine obstacle. And herein lays the importance of proactively engaging IT teams and challenging them to deliver results rather than just risk management.
In the end, each organisation will need to convince itself that the areas of concern meets its own requirements, whilst keeping an eye on similar organisations to ensure it is not creating artificial barriers (a common occurrence). We will also discuss some specific concerns and how they relate to learning and talent systems later in this document.
The following diagram neatly summarises of the debate for and against SaaS.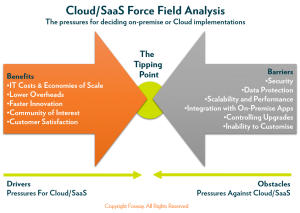 Summary and market trends
Gartner predicts that the SaaS market is growing at a compound rate of 22.1% for the aggregate enterprise application software markets, more than double the rate of total enterprise software. This clearly reinforces the importance of SaaS to the software market as a whole, as well as to Enterprise applications, of which learning and talent systems are one segment.
Interestingly, Gartner then goes on to say that it predicts the actual growth for the segments of the enterprise software market will vary significantly. ERP (Enterprise Resource Planning), the segment that contains HR applications and learning and talent systems, is predicted to grow at a compound annual growth rate of 15.9% between now and 2011, double the growth rate for the sector as a whole.
Deutsche Bank's Global Market Research (June 2008) on SaaS also strongly reinforces that SaaS is real trend that is 'here to stay'. Deutsche Bank Research believes that acceptance of SaaS is growing faster than its previous predictions, and that SaaS is starting to impact the offerings from the software heavyweights as well as niche providers. It also cites the benefits as including reduced costs, faster innovation, higher success, better access and more open opportunities for customers.
Deutsche Bank also references research from McKinsey identifying SaaS as the most important IT trend impacting corporate organisations, and that the majority of companies are open to using SaaS where it has an appropriate business case.
Overall, we believe the above research strongly indicates that Software-as-a-Service has become a significant force in the enterprise software market, and is predicted to grow twice as fast as the market as a whole. Whilst it has some potential downsides or concerns, it also offers some very attractive potential benefits and this is causing significant interest in its use across a wide range of enterprise software needs. Although it will never be the only way in which software is bought and delivered, it has become a mainstream option for many corporates, and will be even more influential going forward.
So, let's now explore the specific relevance and implications of SaaS for the learning and talent systems market.
SaaS in learning and talent systems
Having provided a general overview of SaaS, it's now time to look in more detail at the impact of SaaS in the learning and talent systems market more specifically. As per our earlier definition, these systems can cover a broad range of processes of the learning and talent space, including:
• Learning Management Systems and learning portals
• Learning delivery systems including virtual classrooms, virtual learning environments, e-learning delivery and related systems
• Learning authoring and content management systems
• Performance management systems
• Talent management systems including succession planning
• Competency management
• Sourcing and recruitment management
In many ways, the pattern for SaaS in learning and talent systems follows that for other enterprise software markets. Historically, the learning and talent systems market was dominated by on-premise solutions from a number of sources including:
• Niche software vendors selling on-premise component applications within the learning and talent spectrum, and increasingly now suites of applications. Common examples of specialist learning and talent systems vendors include Saba (and Centra before they were acquired), SumTotal Systems (and Docent, Click2Learn and Pathlore before they were merged), Plateau Systems, e2train, StepStone, Kenexa, Vurv, and Softscape
• The main ERP or HR systems vendors who provide component applications for learning and talent management as a part of their overall HR or ERP suite. Common examples of these have included SAP, Oracle and PeopleSoft (before it was acquired by Oracle)
In both these cases, systems have been acquired by corporates and implemented by or for them on a private basis, typically on their premises (hence the on-premise label), or hosted specifically for them by a third party. In both these cases, the systems are configured for the customer and run uniquely for that customer. This is similar to normal practice in the enterprise software market.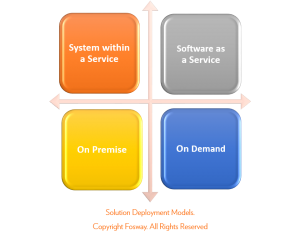 Systems within a service
A third source of systems historically has historically come from suppliers of learning and talent services, such as training companies, content providers, recruitment companies etc, who have developed or licensed solutions to manage their own business offering, and who may effectively sell use of that system to their corporate customers as part of their service offering.
A common example of this as the e-learning portal provided by the generic e-learning content providers such as SkillSoft as part of their e-learning offering. This is often used by corporate customers who have no other immediate way of delivering content to users, and may be included in the cost of the content, or be charged as an additional cost. Training companies may provide a portal for corporates to access the training scheduling and for their employees to book on courses. Recruitment companies will frequently provide access to a system to help automate the posting and processing of new job opportunities, as well as to streamline the processing of applications.
All of these are examples of where learning and talent systems are embedded within the service offering provided by the supplier. The role of the system is to streamline the process of accessing and using the service, a win-win for both sides. Rarely is the system offered without the service, it is a means to an end, not the end in itself.
For corporates, the advantage is that they can more efficiently and effectively utilise the service without the need to implement their own system to do so. This can be a major benefit, and we see many examples of the use of such systems within large organisations. The challenge is that this is only ever a tactical solution as it is limited only to their use of that service provider. If the corporate wants to use the same system to manage multiple competing providers it is stuck. It also must continue to contract for that service in order to continue to use the system which might be undesirable or uneconomic longer term.
Whilst 'Systems within a Service' are not necessarily a major strategy for corporate organisations, they should be recognised as in reality playing a role in the learning and talent systems landscape. Nearly all corporates implicitly use such systems in some part of their organisation, and the integration with these services can be a major factor for deployment of replacement corporate systems.
'Systems within a Service' also points to an important reality which we will come back to at the end of the paper; in the end, corporate learning and talent people are not hugely interested in the software itself, they are more interested in what it does for them, i.e. how the system enables (or disables) them to provide the services they need to provide in the business. The use of third-party providers and content is fundamental to the provision of those services.
We will come back to this discussion later in the paper when we explore the 'added value' that can be provided by potential SaaS vendors beyond the Software-as-a-Service element.
The evolution of SaaS learning and talent systems
Early SaaS learning and talent systems started appearing in 2000 onwards. Targeting the same corporate needs as their on-premise neighbours, a new breed of applications started to appear that were designed and architected either exclusively or primarily to be offered as a SaaS solution.
Examples of vendors in this space include Cornerstone OnDemand, GeoLearning, Learn.com, Mzinga (previously KnowledgePlanet) and SuccessFactors. Oracle iLearning, one of Oracle's LMS solutions was also originally only offered as a SaaS solution and then redesigned to enable it to be offered on-premise as well. Whilst there is sometimes some debate about whether all of these solutions are pure-SaaS or not, the reality is that SaaS is the primary or exclusive offering and the primary revenue source for the company.
On-demand options from on-premise vendors
Following the growth in success of these SaaS-only products in mid-tier markets, followed by enterprise-class corporates, most of the specialist learning and talent vendors have also now introduced SaaS or on-demand versions of their platforms.
Often branded as their on-demand option, these products often started life as a shared hosted implementation of the standard platform that had been segmented for different customers and offered on a subscription basis similar to the pure-SaaS players.
These solutions have tended to have limitations in their flexibility and scalability due to their dependence on a non-native SaaS-centric platform at their core. SaaS systems run from a single code and therefore any changes in functionality or interface have to be able to be managed by configuration settings rather than by customising the code. SaaS-native systems are designed with this in mind at the outset.
On-premise systems have often been designed with the very different philosophy of allowing customisations to the code itself to give greater flexibility to individual customers. The net effect is that because shared systems running from the same code set cannot be customised, some of the flexibility that was inherent in an on-premise system is lost when it is offered on a SaaS basis. You can also find that key configuration parameters affecting customer functionality can only be set on a global basis within a single installation. If multiple customers are sharing that system, those parameters are now fixed as they are global and controlled by the vendor.
The combination of both of these limitations has meant that these first-generation on-demand solutions from on-premise vendors have been targeted at mid-tier customers who are less demanding in their need to customise the processes offered by their solution, or for larger customers on a tactical basis, such as for pilot systems prior to deploying enterprise-wide on an on-premise basis. Longer term we expect these limitations to reduce with newer generations of the on-demand versions.
Why should you be thinking about SaaS for learning and talent?
The adoption of SaaS for learning and talent systems has many of the same business drivers as the broader enterprise systems market. Lowering cost, time to implement and the requirement for dedicated resources are always attractive, particularly to learning and talent groups that are not particularly endowed with significant resources or money. But there are certain factors that we believe have made SaaS approach even more attractive or appropriate for this market.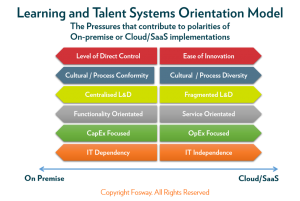 1. Learning and talent groups have not tended to be viewed as strategic or mission-critical targets for IT investment, and as a consequence, have had a low degree of influence on the IT systems strategy and deliverables. They therefore struggle to gain the required commitment from IT to implement major systems internally. The perceived ability of SaaS to bypass the constraints of internal IT priorities and resources is attractive to most learning and talent groups.
2. A further consequence of the above is that learning and talent groups are particularly attracted to non-capital investment approaches, paying as they go. Subscription-based payment that minimises up-front investment can therefore be very attractive.
3. The fact that SaaS platforms are automatically maintained and upgraded by the vendor as a core part of the service model is also important, further reducing their dependency on internal IT resources and investment to implement new versions of the system in order to get access to new functionally or innovation. Vendors may describe this as versionless software. New functionally is constantly being added to the system in use by all the customers. In this sense, the concept of software version becomes fairly irrelevant. Automatically running the latest version of the system can bring tremendous benefits, but it also can create an associated concern; how do you control the release of new functionality to your users who may not be expecting it, or trained to use it. We will explore this issue in the next section of this paper.
4. The responsibility for learning (especially) is typically fragmented across multiple L&D groups, and between business units, rather than being a single powerful central function. This has resulted in many organisations ending up with multiple 'tactical' learning systems solutions. Although there may be a desire to harmonise onto a single enterprise-wide system, often this is hard to justify in reality, and even harder to achieve in practice without massive change to the learning organisation. SaaS lends itself better to multiple semi-independent implementations within the same company that can then be harmonised, or otherwise, on whatever timeline makes sense. The cost of entry for departmental or tactical implementation is lowered, and with SaaS they are automatically running on the same underlying system anyway.
5. A further by-product of fragmentation is the need for variability of learning processes between units within the enterprise. The configurability that SaaS has to offer around process and interface in order to be viable for multiple customers also becomes an asset between multiple units within the same customer. Whilst some of the on-premise solutions can offer high degrees of configurability using 'domains' structures, they still tend to often have more global-only settings.
6. Referring back to the 'Systems within a Service' section earlier, often corporates have chosen learning and talent systems as a by-product of their choice of external service or e-learning content partners. Some of the SaaS vendors have not only pre-integrated the e-learning content or public course catalogues from major providers, they may also offer this as an additional service element at a lower cost than individual corporates can achieve due to their broader economies of scale (they are reselling the same content across lots of customers).
Overall, together with the basic benefits of lower cost, time to implement and lower resources, we believe these benefits represent a compelling option that will continue to make SaaS learning and talent systems attractive going forward.
What are the SaaS barriers for learning and talent?
So what are the potential barriers for SaaS learning and talent systems?
In the overview of SaaS, we talked about the following general concerns expressed about SaaS for enterprise business applications:
• Security – especially identity and access management
• Data protection and post-access security
• Scalability and performance
• Integration with on-premise applications
• Controlling upgrades and new functionality
• Ability to customise
We will now explore each of these in more detail and discuss some of the considerations we see corporate organisations making.
Security
Learning and talent systems contain sensitive data about employees, their learning history, their competencies, and their performance amongst other things. If SaaS solutions are providing access over the Internet, how do we ensure only the right people are able to access the system?
In reality this issue seems no different for learning and talent systems than it does for other corporate systems. Each company will have its own policies and procedures for IT Security and access to systems, but not all companies have a single coherent platform to manage it on their behalf, e.g. for single sign-on.
All of the main SaaS learning and talent vendors are used to dealing with IT security people, and have proven integrations with single sign-on security applications. The major SaaS vendors will also have a robust security model for their data centres and have proven capability to withstand external system hacking. However, your IT security people will want to test that again with their own people.
Although access security is raised as one of the common concerns, on detailed investigation this tends to be less of an issue, unless there is a rigid policy that prevents use of Internet-hosted systems. Longer term, we expect access security to always be an important consideration, but we also expect corporates will have tried and trusted mechanisms to manage it effectively and safely in an increasingly connected world.
Data protection and post-access security
A different and often more problematic issue is that of data protection. This is not so much about who can access the system for normal usage, but what data can be stored, where it is stored, and who potentially has access to that data outside normal usage. This can especially be an issue for companies with employees in countries that have strict controls on what data can be stored on an employee, and or in market sectors where certain employee data could be highly commercially sensitive, e.g. performance data, or evidence of competence to perform specific work tasks.
One common area of concern is the storage of employee performance or competency information for employees in the European Union (and certain countries such as Germany especially) on servers located in data centres outside the EU. This stems from the European Commission's Directive on data protection. Given the USA is often the operating base for many SaaS vendors this can be a barrier. The US Department of Commerce has developed a 'Safe Harbour' framework in consultation with the European Commission to enable US companies to comply with the directive and to meet the data protection concerns of European firms.
Another relevant consideration when considering potential third-party service providers such for SaaS services is SAS 70. SAS stands for Statement on Auditing Standards and SAS 70 is an auditing standard to evaluate the IT controls of service providers. SAS 70 has become important with the rapid growth of compliance legislation and the use of external service providers such as SaaS vendors with external data centres and co-location facilities. SAS 70 Type II certification is the level that includes reporting relevant IT controls and assessing their effectiveness.
Scalability and performance
One obvious downside of buying your business applications as a service that is shared with other customers is that you have no control over the servers and other hardware used by the vendor to provide that service. Also, by definition, those servers are not located on your site or even local to you, they are accessed over a wide-area network (often the Internet) to a data centre that may be on the other side of the world. All of the above means that the issue of system performance is always a concern, and sometimes is a significant one.
All major SaaS vendors will be operating their service in a professional data centre facility with large capacity network pipes, and running on a scalable server architecture that can easily be expanded to offer greater user numbers and concurrency. But, the only real answer to performance concerns in your organisation is to test it.
One factor to also consider though is the limitations of your own corporate networks. In our experience, very few large corporate organisations have a universally high performance network across the globe anyway. Whilst network bandwidth can be good within certain countries, and between its head offices, outside those the network performance can often drop significantly. This can become even more of an issue for retail organisations or other companies with many small offices or sites, or for companies with large numbers of mobile or remote workers. In these cases, using a local broadband Internet connection to a high capacity SaaS application can be extremely attractive.
Integration with on-premise applications
All learning and talent systems are reliant on certain data to function, not least basic information on employees if they are internally focused. They therefore always have to be connected in some way to core HR data. Integration with the HR system is one of the most common questions asked about any learning and talent systems, and SaaS versions are no exception. The challenge for SaaS learning and talent systems though is that these HR systems are almost always located on-premise, even though the SaaS system isn't.
Is this an issue in reality? Well, it is normally always raised as an issue, but no we do not believe this is a major issue, unless there are specific security policies that prevent you from moving that data in any form outside your firewall (see security and data protection previously).
HR data integration is kind of a 'job one' for any learning and talent SaaS vendor. They will have faced this question and answered it with every customer, and for many customers probably more than once, as in reality many companies have multiple HR systems across their multiple business and geographical units. And mostly, they use the same mechanisms that are used between on-premise applications, batch loading of HR data on a regular periodic daily or weekly basis. As long as the process is reliable, robust and secure this tends to be an easy issue to address. In fact, if your HR system is a common one (e.g. SAP, PeopleSoft or Oracle), the SaaS vendor will have significant experience of integrating with it already, probably more experience than your own IT people or sometimes the HR systems vendor.
There are other applications besides HR systems that the learning and talent systems will have to integrate with, most notably other learning and talent systems. These may prove to be far more complicated than the HR integration, which in our view, is often overplayed.
Integrating with other learning and talent systems is too complex and diverse a subject to address in detail here. Suffice to say, the ability to integrate with these applications tend to use either use a batch approach similar to HR data, or a programmatic interface (such as an API or WebServices call), or via a specific learning and talent integration standard such as via an AICC or SCORM interface. Whilst SaaS adds some additional technical complexity, well-designed and standard-compliant SaaS applications are little different to their on-premise equivalents. What does differ is the line drawn in ownership in the data transfer. Attempting to get internal IT and vendors to agree an auditable sequence that enables you to know that each data transport has been successfully can be more fraught than it should be and both exception reports and protocols for missed transfers are necessary to maintain accurate data sets.
Controlling upgrades and new functionality
Whilst never having to worry about the maintenance and upgrade of your software application is a big benefit, it has a downside, what happens if functionality changes and your users don't understand it or can't use it? A key factor in whether the versionless concept becomes a viable reality for your users, is the ability for you to control how major functional changes affect you.
Vendors need to provide:
• Notice of major changes in advance so you can warn or pre-train users as appropriate
• Configuration options to enable you to turn off new functionality that is not needed or appropriate for your users
• Testing facilities to enable you pre-test the impact of any major changes on your configuration
All of these are critical to your ongoing stable use of the system, and should be investigated with potential vendors in advance of any commitment. Sometimes changes are unavoidable and critical for long-term success, even if you don't want them in the short-term. In an ideal world, a good SaaS vendor should insulate you from the risks by providing sufficient notice and access in advance, as well as introducing them in a way that minimises impact unless you specifically select to adopt them.
Ability to customise
The final major area of concern with a SaaS learning and talent systems is the inability to customise its functionality. Historically, it has been very common for large corporates to customise learning and talent applications to ensure they exactly fit company processes and any special needs which are not met by the applications out of the box.
Whilst all software can theoretically be customised by, at a minimum, the original software vendor, the ability to customise applications is dependent on their underlying design and software architecture, and the 'openness' of their programming code. The flexibility of the design and ability to customise is often a major factor in corporate decisions, especially in organisations that have very unusual needs or must operate their learning and talent processes in very specific ways due to external regulatory requirements.
The first step for any vendor will be to meet special customer requirements via configuration rather than customisation; controlling functionality via data settings, rather than actually changing the underlying code. Configuration is effectively designed in flexibility and configuration settings should be automatically portable to new releases. This makes everyone's life easier! If the system is customised, then the customisations will have to be reapplied to new releases of the software, a much more involved (and potentially riskier) task. So although the ideal is only to use configuration, corporate reality means that this is not always possible. This is where an on-premise solution would probably be customised by the vendor, or a qualified third party or your own IT staff. It may not be hugely desirable, but it is still possible.
But SaaS applications have a fundamental constraint here; all customers are running off the same code – especially multi-tenant SaaS applications. If you change the code for one, you are changing it for all of them. So how do SaaS vendors meet custom requirements?
Firstly, their ideal solution is to meet them via configuration. Good SaaS applications are inherently designed to be as configurable as possible in order to ensure that their many customers with many differing needs can all be satisfied from a single shared system and code base. But if all customers are always using the same version, surely it is impossible to customise the code for one? In fact, this is partially true in that any customisation has to be applied to the same version of the application used by everyone else. Normally this means it is included for all, and the enabled through a configuration setting. This need to share customisations has some disadvantages and some advantages.
The main disadvantage is that customisation has even bigger implications for SaaS vendors than it does for on-premise. Typically it has to be done by the core development team for the application rather than a consulting resource or qualified third party. This also means it has to be scheduled into their existing development plan and timings for releases.
The other potential disadvantage is that the customisation has to be done in a way that can be controlled (e.g. configured or turned off) by other customers. The implications of any change have to be carefully considered across multiple customers, and potentially may have to be adapted to meet competing but similar needs from other customers. All of this constrains the process more tightly than customising an on-premise system. It makes the process of commissioning and agreeing it more complex, and it may well limit when the changes can be made available to customers.
The flip side of the above is also worth considering. Firstly, once customisations are in a SaaS application, they are then supported directly by the vendor and will automatically be carried forward to new releases. You no longer have to pay for it to be maintained, and you no longer have to worry about your ability to upgrade your system to the latest release of the software. The SaaS vendor does this for you automatically! Additionally, by the nature of a shared system, customisations are effectively shared and available to other customers. They can use yours and you can use theirs. This effectively creates a community of interest who are sharing the advantages of the increasing functionality in the system.
Overall, customisation can be a difficult topic for on-premise and SaaS solutions. There is a serious question of how effective 'localised' customisations are anyway. History tends to show that in isolation customisations often prove to be a mill-stone of effort and cost that means their short term benefits are never outweighed by the long term difficulties they create. This factor makes the SaaS option potentially compelling. In SaaS, customisations not only offer perpetual benefit for the corporate that finances them, but they extend that benefit for the wider customer community and this can drive significant innovation.
In summary
We would expect to see most or all of the above concerns being expressed in a corporate that is considering a SaaS learning and talent system. And they are real concerns that require appropriate clarification and response.
However, in our view, the only concern that probably represents a true road block is externally-imposed policy, i.e. security policies or data protection rules are unambiguous and imposed from agencies outside the organisation itself.
When all is said and done, internal policies, written for an age where internal systems were the only answer, can often be reversed in the face of a compelling business case. Externally-imposed policies (either on a geographic or industry-wide basis) may, however, require a more creative approach in order to get SaaS adopted. It is interesting though, how companies in the same market sector and same country can often end up with different conclusions about the viability of a SaaS choice.
Understanding your options
When you assess SaaS for your organisation it is important to understand your circumstances and your options. This section provides some key questions for you to ask internally, and to potential suppliers in investigating whether a SaaS approach is right for you.
Key questions to ask internally
The following are a set of key questions that should be asked internally when considering a Software-as-a-Service learning and talent system. These questions are designed to explore important areas when considering a SaaS solution, and also to level the playing field with vested interests pursuing an on-premise only strategy.
Note: Given that we believe SaaS is a viable and potentially compelling option for most organisations (large or not), we believe you should probably ask these questions anyway when considering any learning and talent system, let alone a SaaS one!

1. Is my organisation seeking to have one (centralised) learning and talent solution used in a common way by all operating units, or do we need to have either a federated (partly centralised, partly decentralised) or a distributed solution approach?
Talent tends to be more like the former of these approaches, learning more like the latter. The more distributed the need, the harder it is to adopt a single common project to solve them. The harder this is, the more advantageous it may be to adopt a rolling deployment strategy about a common platform which can enable to you delegate configuration into the sub-projects. SaaS can be very good at this.
2. What are the major barriers to hosting our learning and talent solution outside our firewall, if this can be done securely?
Each of the barriers will need to be investigated and understood and proof provided that an external solution is viable. Look at competitors and organisations in similar industries. Have any of them adopted an external or SaaS solution option for learning and talent? If so, how did they address these potential barriers?
3. What is the attitude of my IT function to the use of SaaS business applications? Are there existing applications in use elsewhere in the business? What is their attitude to SaaS for learning and talent systems?
Whilst historically IT may have been negative towards SaaS applications, frequently this is changing as they gain more experience with them in other areas. Also, learning and talent is not typically considered one of the core mission-critical application areas by IT. They may be more open to the use of SaaS in this area anyway. After all, they don't have unlimited resources to manage everything internally!
4. What resources do I have in my learning and talent function to properly manage an on-premise solution on an ongoing basis?
These systems require more than IT resource to implement and manage. Learning and talent system implementation projects are large projects that require a lot of active participation, direction and support from the learning and talent functions. SaaS projects are typically much shorter to implement, and require a lower level of skilled resource to manage on an ongoing basis.
5. What is the true cost of implementing and managing systems internally?
Understanding the true cost of managing systems and comparing with a SaaS solution is a critical part of the buying process. SaaS solutions may appear expensive compared with a perpetual software license spread over three or more years, but are generally attractive once you've factored in all your IT costs and maintenance of the system. Also remember that SaaS vendors have an ever stronger reason to keep you happy as you are paying as you go rather than upfront. Customer retention is critical to all SaaS businesses as it hugely effects their market valuation.
6. What other systems do I need to integrate with to make a SaaS solution viable? Are these located on-premise or externally? What integration mechanisms already exist to those systems? Is there only one instance or application to integrate with (e.g. of an HR system), or are multiple systems in use throughout the business? What other learning and talent systems do you need to integrate with?
Systems integration is an issue, but you may find that potential SaaS vendors have more experience of this integration than your internal resources. Also, don't just limit yourself to looking at HR integration. Other areas including your other learning and talent systems may be more challenging than your HR integration. Understanding these is important when exploring the capabilities and experience of all potential suppliers, on-premise and SaaS.
7. What are the areas of learning and talent functionality that are very specific and particular to your organisation or industry, and which are unlikely to be met by out of the box solutions (on-premise or SaaS)? What learning and talent systems are competitor organisations using? Are any of these considering or using SaaS solutions?
Customisation is an area of concern for SaaS solutions as it must be built into the core code used by everybody. Knowing the areas that are truly 'must-have' is critical when considering the functionality offered by alternative solutions. Competitors that are using other approaches may indicate alternatives for you too.
Key questions to ask potential SaaS suppliers
The following is a list of key questions for potential SaaS suppliers to better understand what they are offering and the potential limitations of the services or platform they provide. Some of these questions may be challenging for all SaaS suppliers (e.g. customisation), but will give you an insight into their ability to deal with your kind of organisation.
1. How many customers and users do you have running on your SaaS solution currently? What is the core range of size of customer organisation? How many customers do you have of my size currently? How much has this grown over the last 2 years? How do you expect this to grow over the next 2-3 years? What plans do you have in place to accommodate this target? Do you provide a multi-tenant or single system per customer?
Scalability is an important concern, and ideally you want a vendor who is used to dealing with organisations your size. There will always be a spectrum and it's easier if you fit in the comfort range rather than on the extremes of it. If the vendor is growing rapidly, they may also need to radically change their infrastructure or architecture to support this scale.
2. If multi-tenant, how do you handle new releases? What warning do I have of changes to the system? Can I choose not to activate changes in functionality? How can I test the implications of changes prior to it impacting my live system? What configuration limitations are there for individual customers? What settings cannot be changed at individual customer level? Are there any limitations to individual customer instances e.g. in size, or organisationally? What happens if platform updates are incompatible with our client estate?
Multi-tenant systems run from a single common system that is upgraded for all customers at once. This means your system might change whether you like it or not. It is important to understand you can control this, and test it out in advance. There may also be limitations of what an individual customer can control – this is especially true for on-demand versions of on-premise systems which have not be re-architected to deliver a true SaaS capability.
3. If single tenant, how scalable is each customer instance? What is the largest customer instance you have currently? How do you handle upgrading customer instances? Can I choose not to upgrade? What configuration limitations are there for individual customers? What settings cannot be changed at individual customer level? Are there any limitations to individual customer instances e.g. in size, or organisationally?
Single tenant systems are potentially more flexible in that customers could be running different versions, but this has big implications for the economics of providing the service. They may also be single instance because of limitations in the software rather than by design. In which case it is important to understand those limitations.
4. What is your customer retention percentage on a year on year basis? Is this information independently audited? Can we audit this information?
Customer retention is critical to SaaS vendors because of their recurring revenue model. But is also good to check this information is independently audited or whether you can check it yourself.
5. Can you give me examples of other customers of my size from my sector (or similar) that are using your service currently? Can I talk to them to discuss their use of your service and how they dealt with specific functional needs relevant to my sector? How long have they been using your service?
Similar customers can provide real insight to the challenges of using their solution in your business context. They also provide relevant case studies and references which can help to gain internal approval to adopt this or a similar solution.

6. What is the typical project implementation project for a customer of my size and requirements? What resources do I need to provide to this project, and what resources do I need to manage the system thereafter? What is the timescale for implementation? How would it work if I have multiple disparate groups that would migrate to the system at different times?
SaaS projects are more likely to follow a consistent pattern than on-premise systems as more of the elements are defined beforehand, such as all the back-end systems. Answers to these questions including resources and time-scales are also useful for comparison to on-premise solutions.
7. What experience do you have of integrating with my HR system(s), and my other learning and talent systems or content? Can you provide specific relevant examples from other customers? Are there any specific risks or issues you would highlight to us in advance?
Integration is always an issue, so look for proven experience and capability. Get the vendors to give you specific answers rather than generalised capability and approach. Whilst in general integration mechanisms are similar between systems, the devil can be in the detail. Critically, engage your IT department at every step in defining the transport protocols and ensure that procedures are rigorously planned to capture exceptions and ensure regular data synchronisation.
8. What is the break-down of revenues for your company? In particular, how do they split between SaaS subscriptions, perpetual licenses (if applicable), professional services (implementation, training and customisation), and other sources such as content?
The revenue patterns of vendors vary significantly and can provide you with a good insight into their normal operating model and mix of activities. SaaS vendors tend to have a high proportion of their revenues from subscriptions, and a low proportion from services. This reinforces the picture of quick implementation and minimal customisation. The market valuation of these companies is very dependent on this split of revenues.
9. How do you handle customised requirements (i.e. not addressable through configuration) from your major customers? Is customisation possible and how? Are customisations implemented as changes to the common code set used by all customers? If so, how do you integrate those changes with the core development code set? Will all customers see the change or will only our organisation? If just us, how does this work? What implications would it have for customisations from other customers?
Customisation is a key issue, even if it would be preferable for it not to be. From earlier questions you should have a picture of the role customisation plays in the activities of the company, and its approach to dealing with it – especially if multi-tenant. How does this discussion of customisation square with the revenue break-down we discussed earlier?
Understanding TCO (Total Cost of Ownership)
The final part of this section is designed to provide some simple input on understanding the Total Cost of Ownership. The TCO represents, as it says, the total cost of owning and operating the system over a prolonged period of time, typically three or five years, depending on the normal investment time horizon of your organisation. Typically for a software solution a TCO calculation would include:
• Software licenses for the solution itself
• Annual maintenance and support costs for the software
• Hardware and infrastructure costs including enabling software, network costs, servers, etc.
• Maintenance costs on the hardware, infrastructure and enabling application
• Implementation costs including internal and external resources
• Ongoing operations, support and management costs for the software application and its use
• Ongoing operations, support and management costs for the hardware, infrastructure and enabling software
TCO is a common consideration in any business application investment, but it is often developed piecemeal for the specific application rather than following a fixed model. This can lead to significant differences in cost models between organisations, and between different parts of an organisation. It can therefore also lead to an unfair comparison between similar projects or suppliers.
For SaaS, the TCO calculation needs to reflect the subscription basis on which the service is purchased. For fair comparison, it also needs to properly include the equivalent costs for the on-premise options. This can be a weakness of many TCO models and can lead to unbalanced decisions. At face value, a SaaS solution may appear expensive as it is a recurring annual cost. Although a perpetual license is higher to start with, when factored over three to five years, it will typically look much cheaper. But that is only part of the story, because of course it doesn't include the cost of the hardware to run the system or the resources to look after and support it. SaaS costs automatically include all of this, and the ongoing support and maintenance charges for the system. Factor those in and the answers start to look different.
The following are some suggestions for consideration when calculating TCO for SaaS versus on-premise solutions:
• What is your preferred timeframe for the TCO Model? We would suggest three years minimum, and five years for an Enterprise-scale implementation. This is because on-premise applications often defer upgrades in the short term, but a true comparison should include a cost of innovation and advancement to the platform.
• What are the core license or subscription costs for the learning and talent systems options, and what do they include? Frequently the SaaS-cost is a flat cost for all components of the system, whereas on-premise costs can be much more modular. Make sure you have a like for like comparison? Also remember you need to know the support and maintenance costs for the on-premise systems. This should be included in the subscription cost of the SaaS solution.
• What is the estimated cost and resources to implement the SaaS or on-premise system? This figure should include IT and learning and talent resources, whether in-house or contracted (vendor or third-party). It should also include the costs of initial configuration, integrations and customisation. Note: As a guideline, we would typically expect the cost of implementation to be higher for on-premise than SaaS solutions as the upfront work is greater, as is the potential for customised requirements and associated services. If multiple sub-sites are expected, include the cost of implementation of all sites.
• What is the cost of maintaining and operating the systems on an ongoing basis? This requires IT and learning and talent resources. If customised, we must also maintain and support the customisations. The flexibility and configurability of the application could impact this cost significantly, as would the need to support multiple configurations, e.g. for multiple sub-sites within the company.
• How many major upgrades should be included in the calculation? On-premise systems will typically have a significant upgrade at least once every two to three years. Major upgrades of on-premise systems may involve significant re-implementation work, especially if customised.
• How many servers would the on-premise vendor recommend for you to run your own application for the organisation at your scale and level of user concurrency? In reasonable scale, most vendors would recommend a number of separate servers to handle web, application and database tasks, and potentially with additional servers for content or reporting. This provides an accurate picture of the infrastructure that can be appropriately costed.
• What is the true cost of the enabling IT infrastructure and software required to run the application on-premise? This should include the cost of hardware, operating systems, databases, back-end networks and other required software components. It should also include the cost of IT managing and maintaining all of these. Frequently, IT functions in large corporates will charge business units a fixed per server per annum service cost for the provision of servers and their support. Remember this cost needs to be multiplied by the number of servers as per the previous point.
• What other costs would be incurred on the SaaS or on-premise model, such as for content hosting, network bandwidth used, and support and so on? There are many other areas that we could focus upon, but the above list should provide some insight into the areas for ensuring a fair like-for-like comparison of costs between SaaS and on-premise solutions across a reasonable life-time for the systems.
Overall, to date our evidence points to a significant cost advantage for SaaS when all the costs for on-premise is considered. This is similar to Gartner's conclusions in investigating the cost models for Salesforce.com versus an on-premise CRM application.
Note: Fosway has conducted significant research into TCO models for learning and talent systems, and is frequently asked to provide independent advice on this issue for organisations. Please contact us to discuss this further.
Prediction on long-term market implications
The final section of this paper attempts to look out further in the future and make some predictions on the longer term impact of Software-as-a-Service in the learning and talent system market.
For the purposes of this paper, we have divided the market, as the vendors do, into two main segments; the Enterprise market covering companies of greater than 10,000 employees, and the mid-tier market for companies of between 1,000 and 10,000 employees. This is not a hard-and-fast segmentation. Some smaller high-value companies will function as Enterprises and some larger ones as if they are mid-tier. However, the use of this Enterprise/mid-Tier segmentation is common, and we believe, relevant to vendors and corporates alike.
Note: Fosway's interest in speculating on the market is focused on understanding underlying trends we expect to become more dominant, and in using this information to analyse the potential implications on different solution approaches and vendor positioning.
The Enterprise market
Fosway's primary focus in its research is the Enterprise market segment. These are large corporations with large numbers of employees, often with many operating business units working on a multi-national basis. This segment is seen by analysts and suppliers alike as the largest opportunity because of their scale, their complexity and their ability to invest relatively greater amounts of cash and resources to get systems that fit their needs.
As mentioned previously, the Enterprise market for learning and talent system has historically been dominated by on-premise vendors; either specialist learning and talent vendors, or larger ERP or HR system vendors that offer learning and talent capabilities within their products.
But over the past two to three years there has been a significant change in this market, driven partly by SaaS, but even more by the recognition that learning and talent system can often be better managed and supported using third party hosting providers than by internal IT staff.
From our research, approximately 70-80% of new Enterprise learning and talent system are now hosted externally. The fastest growing segment of this is SaaS, with the remainder being privately hosted, or in a minority 'Systems within a Service' embedded in learning and talent service provision.
Looking forward we do not expect this situation to change. With the challenges on corporate IT functions, we do not expect to see any U-turn on the desire of corporate learning and talent leaders to want to force systems in house, or of IT departments to force control on them. Externalising the infrastructure of learning and talent systems brings too many benefits and we think it's here to stay.
But more Enterprise systems are hosted rather than SaaS currently, so will this change? In short, we believe the answer is yes. Historically the market has been dominated by on-premise vendors who have positioned their on-demand offerings for tactical or mid-tier usage, and also positioned the dedicated SaaS vendors in the same space. Fosway believes this positioning is artificial, reflecting the vested interests of the on-premise vendors and the limitations of their initial SaaS offerings, rather than a fundamental limitation of SaaS.
It is true that the constraints that Enterprise organisations place on themselves create greater barriers for SaaS, not least from security policies, and from integration and customisation. But, SaaS also offers major benefits to these organisations as well, and we believe has an advantageous TCO. Whilst cost is not the biggest driver for Enterprises, it has become harder over time to justify significantly greater cost for exact fit, when the quality of the alternatives is now very good. More importantly, when viewed holistically over the life time of the system, SaaS can often deliver a much more compelling ability to innovate the learning and talent processes through adoption of innovations within the platform. On-premise systems are slower to upgrade the versions of the software actually being run within customer organisations.
Although, we believe that a significant proportion of companies will prefer to stick with an on-premise solution due to their specific barriers or preferences, over time this will become a minority. We expect to see pure SaaS vendors starting to make significant progress in the Enterprise segment, and we also expect to see a significant shift in the revenues and focus of on-premise vendors towards stronger SaaS or on-demand offerings of their own.
The ERP and HR vendors are likely to be the slowest part of the supplier base to respond to this shift, still preferring on-premise models based around their broader ERP or HR suites. Niche vendors are and will continue to adapt faster.
The mid tier market
The mid-tier market, described as organisations between 1,000 and 10,000 employees, is in our view a simplified categorisation for a highly diversified set of companies and needs. The key assumption in this segment is that the needs of these organisations are simpler that Enterprise-class customers, and their ability and willingness to invest in learning and talent system is more problematic. Whilst the latter may be partially true, we severely doubt the former. There is clearly a significant subset of mid-tier organisations that have very sophisticated learning and talent processes, sometimes much more sophisticated than Enterprise equivalents.
If you think about it, almost all new and innovative companies are in this segment as they have not had the time to outgrow it. Many of these are highly knowledge intensive businesses as well. So how do we predict the impact of SaaS in this segment?
Fosway believes that SaaS will rapidly grow in the mid-tier segment, but because of two quite different sets of drivers.
For traditional businesses that fit in this segment, we believe the advantages of lower cost and lower time to implement, coupled with the ability to effectively outsource the need for dedicated skilled resources to manage and operate the applications make SaaS a compelling option. The fact that this can be done without the need for large upfront capital investment makes it even more attractive. These organisations will also be more willing to fit the system rather than make the system fit them. For them the alternative has historically been to do nothing, i.e. ignore the issue, or to seek low cost internal solutions instead.
But for the more innovative and often faster growing businesses, we believe the drivers will be less about cost, and more about ability to innovate. With a leading SaaS solution, these companies can now have access to a sophisticated and highly flexible solution with the ability to adopt new innovations in the platform as soon as they are available rather than having to wait and plan upgrades. Inherently these business are already much more open to using outsourced services and networked-business models as they enable them to grow faster without the need to grow large internal overheads. The mindset of these organisations will be very different. They may be more sophisticated in their approach to knowledge and learning than many of their Enterprise counterparts. For them, the solution is also about the ability to add more value faster.
So although SaaS will be attractive to both these sub-segments of mid-tier, it is for quite different reasons. Overall, we expect this to become the dominant model in the mid-tier segment. The successful vendors will be the ones that recognize the different needs of the sub-segments and execute most effectively against those.
Impact of other approaches on SaaS
Open Source SaaS
A further factor that may further influence the development of the market, especially at the mid-tier level is the evolution of SaaS learning and talent system based on Open Source. There are two parts to this discussion; the use of an Open Source infrastructure to run the system, and the use of an Open Source application as the system itself.
This is not an IT technical paper and so we will just make a few high level observations about Open Source:
• We think it is too early to argue that Open Source will significantly impact the corporate learning and talent system market, especially the Enterprise market. But we suspect it will have a greater influence than many of the niche vendors would like, especially via SaaS options.
• The more we think that we are buying a service rather than a software application, the less we probably care about the underlying platform running that application. If Open Source can deliver a robust infrastructure at lower cost, it is inevitable that the SaaS vendors will seek to exploit it.
• This is very different from saying that Open Source learning and talent system (such as Moodle or Sakai in the learning world) are going to be dominant in the corporate space. There is limited evidence for this currently in the corporates we talk to, but there is some interest. Where we see Moodle, and such systems, as more important is in the 'System within a Service' category, i.e. where the system is embedded in higher value learning and talent services.
• Current Open Source learning and talent system are not architected to be SaaS native, although some companies are starting to introduce SaaS like services using them. As well as being potentially less functionally complete compared with the market leaders, SaaS versions of the current Open Source applications are likely to suffer from similar limitations to the on-demand versions of on-premise applications.
Longer term we believe it is likely rather than inevitable that Open Source will impact the SaaS learning and talent systems market. But currently, it is too early to say how extensive or rapidly this might manifest itself. For the moment, Open Source is still one to watch.
Solutions-as-a-Service?
The final observation that we would like to make in this Core Insights paper, references back to an important component of the origin of SaaS-like solutions for learning and talent systems, the phenomenon of 'Software-within-a-Service'. Most corporates have used, and are still using, tactical learning and talent systems that they have acquired as a component of a supplier learning and talent service.
Whether it is e-learning content, external training schedules, competency frameworks or recruiting processes, removing these tactical dependencies is a long journey. They may not be strategic platforms, but they may well be strategic partners for learning and talent, and it has been a lot easier for both sides to continue using the current embedded systems capability. Longer term, the desire to use the system may change but the strategic nature of the supplier partnership may not. Whether it's by replacement or by integration, corporates and suppliers alike need to develop strategies to better integrate the service into the future corporate infrastructure without the limitations of using embedded systems.
This challenge also reinforces another key dimension of the problem for learning and talent, namely, the importance of the associated content or services to the corporate. As well as continuing growth of Software-as-a-Service for learning and talent systems, we also expect to see the growth in the added-value learning and talent services that can be optionally contracted for around the core SaaS proposition.
These services are the core processes and content used by learning and talent professionals. We are already seeing the resale of e-learning content from the current SaaS providers, as well as options for higher levels of support, administration services, and even sometimes managed service options including supplier management, contracting and scheduling activities.
We believe that this kind of 'Solution-as-a-Service' approach will grow significantly longer term, and force SaaS and on-premise suppliers to create partnerships or acquire other capabilities in order to compete as this market evolves.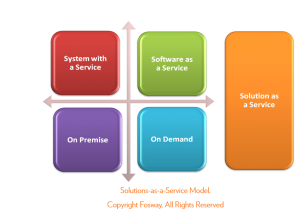 Summary and conclusions

So we have explored the general background and origins of Software-as-a-Service, and discussed certain specific implications, including benefits and concerns of SaaS in the learning and talent systems market.
What are our overall conclusions?
In many ways the production of this paper is the clearest indicator of our overall conclusion; that SaaS will have a significant impact on the learning and talent systems market, and is a relevant and viable option for Enterprise customers (Fosway's primary client focus) as well as the mid-tier market.
SaaS might not be the right approach for all organisations, but we believe the benefits of a well-provided SaaS learning and talent solution will significantly outweigh the potential challenges short-term, and the perceived risks longer-term. Such an approach should reduce your cost, time and resources to achieve initial success, and provide a more flexible platform for innovation longer term. Most importantly, SaaS should also allow the learning and talent functions to focus more on their front-end impact to its customers, and less on the back-end maintenance of their systems.
Fosway expects to see continued growth in both the awareness, and the adoption of SaaS learning and talent solutions within Enterprise customers. This will result in accelerated (faster than overall market) growth for the pure-play SaaS vendors, as well as increasingly Enterprise-class SaaS offerings from the specialist on-premise vendors too.
The on-premise vendors will continue to offer on-premise and private hosted solutions too, but SaaS will become a significant part of their revenue streams. It will also force them to reengineer their core product architecture to make it less constrained as an Enterprise SaaS platform. This can only be of benefit to their on-premise customers too. After all, multi-tenancy and delegated configuration can be just as relevant to running multiple systems from a common platform internally within a large Enterprise as it is for running multiple customers as a shared SaaS service.
We have already discussed the potential limitations of SaaS for corporates, but we expect these will become slowly marginalised as SaaS becomes more accepted for other Enterprise business applications, and as SaaS vendors get smarter about dealing with geographical data security prejudices.
The need to customise will not disappear and SaaS vendors need to have an effective approach to engaging with this. There will always be a tension here. But corporates have a lot to gain both from the greater longer-term innovation possibilities of a successful SaaS platform, and the removal of their self-induced customisation version lock-ins.
Accelerate and de-risk
To talk to us about our research on learning and talent systems, or to discuss what it might specifically mean for your organisation please contact us directly.
We will use our independent expertise to provide you with the guidance you need to accelerate and de-risk your decisions. We have a wealth of experience, tools, research and profiles at our disposal.
We don't have any products to sell and we have no vested interest to bias your outcomes. We concentrate on pragmatic, independent advice.
Accuracy of information and warranties

The analysis and recommendations made in this document are based on the information currently available to Fosway and from sources believed to be reliable.
Fosway disclaims all warranties as to the accuracy, completeness or adequacy of such information. Fosway will have no liability for errors, omissions or inadequacies in the information contained herein or for interpretations hereof.
Opinions expressed herein are subject to change without notice. All content is copyright Fosway limited unless otherwise identified. All rights reserved.
About Fosway Group
At Fosway Group, we understand that developing and engaging people is how complex global organisations deliver performance and achieve success. Just as every employee's talent journey is unique, so is every organisation's people strategy.
Fosway Group's analyst and advisory services deliver the insights your organisation needs to achieve results and eliminate risk. We know that every aspect of next generation HR and talent are more intertwined than ever. When you work with us, you accelerate your insight and make better decisions.
We're Europe's #1 independent HR analyst, and just like the Roman road we draw our name from, you'll find that we're unusually direct. We don't have a vested interest in your technology or consulting choices. You can depend on us to tell you what you need to know to succeed.
Example clients include: Alstom, Aviva, Boots UK, BP, BT, Centrica, Deutsche Bank, Faurecia, HSBC, International SOS, Lloyds Banking Group, Novartis, PwC, Rolls-Royce, Royal Bank of Scotland, Sanofi, Shell, Swiss Re, Telefonica, Thomson Reuters, Toyota Europe, and Vodafone.
Contact us
Talk to our analyst team today about your talent management requirements and get insights into your procurement process and strategic decision making. Contact us online or call +44 (0)20 7917 1870 or email info@fosway.com.
Discover the current Critical Realities for HR in Europe