Vendor Report – Structure & Definitions
Based on research with and for European companies, Fosway Vendor Reports are a unique resource for European-based companies making decisions on their next generation HR, Talent and Learning suppliers and solutions.
Vendor Reports provide comprehensive independent expert analysis and insights into suppliers and solutions, referencing our unique 9-Grid™ market analysis, and detailed underlying research and insights from our corporate research network and independent vendor briefing process.
Each Vendor Report is 10+ pages long and covers the most important information you need to know up front in reviewing potential vendor options or your existing suppliers. Each factor (core and functional) in the assessment is rated on a one to five star rating system, and each group of factors includes key headlines to guide on particular strengths, weaknesses, or risks.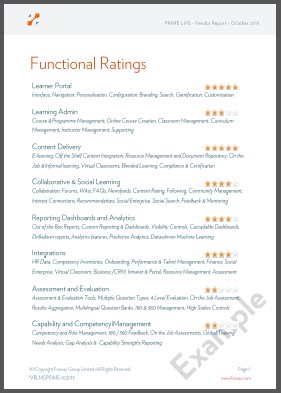 CONTACT INFO@FOSWAY.COM  TO ORDER YOUR COPIES OF THE VENDOR REPORTS